December 19, 2018 - The Bokelian Christmas Sweet recipe is hundreds of years old. Unfortunately, for a long time, Christmas Sweet was absent from Bokelian tables. For its return, we have to thank Mašo Čekić and the Tivat Women's Association who, ten years ago, reminded of this delicacy and motivated a large number of homemakers to learn how to prepare the Bokelian Christmas Sweet.
Christmas time is an ideal opportunity to take up the tradition and remind ourselves of the habits of our ancestors. Bokelian cuisine is basically the Mediterranean. Mostly, these are simple dishes, with little ingredients, but extremely tasty. It's the same with sweets - they are prepared from available ingredients - dried fruits, nuts, eggs, sugar, parts available in everyday life. However, for Christmas, it was necessary to think something unique and different.
It is logical to look for a recipe for the Bokelian Christmas Sweet from one of the best gastronomic experts when it comes to the tradition of our region, which is the journalist and
publicist Maso Misko Cekic.
"Bokelian Christmas Sweet is easy to prepare, just like all the desserts of old Boka Bay. Old Boka had no complicated treats, except for the Dobrota and Perast cakes. These are not particularly complicated, but the preparation process is a little longer and harder. Bokelian Christmas Sweet is really not difficult to prepare," says Maso.
"There is an interesting story of Bokelian Christmas sweet, which I do not remember from childhood, nor my mother, who is over 90 years old, remembers it. This means that Bokelian Christmas Sweet disappeared from our tables about a hundred years ago, maybe even more. As we do not have written traces of local gastronomy in Boka Bay, there is no record of Bokelian Christmas Sweet. However, it seemed to be very tasty to foreigners who came to Boka, so the story of Bokelian Christmas Sweet went on. One of the Dalmatian homemakers, who exiled from her homeland following the collapse of the Venetian Republic, arrived in Venice with a small book of recipes prepared in her family. Among other things, there was a recipe for Bokelian Christmas Sweet," explains Maso.
It took more than a hundred and fifty years till Giulia Calusi found that small notebook. And finally, fifteen years ago, the descendant of the lady who preserved the recipe for the Bokelian Christmas Sweet, published the recipe book based on her great-great grandmother's notes. Maso is known as a dedicated explorer of the culinary traditions of the Mediterranean, so it was meant to be that he found this beautiful story.
"I was interested in the title of that book, and I got it. It was marvelous when I found the original recipe from old Boka in its covers. The lady wrote: "Bokelian Christmas Sweet origin is from the Middle East, and is prepared in the towns of Boka Bay on Christmas Eve. Bokelians believe it brings happiness because it is made from a lot of symbolic ingredients. "
Then Maso went on exploring the Middle Eastern cuisine and found a few recipes that can be compared with Bokelian Christmas Sweet, and are prepared on a cereal base and dried fruit.
"It is quite possible that this recipe has arrived in Boka with maritime routes and connections between Kotor and Turkey. From the history of Boka, it is known that from 1482 to 1687 Turks ruled on one part of the bay and the surrounding area. Thus, although the Bokelians and Turkish invaders were enemies, these links have caused many benefits to Boka Bay when it comes to gastronomic, cultural and other influences that Bokelians had accepted from them. It is well known that Bokelians were accepted what they liked and what they needed from all the warring, passengers and enemies coming to this area during its turbulent history. Hence, we can say that Bokelian gastronomy is as autochthonous, so international as well. The advantage of Bokelians at those times was the fact that the original recipes, from wherever they came, could be filed with the finest and most expensive spices since the early Middle Ages. At that time, Boka dominated in Europe with the availability of spices from the Middle East and the Far East, as well as other parts of the world, thanks to the highly developed maritime economy. Bokelians used those spices to prepare salty dishes, but that does not mean that they did not find their application in the preparation of desserts," the publicist proudly points out, who in his books "Serenada od Zucenici" and "Bokeljska pjatanca" preserved a large number of traditional recipes from this area, including a recipe for Bokelian Christmas Sweet.
Among the finest spices that came to Boka from all over the world were cinnamon and cloves, Bokelian Christmas Sweet ingredients.
The Dalmatian lady at the end of the 18th century wrote in her recipe book how to prepare Bokelian Christmas Sweet.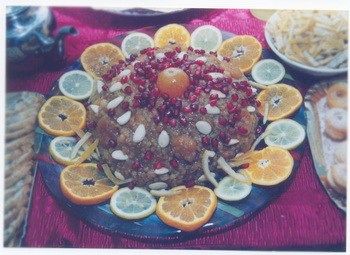 Ingredients:
- ½ kg of wheat
- ½ kg of sugar
- 400 grams of dried apricots
- 200 grams of dry white grapes
- 200 grams of dried figs
- 1 dl of rose or cherry liqueur
- Cinnamon
- Cloves
- 100 grams of leavened almonds
- One orange
- Seeds of one big pomegranate
It is necessary to soak the wheat in water and allow it to stand for 24 hours. After that, cook the seeds in the same water until it softens well, but be careful that the grain remains compact. When wheat is cooked, add sugar, grated dried apricots and figs, and dried grapes, and cook on moderate until the fruit softens, but we should not overcook it because it will shatter. When cooled, it should be as dense as mashed potatoes. To the chilled sweet, add a rose liqueur (cherry liqueur), cinnamon and ground cloves. The amount of spice is not determined, it depends on the taste. We need to moderate the mixture into a rounded cake, which we decorate with orange slices and peeled almonds. Bokelian Christmas Sweet is done when we sprinkle it with pomegranate seeds.
All the ingredients of Bokelian Christmas Sweet have a symbolic meaning. Wheat is a symbol of well-being. Dry fruits have a similar symbolism. If it has dried fruits, the family had sugar in the house, grapes, and figs. Rose is a symbol of youth and happiness.
It is interesting that Bokelian Christmas Sweet prepared has no mention of Catholic or Orthodox Christmas,which means that all of Bokelians had arranged their sweet in the same way. There lays its significance, that is more proof that Bokelians were always primarily Bokelians, living ecumenism through all their habits and customs.