12 December 2018 - To get an authentic experience of Montenegro, you must try the specialties of the national cuisine. Montenegrin cuisine was influenced by the diversity of the natural conditions within the country (cold climate in the north and warm Mediterranean climate in the south of the country; plains in the central region and rocky mountain terrain in the north), and by the ethnographic diversity as well.
While visiting the country, you need to be aware that the preparation process, the flavour and the quality of food served in the restaurants are all distinctly different from the food you can only find in Montenegrin villages and Montenegrin cuisine. Still, you can expect fresh, organic, local source foods in many places across the country.
Montenegrins take great pride in their village cuisine full of traditional dishes. Amongst the many recommendations we can make on the subject, what you should try by all means is Lamb in milk. If you have already tried the dish, you are undoubtedly very well aware why we advise all tourists to enjoy this meal. And more importantly, if you want to remember what Lamb in milk tastes like, here is the recipe for you. Get your pot and prepare to taste heaven!
Ingredients:
5 kg hill lamb shoulder/blade
2 litres milk, full fat
1/2 kg potato, whole
8 carrots, whole, peeled
parsley
5 garlic cloves
1 tsp of herbal spices
25 g parsley
1 tsp salt
pepper
For this recipe, it is quite essential to get a good quality hill lamb. Also, you should know that the amount of milk needed for the lamb can vary depending on the width of your cooking pot. Cut the meat into smaller pieces and put it into the pot. Add garlic, herbal spice, salt and pepper. Pour the milk, so you cover the meat. Cut the carrots on long strips and put them in the pot. Add chopped parsley as your tastes require and slow cook for about 60 minutes.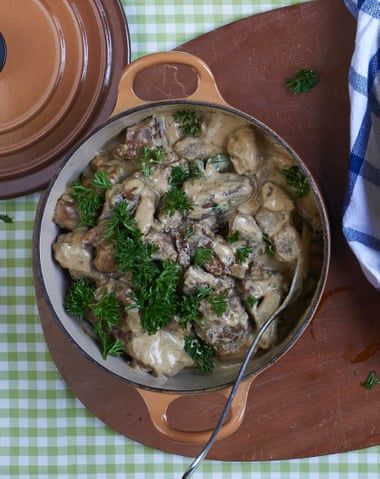 Peel the potatoes and cut them into larger pieces. Put some oil in the baking tray and add the potatoes spiced up with herbal spice. Pour the meat with the milk over the potatoes. Cover the tray with its lid and place in oven to bake at 428 F for about 60 minutes. After 50 minutes, lift the lid to get a nicer colour and better flavour of the meat. Serve the lamb with potatoes on a plate and decorate with parsley.
Bon Appétit!