April 13, 2019 - Lufthansa landed a plane in Montenegro, at Tivat Airport, for the first time. On the occasion of the inaugural flight passengers and special guests were welcomed by representatives of the Airport of Montenegro, Tivat Municipality, management of the Lufthansa group and the ambassador of Germany in Montenegro H.E. Heinrich Robert Weber, as well as Vice President of Tivat Municipality, Dejan Maslovar.
The first flight marked the beginning of Lufthansa's
weekly ties between Tivat and its main hubs in Germany
. Airbus A319 aircraft will fly from Tivat to Munich on Saturday, and on Sundays starting on April 14, Lufthansa will fly from Tivat to Frankfurt and will have an Internet offer on Lufthansa FlyNet.
"The first flight represents a special event for Lufthansa history. As Montenegro is an important market for us, with lots of potentials, we have decided to introduce two new flights and connect Tivat with both of its main airports in Frankfurt and Munich. We are truly proud to open up the link with Montenegro, providing the local market with an even greater link with the global network of flights within the Lufthansa
Group
," said Peter Pullem, senior sales director for Central, Eastern and South East Europe for the Lufthansa Group at a festive event in Tivat.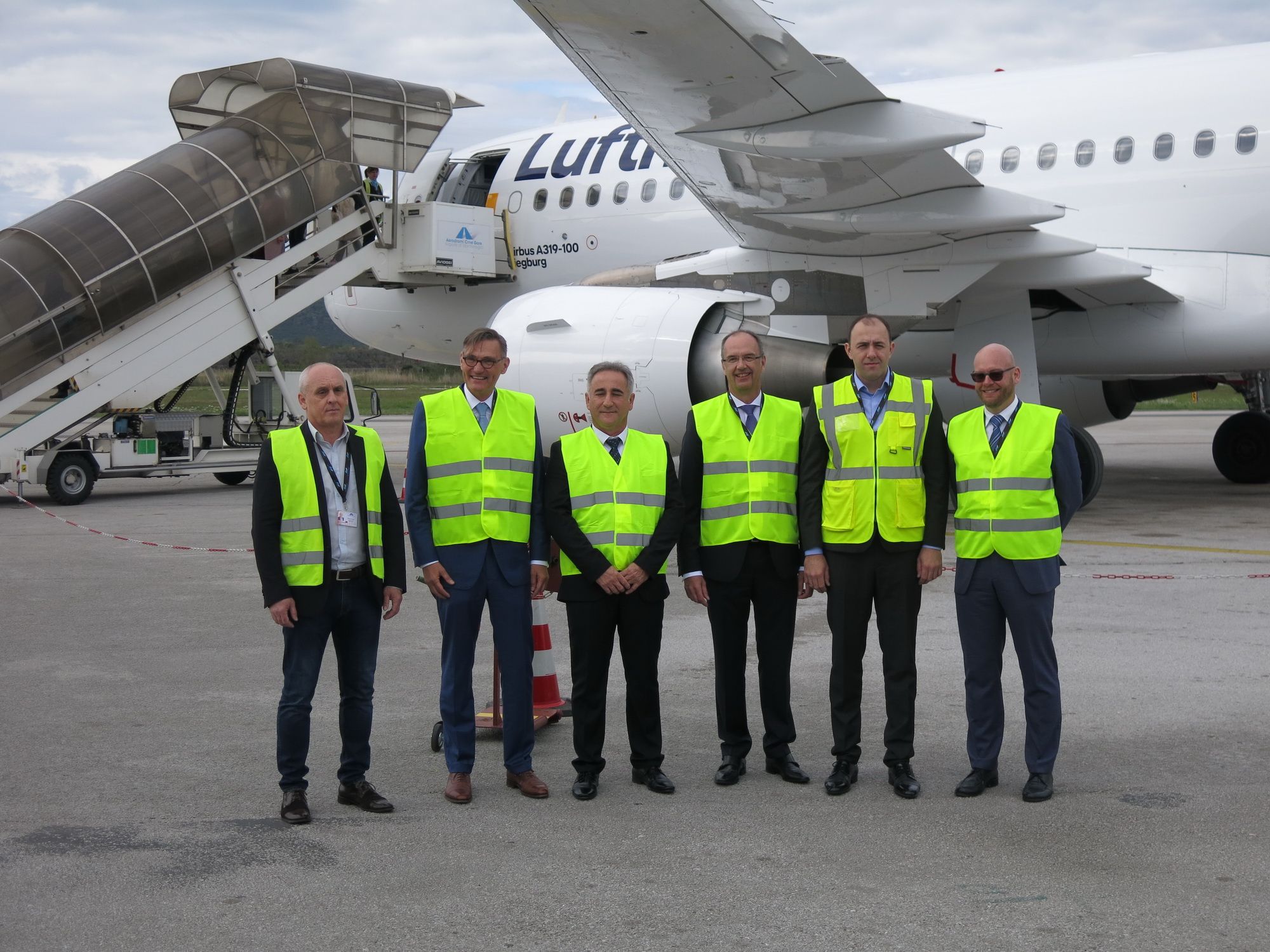 The Official Delegation on the Occasion of first Lufthansa Airplane Arrival to Montenegro, Photo by Dragan Redzo
"The arrival of Lufthansa is not only important for Montenegrin Airports but also Montenegro as a tourist destination. Ticket sales for both lines are going extremely well, suggesting the justification for opening these routes. I am very proud because this is a historic day for the Airports of Montenegro. The arrival of this company is proof of stability, security, and perspective, as the companies I have been leading, and our country. We have been negotiating for a long time, and I am convinced that this is only the beginning of successful cooperation. We are continuing the talks that, hopefully, will result in the opening of new lines," said Danilo Orlandić, Managing Director of Aerodrome of Montenegro.
Ambassador of Germany in Montenegro H.E. Heinrich Robert Weber emphasized that he was pleased about the arrival of the biggest German company in Montenegro and noted that this was proof of not only the stability of the state in political terms and its successful move towards the European Union but also the country's potential as a tourist destination.
The flights will enable Montenegrin passengers to enjoy the benefits of even greater connectivity within the comprehensive, global flight network of the Lufthansa group. Also, three other companies from the Lufthansa Group are already fleeing from Montenegro. Brussels Airlines offers flights once a week from Tivat to Brussels, and Eurowings is flying once a week from Tivat to Dusseldorf. Austrian Airlines leaves every day from Podgorica to Vienna. The total airlines from the Lufthansa group fly to 308 destinations in 102 countries around the world.
Director of Tivat Airport, Radovan Marić, hoped for safe and fruitful cooperation with one of the largest companies, not only in Europe but also in the world.
"As a primary host, we will try to respond to all the obligations and standards that Lufthansa sets in every respect, and they are not as simple and easy to fulfill. However, this will also make us even better," said Marić, with the wish that next year's cooperation would be even more productive and more meaningful.