09 February 2019 - Montenegro and the Republic of Korea have common interests both at bilateral and global levels, Prime Minister Duško Marković and newly appointed Ambassador of the Republic of Korea Hyoung-chan Choe noted at today's meeting.
Both sides agreed that there are numerous opportunities and a mutual interest in boosting economic cooperation, in particular in the areas of tourism, energy, agriculture, IT and improvement of the overall infrastructure.
"The goals of this Government are strong growth of the economy, sustainable development and more and better-paid jobs," said Prime Minister Marković, stressing the importance of the arrival of Korean investors in Montenegro to invest not only capital but also knowledge and skills and create new value for Montenegro.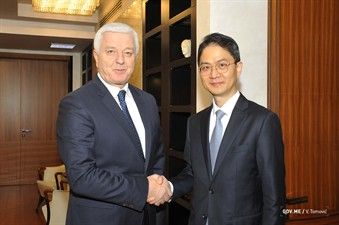 In the context of international cooperation, as well as in terms of preserving global peace and stability, PM MarkoviĆ reiterated that Montenegro, as a NATO member, can contribute more actively to these goals, adding that Montenegro understands and supports efforts to overcome challenges on the Korean peninsula.
"We appreciate the support for the Republic of Korea in maintaining peace and stability," Ambassador of the Republic of Korea highlighted, adding that bilateral relations between Montenegro and Korea are at a high level.
Prime Minister Duško Marković also recently met with business people of Montenegro and they noted that the excellent results of the Government's economic policy and the implemented reforms provided a quality basis for further business development, job creation and improvement of the quality of life of citizens.
Business people have said that the government has done a lot to improve the business environment, but that there are still specific challenges to be addressed. Prime Minister Marković and business people agreed that an intense fight against the gray economy is necessary for the areas of tourism, construction, trade and the labor market. Prime Minister Marković also talked with business people about the necessity of increasing salaries and improving the working conditions of private sector employees and how this can be achieved.