January 8, 2019 - The new bus station the Municipality of Herceg Novi is planning to construct at the Šištet site, will be the highlight of the development and improvement of the quality of life of citizens in Igalo, but also the entire city. In the conceptual design solution, the architects from the "Grad" studio defined the surface, the contents and the appearance of this modern bus station and recently presented their work to the leaders of the local government.
The new bus station with accompanying amenities will occupy an area of nearly 30 thousand square meters, designed as a complete functional zone consisting of a terminal building, with the following ground floor annexes of business and commercial content, manipulative buses area, access road with associated parking space, and facility of accompanying business contents with parking area. These are three mutually functional and technologically separate facilities. The conceptual solution envisages a total of 326 parking spaces (99 ground and 227 underground).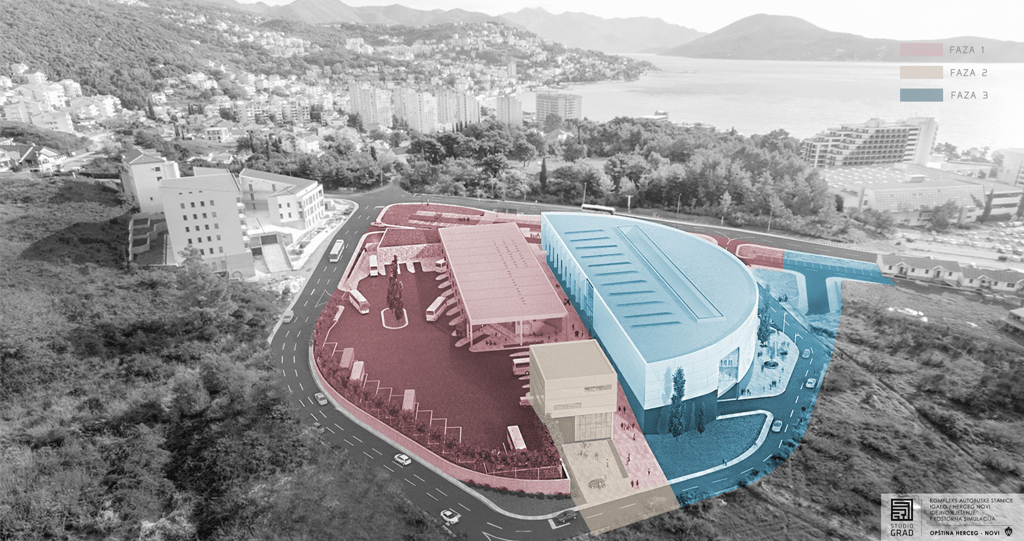 The first of the three planned stages implies building a central bus station building with a supporting business space. In the next two phases, the investors will develop the premise of accompanying business facilities and maintenance, and the facility of the market center. All of the contents mentioned above connect the greenery and traffic areas in one functional system and ambiance.
As a precondition of the first development phase, there will be an access road infrastructure with a crossroad with the Adriatic highway, access streets, and parking in front of the main building of the bus station.
"Herceg Novi, as a city of layered civilization heritage, unique geographic advantages and specific topography, is an important tourist destination of Montenegro and should permanently build its public identity on the advantages mentioned above. A significant number of tourists coming by bus emphasizes that the bus station is an important public building for the functioning of the municipal system of the city, but also the first urban element that the visitor experiences by coming to our city," said the Municipality of Herceg Novi promoting the conceptual solution of this vital infrastructure project.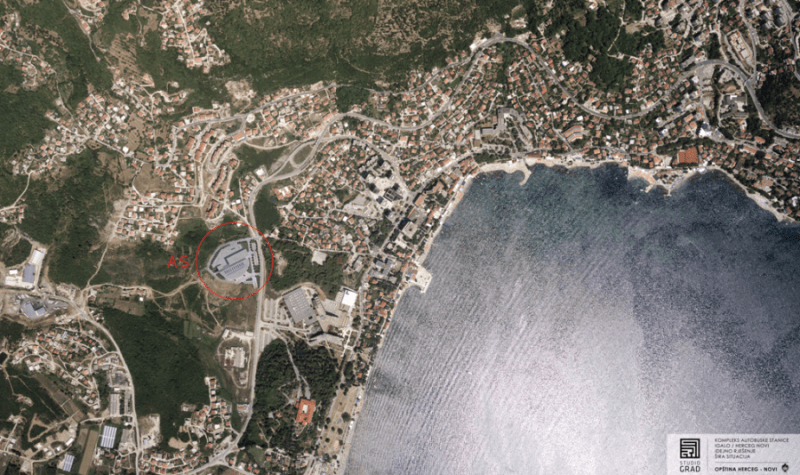 "The proposed solution builds the first impression of Herceg Novi through the arrival of a layered urban ambiance conceived of several different facilities, organized into a unique functional unit. The elements of this urban complex link to a complete and recognizable architectural physiognomy that emits modern approach, originality of interpretation and color sensations of the Mediterranean," emphasize the designers of the Grad Studio in the conceptual solution of the future bus station.
In the budget for 2019, the
Municipality of Herceg Novi
has planned a million euro for participation in the implementation of the new bus station project, and the goal of the local administration is that in 2020 Herceg Novi get a representative building that will be the foundation for further development of the city.