June 30, 2018 - The Chinese political and business delegation that recently stayed in Herceg Novi visited several locations in the city to get to know the history, culture, and potential of the city itself. The Montenegrin officials that hosted representatives of Hejin town presented the city as an opportunity for future concrete projects.
During this occasion, the representatives from China visited the Kanli Kulu, the Old Town, the City Museum, the City Port, the Swimming Water Club Jadran, but also met the management of the Institute "Dr. Simo Milošević". Later on, they visited the Sports Center in Igalo and the Hotel "Play", as well as the Savina Monastery and the Castel Savina Winery.
The agenda was created according to what the focus of the discussion was, mainly gathering around cooperation in the field of health tourism, sport, culture, and education.
"Partners from China recognized Herceg Novi as an attractive destination with rich cultural heritage, and the technological and developmental resources that Hejin has are very interesting to us as a developing city. With partners from China, we exchanged impressions and ideas and presented the current affairs and plans of the city. We are also making a commitment to the creation of the projects that will benefit the citizens of both the cities," said President of the Municipality of Herceg Novi, Stevan Katić.
After the tour of the Sports Center Igalo and its "Play" Hotel, representatives of the Chinese delegation, delighted with what they saw, expressed their interest in cooperation, Director of the Sports Center Igalo Radovan Ralević said.
"They are interested in some kind of cooperation. We explained the current situation of the parquet floor and presented them with some of the possible outcomes for additional construction of the auxiliary hall and some other capacities that could be interesting. Overall, they expressed great satisfaction with the entire complex and everything they saw in the possibilities of the Sports Center Igalo," said Ralević.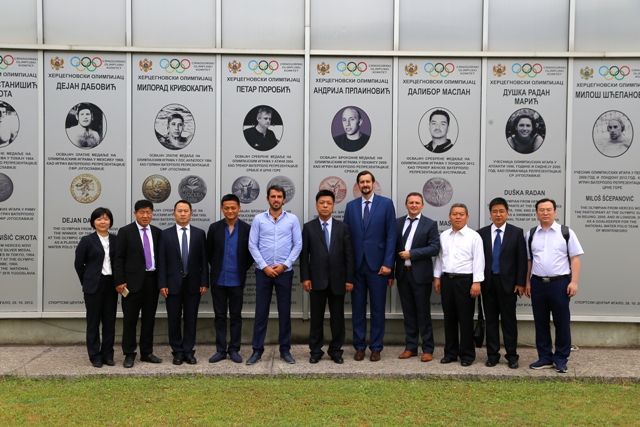 He explained that the representatives of the Sports Center presented the guest the capacities of a large hall, starting from the fights through the auxiliary facilities, gymnasium to dressing rooms and auxiliary rooms, as well as the open field itself. Especially interesting was the exhibition in the Olympic Park where the athletes who participated in the Olympic Games until 2012 were displayed. They were impressed that the Hotel "Play", with its restaurant, was part of the Sports Complex.
"Their enthusiasm was present at a high level due to the fact that the whole complex was designed as sustainable and the many kinds of capabilities the Sports Complex owns. Also, Chinese representatives pointed out that eventual investment in this very project would have exceptional security for invested funds," concluded Ralević.