First of all, Dubrovnik is well connected to many European cities and particularly for those traveling from places such as Bordeaux, Nuremberg or Salzburg to Montenegro arrival to Dubrovnik airport is preferable because of direct flights. So, keep in mind this option when planning your routes.
Traveling by your own car is always a great advantage especially here in the picturesque Balkan area, so go ahead and don't forget to arrange a temporary car insurance for Montenegro (if you don't have standard Europe coverage). This can be purchased at the main Karasovici - Debeli Brijeg border (you just leave your passport with border guard) for 15 euro for 7 day cheapest, and be aware this is not an option for the other crossings described below.
From Cilipi Airport to the Montenegrin border is just 30min of lazy driving on free off-season road. If choosing to rent a car you may find a list of recommended services on the airport website. Be sure to ask for an insurance green card for driving abroad.
There are always public transport options, of course. But first you need to get from the airport to main Dubrovnik bus station Gruz by private or public bus operators and from there you can take a bus to Montenegro. Click here for information on private Atlas Bus timetable and ticket price and here for public Libertas bus. A taxi to the bus station would cost around 30-40 euro but in comparison with the very comfortable bus schedule, it really makes no sense.
Here on the map are the three routes to Montenegro from Dubrovnik. We've chosen Kotor as the final destination to give you an idea.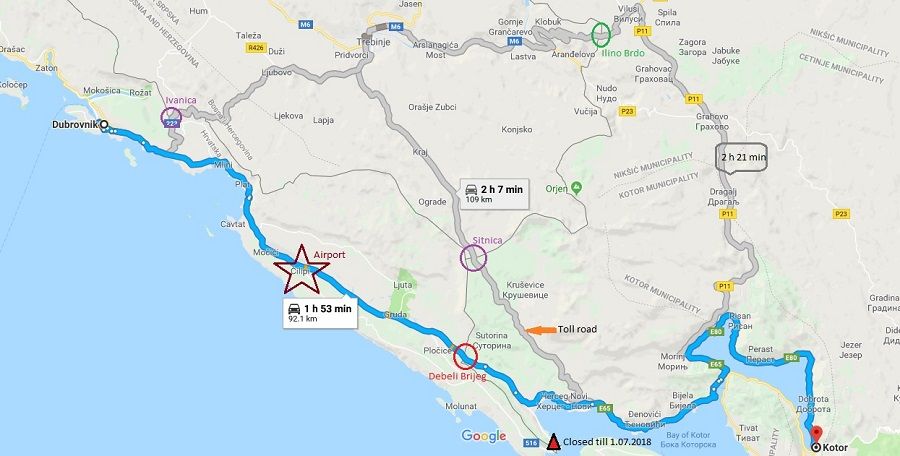 Depending on the option chosen your experience of crossing the Croatian-Montenegrin border can be a bit different. With the bus, you actually have only one way to go which is most popular and crowded Karasovici - Debeli Brijeg. All the buses have separate custom gates however in peak season there is still a long bus line and waiting time can be even more than two hours. In this case consider a very early flight, iPad (if no chatty companion) and a bottle of water with you.
But if you've rented a car, there is a wider choice. The closest seaside alternative way through Kobila - Vitaljina is unfortunately closed until 1 July 2018 due to reconstruction works. Hopefully, it will open back to help the traffic regulation by the peak season. Check our updates.
Meanwhile, why not try alternative roads through Bosnia and Hercegovina? As Google maps will show you, cross the first border at Ivanica and go to Sitnica. This route is a bit longer but the time loss is minimal and both borders crossing can go twice faster and less stressful. However, be aware there is a toll road on the Montenegrin side (3 euro per car). Another option appreciated especially by those traveling to Niksic and Podgorica as well as by Kotor visitors is the Klobuk - Ilino Brdo crossing. This route has a winding part closer to Montenegrin border, so be careful and better take it in the daytime. Crossing the border there will be even easier and faster, though the roads itself are pretty challenging. If going to Kotor, remember to slow down in Grahovo village: after tiresome mountain serpentines, the straight road provokes one to push the gas but the police are keeping an eye on you there.
All in all, consider spending at least 2 hours driving to the Boka bay plus time of waiting at the borders. Don't take a risk at night time: mountain roads are not easy to go through. And don't count much on Google time calculations: your average speed will be around 50 km/h and even slower in peak season just because of many tourist drivers unused to specific of mountain roads.
The way back to Dubrovnik is almost the same in terms of time spent at the borders and driving speed. If getting back from Montenegro by public transport you better use Bus Ticket 4 me online service to check for schedule updates and buying tickets. Always use Dubrovnik (not Dubrovnik airport) in the TO-field as a destination. Pay attention to the disclaimer: potential delays due to border control. You can always check delays at the bus station you get from – Budva, Tivat, Kotor or Herceg Novi.
To consider:
Always keep a bottle of water with you. The roads go through the back roads and it's not that easy to find a supermarket or even kiosk
Fill the tank, gas stations are quite away from each other
You may feel nausea when driving serpentines, so go slowly and open the windows
If you see a restaurant on your way allow yourself to take a break: order Turkish coffee and enjoy beautiful sea panorama or mountain slopes
Always keep the camera on - you never know what creatures you may see crossing Balkan borders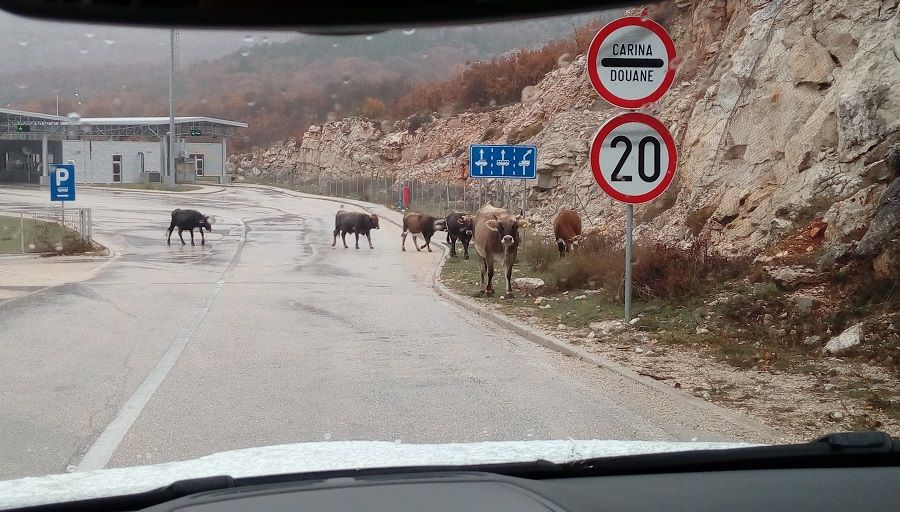 For the sea travellers:
If you're planning to visit Montenegro by yacht (unfortunately there is no public sea transport from Croatia to Montenegro, and organized sea trips all include same Debeli Brijeg border crossing by bus), consider ports of Kotor, Tivat (Porto Montenegro) or Zelenika. The coastguard clearance procedure is standard: be ready to provide information on vessel name and owner's name, vessel length, radio call-sign, flag and registered port, destination as well as last port of call. For detailed information on arrival to ports, taxes and tariffs see following links:
www.portomontenegro.com/en/marina/arrival-information
www.portofkotor.co.me/Rules%20of%20order%20at%20Port%20of%20Kotor%20marina%20part.pdf