September 21, 2020 - Montenegro - Wild Beauty, says the National Tourism Organisation's slogan. These days, it seems, we all love it. We all defend it. It is promising that some influencers have announced that they will go to "defend it from the wood." Maybe then we'll cut them less without control, maybe fewer rivers will end up in pipes. This beautiful country is often unknown to its citizens - few have discovered all its beauties. And they seem to be without number. Among those being late in learning is the author of these lines. Who on this occasion will take you on a tour of the northeastern part of Montenegro - the massif of Prokletije Mountain and surrounding attractions.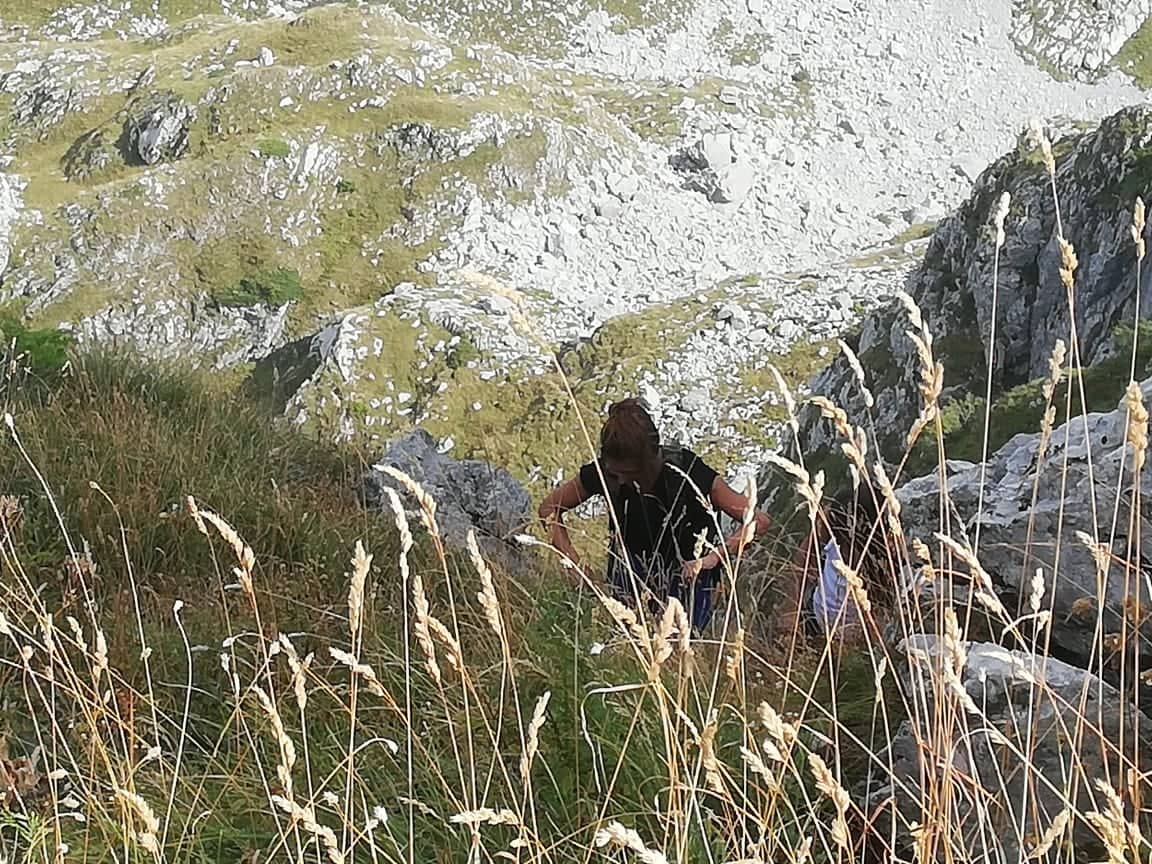 Discovering Montenegro- Slopes of Prokletije, Photo by Antonela Stjepčević
Are we going to
Prokletije
for the weekend? I said let's go, although I didn't think any more of what the venture would be about. A good team, a plan to spend three days in nature - there wasn't too much to think about. Still, when I was left alone, I remembered that the mountain was called Prokletije. The name is ominous - in our language, it means something damned, haunted, dangerous, inaccessible. I also remembered my lousy condition. Still, whatever may lie ahead, let's go to Prokletije.
The 10-member team left Tivat on Friday afternoon. The journey through Podgorica, Kolašin, Andrijevica, and Gusinje to the valley of Grebaja, where we were located, takes effectively about five hours. From Podgorica, we headed through the Morača canyon towards Kolašin - our coffee and food supply station before the weekend in the mountains. From there, we took the highway to the separation of the regional road Kolašin-Andrijevica, which leads through a picturesque forest intersected by clearings where the low-lying villages are located. Houses mostly along the road, and backyards full of apple trees, whose full branches bend towards the road. Well, apples are seen even in the dark; we stood twice to eat sweet fruits with the scent of autumn. We already knew then, and became even more convinced on the way back, that you have to drive through this forest during the day. But let's go back to the beginning. We are just starting our journey.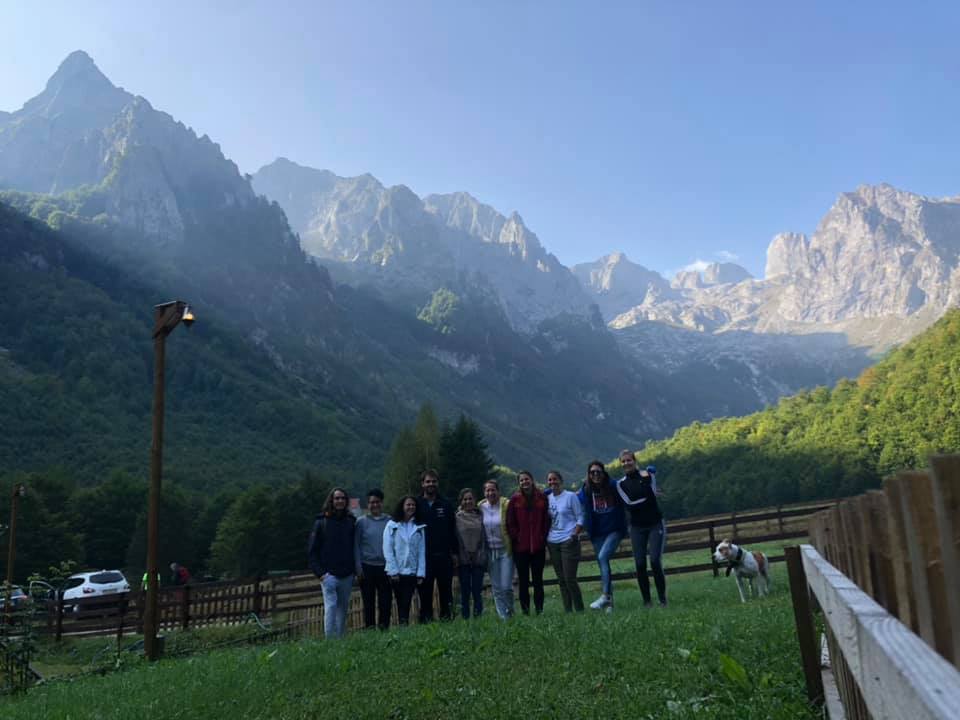 Grebaja Valley, Prokletije, Photo by Milan Lučić
If the North East of Montenegro was compared to any other country, it would be Switzerland first. Above the forests and glades, Prokletije mountain climbs as cruel as the Alps. And the villages and towns that are located under its slopes bathe in the colorful autumn. The towns we passed through are quiet, peaceful, although Friday night in Montenegro is traditionally reserved for young generations. It was interesting to see that there are not many girls on the streets, mostly boys sitting together in cafes. They spot our cars with the license plates of coastal cities; we see that the summer marked by coronavirus is behind them as well. In previous years, this part of Montenegro attracted a lot of attention from tourists worldwide. According to the Manager of the hunting ground "Prokletije", Mr. Xhevad Hot, most of the guests came from Western European countries.
"They know much better than our people how to recognize and appreciate the beauties of nature that await them here. They come informed, well prepared; they understand that sheer rocks are waiting for them. They return from the mountain carrying the garbage they collected along the way," says Xhevad, emphasizing that he is ashamed when he has to tell them who left the trash behind and why. It doesn't make sense to civilized people. Although, if you ask me - Prokletije is the best-preserved national park in Montenegro. Although Mr. Hot has many objections to the way the Public Company "National Parks of Montenegro" and the Administration of the Prokletije National Park operate, there is less inappropriate construction in this part of our country than in other regions. Which in itself means that the damage, where it exists, will be easier to repair.
From Gusinje to the Grebaja valley, from where you start the most popular hiking tours in the part of Prokletije called Karanfili, takes about 15 minutes' drive. The road is in good condition, and you can easily get there with a small city car. Xhevad greeted us with a smile even though we arrived after ten o'clock in the evening. Tired from the trip, but eager to connect with the mountain, we had dinner under the open sky.
Our team member Matija is the only one who has had the opportunity to mountaineer on Prokletije before. If we knew what was in store for us, at least half of the participants would have given up at the start. Yet now that everything is behind us, we can only say a big thank you to him.
After breakfast and a quick coffee prepared by Xhevad and a hardworking hostess of the Ethno-village "Maja Karanfili", we have to get moving. Matija shows us the peak of Očnjak, which rises in the sky under the clouds as the first rays of the sun rest on it - it was difficult for me to reach it with my eyes. Well, here we go, says Matija. Xhevad has been the hunting ground manager in Prokletije for 20 years, so it goes without saying that he knows the mountain well. His advice is to opt for a less demanding climb - the top of Voluščica offers a beautiful view as well, and the climbing is much easier and less dangerous. I'm silent, rooting for Voluščica. But I don't want to be a killjoy. I'll go. Wherever.
Matija is a young man in his twenties. Healthy, smiling, full of strength. It turned out he was also very patient. It is not difficult to get our captain Milan on adrenaline, and eight girls decided to be ambitious. That's how it all started. At ten in the morning, uphill.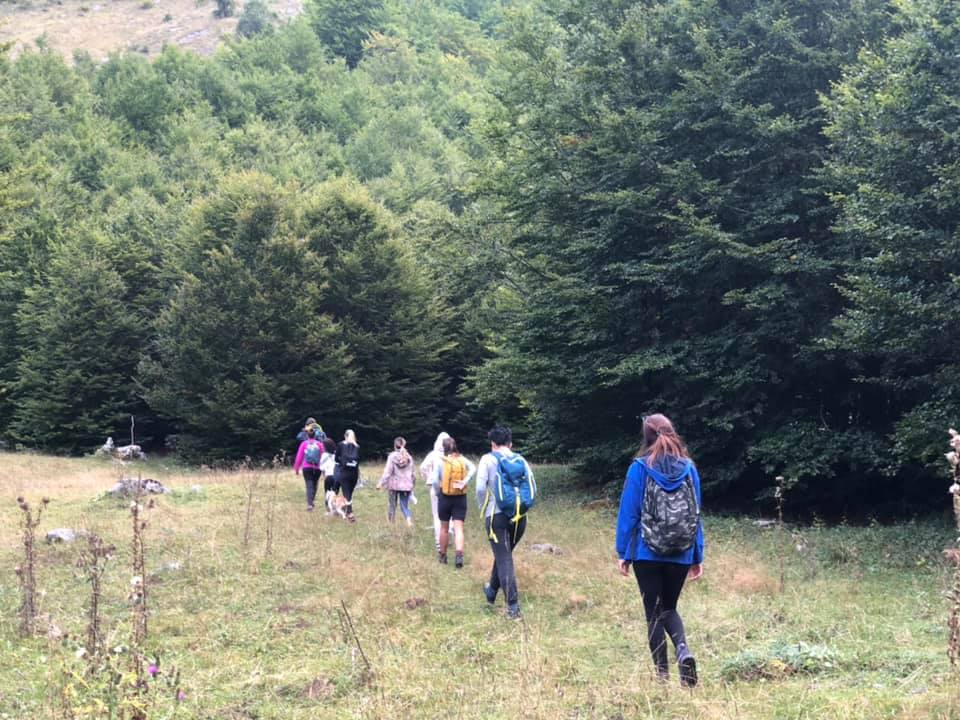 Determined to reach Očnjak, Photo by Milan Lučić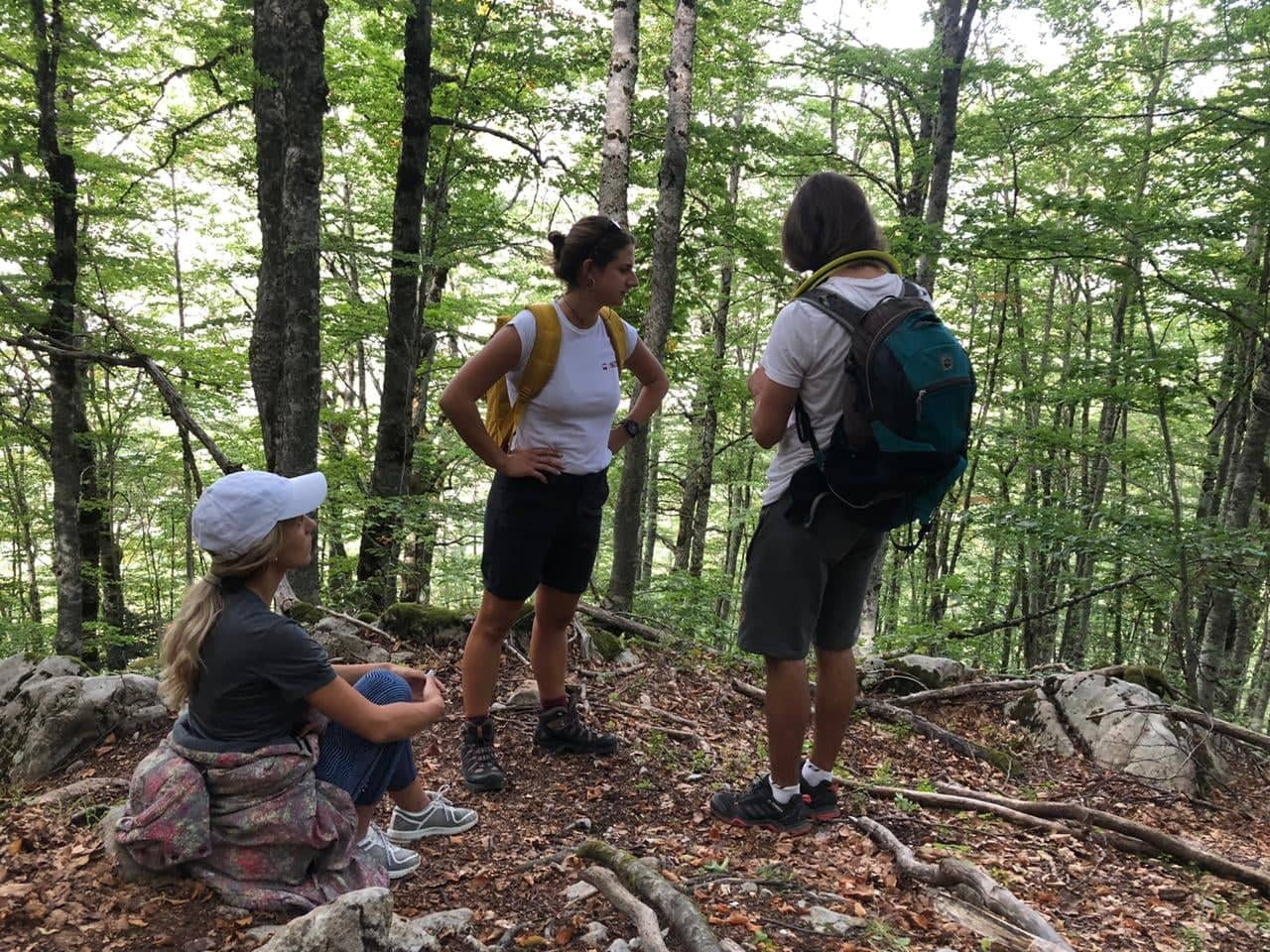 Matija encurages the girls, Photo by Milan Lučić
Already after the first ten minutes of walking, muscle pain caught up with me. I thought I was going to roll back. But it was a dangerous idea even at the beginning. The Grebaje Valley is located at 1141 m above sea level. The peak we climb is 2185 meters high. And the length of the route is only three kilometers. So from the very base, the ascent starts vertically. But there is Matija. He runs up and down the rocks, springs from the woods, and gives encouraging words to those in the most trouble at any given moment. The muscles are warming up slowly, and the brain is also learning how to send a signal to the body -"You can do it!"
With a lot of mutual encouragement and laughter, we managed to reach the rest area, located some halfway to the top. It was hard to decide what to do first - take off your shoes or drink water. There was about a two-hour walk behind us. We had crossed barren mountain lands, traversed several groves, and climbed a ditch full of nettles. Constantly at an incline of over 30 degrees, with not a second of rest for the head. Because - if you climb on Prokletije, you have to be aware of your every step. One mistake is enough to give you an injury that can keep you in the mountains much longer than you planned, instead of savouring the victory that awaits you at the top. But let's not dwell on any negatives. I have much more to say and show you.

Photo by Milan Lučić
A rest under the pine tree was a pure privilege. After half an hour we moved on, to much harder terrain. Not only because of fatigue, but becasue the most challenging part of the journey was yet to come.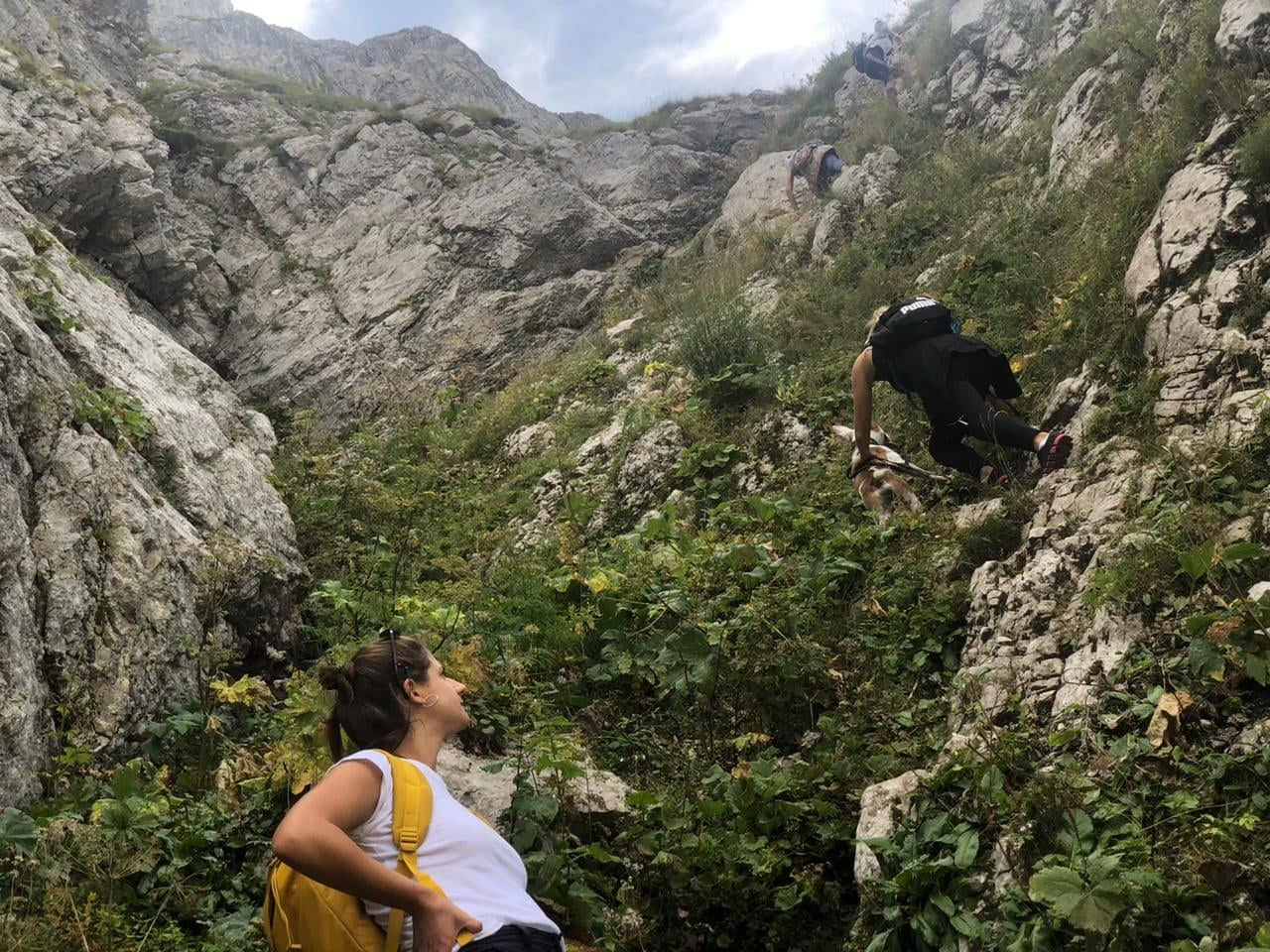 Photo by Antonela Stjepčević
Come on, girls, we can do it! If one's strength or will fails, or we admit fear - Matija is, here again. He explains, coaxes, offers mountaineering aids, and is even ready to drag one of us uphill. Not allowing him to, she grits her teeth and continues to climb. The sticks we make from beech branches along the way are of great help. You distribute the weight; the muscles suffer less when they work together. But soon enough the sticks will no longer be of much use to us. We climb almost on all fours. I decide not to look down. The worst thing that can happen to me now is fear. It is what it is. A few more minutes, and here we are. At least that's what Matija says. I have no choice; I trust him all the time.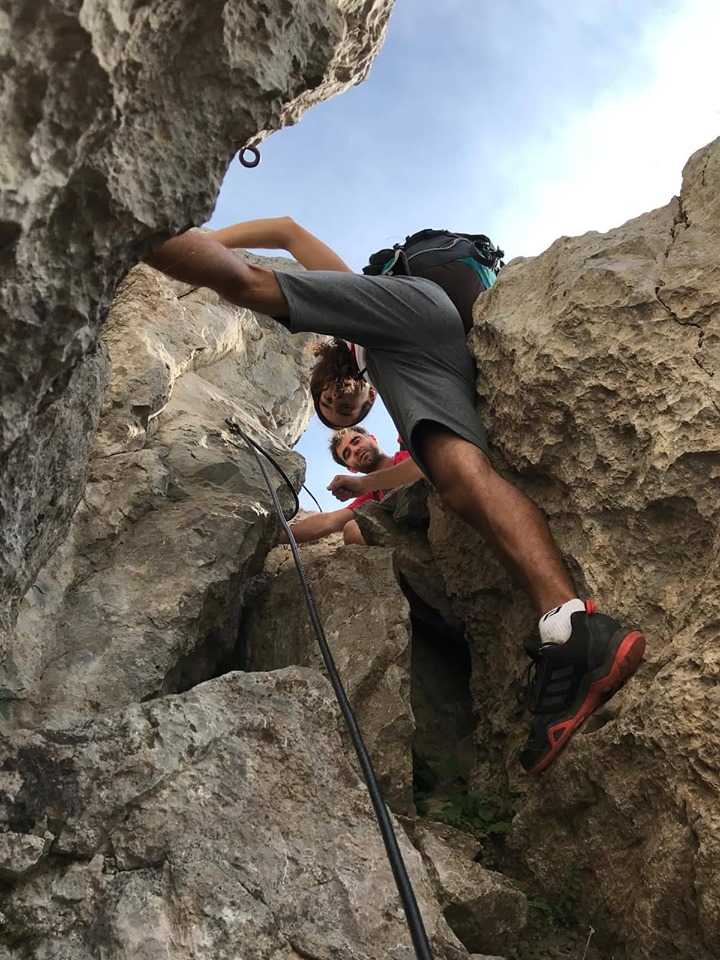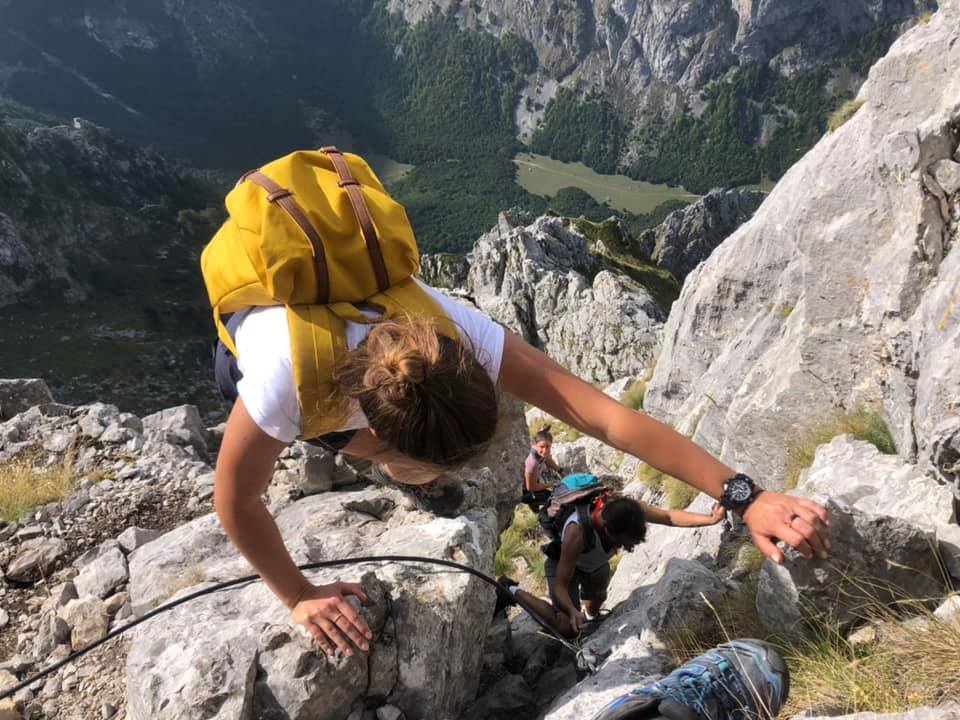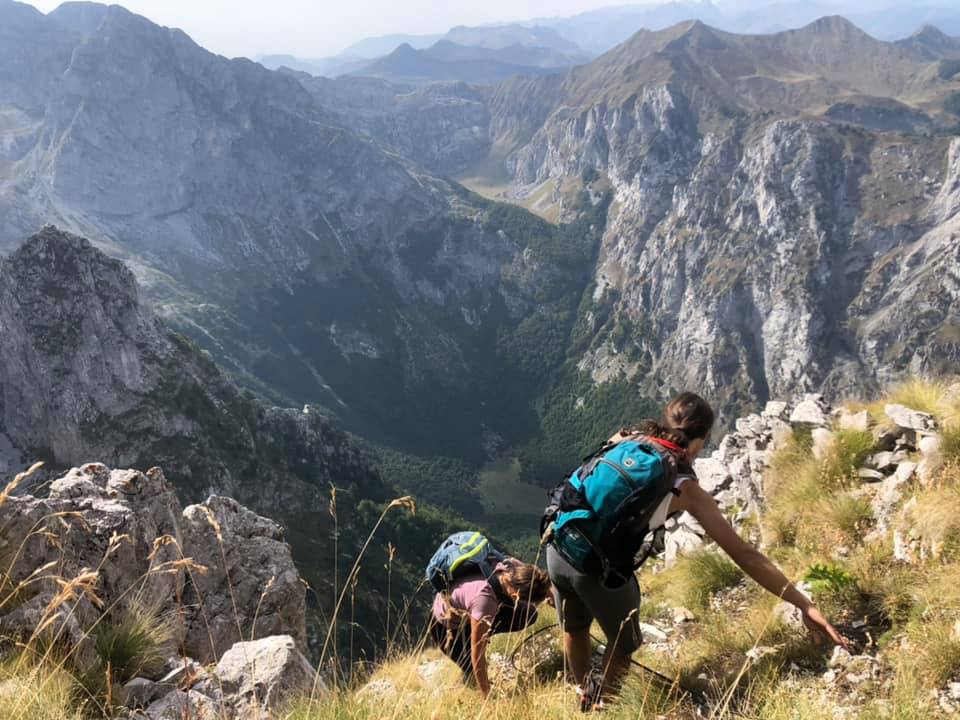 Photos by Milan Lučić
The last part of the trail is a vertical climb along the rock, equipped with a hiking cable. As we do not have the proper mountaineering equipment and the opportunity to connect, I realize that this is the end for me. I settle down comfortably under a rock and my gaze follows the bravest among us. Congratulations to them. Here they are on one of the highest peaks in Montenegro. 2185 meters above sea level—well-done boys and girls!
Očnjak Peak, 2185 m, Photo by Milan Lučić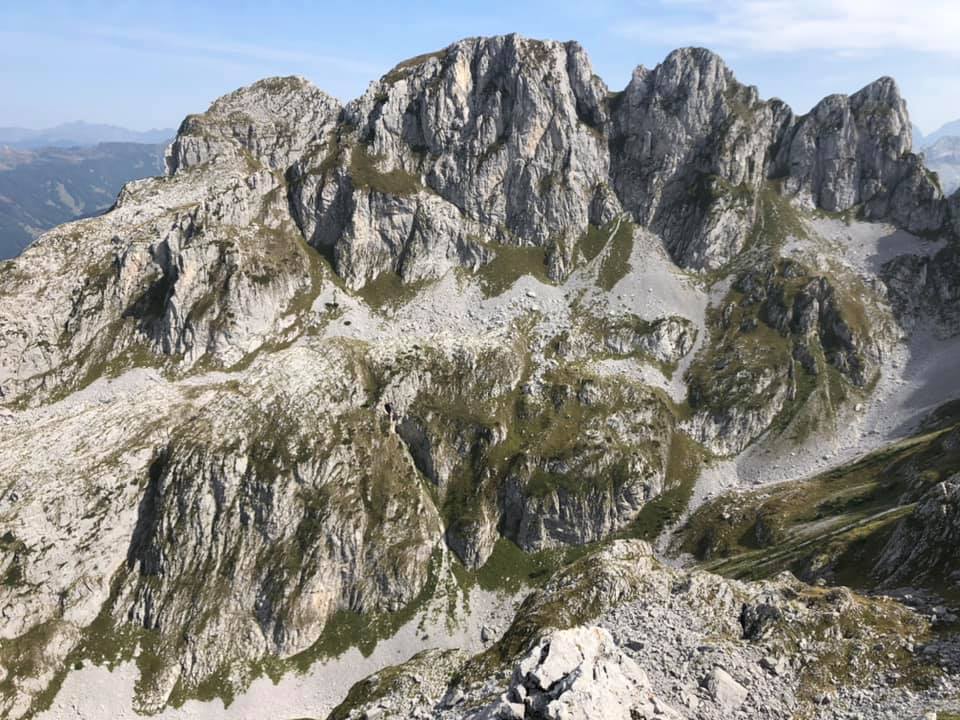 Očnjak View, Prokjletije, Photo by Milan Lučić
I will not write about the way back through Očnjak. That part of the story still hurts a lot, especially in my thigh muscles. But it was worth all the pain. The whole being should feel the taste of going beyond one's boundaries from time to time.
For me it was an excellent opportunity to fight with myself. To realise that with the power of will, you can conquer even the highest mountain peaks. Both in a literal and in a metaphorical sense. If you are unsure how much you can do - go hiking right away.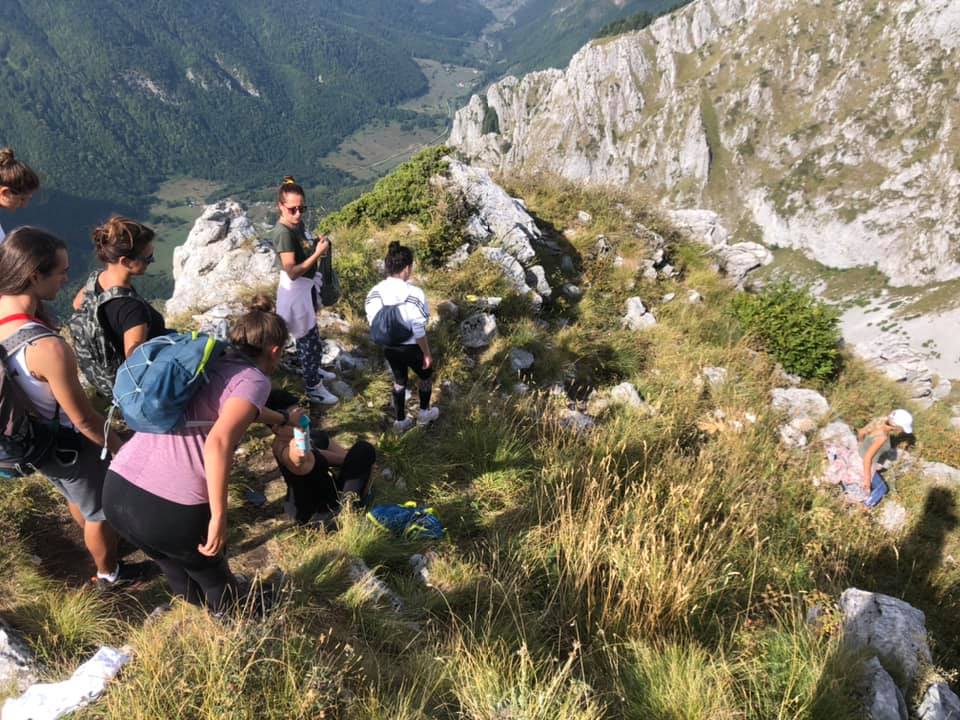 Photo by Milan Lučić
Most of the team arrived in the Grebaja Valley around five in the afternoon. The other three of us more than an hour after them. Tired but proud of ourselves and determined to prepare better for the next expedition. After eight hours of hiking, I could only go to sleep. I missed the barbecue, the walk under the starry sky. Yet I gathered the strength necessary for the program that awaited us on Sunday.
With breakfast, I took the opportunity to spend some more time with Xhevad. He was happy that we had returned safely from the mountain.
"Prokletije are harsh mountains. There's a big difference in altitude; a mountaineer must be physically fit, accustomed to the mountain, and aware of its dangers. Although the Prokletije National Park was formally established in 2011, very little has been done regarding arrangement and management. We try to inform our guests and take care of who leaves when and where and react quickly if he does not return on time. We also try to provide mountain users with flyers with marked hiking trails to find their way as easily as possible. The courses are correctly marked, but we cannot just rely on that," says Mr. Hot, who also points out that there have been no accidents with guests at Prokletije and that they will do their best to keep it that way.
"Montenegro is a beautiful country, but we are missing a lot. Above all, we lack environmental awareness. Our own people are the ones who pollute the surroundings. We lack functional institutions that do their job. The employees of the National Park must know the mountain; they must be ready to answer all questions. They must have guides available to interested visitors. So, a lot needs to be organized, and organized better," says Xhevad Hot.
He says that we were great guests and that he is sure that we will return to Prokletije. I can tell you that he is right. We are great, and we'll be back for sure.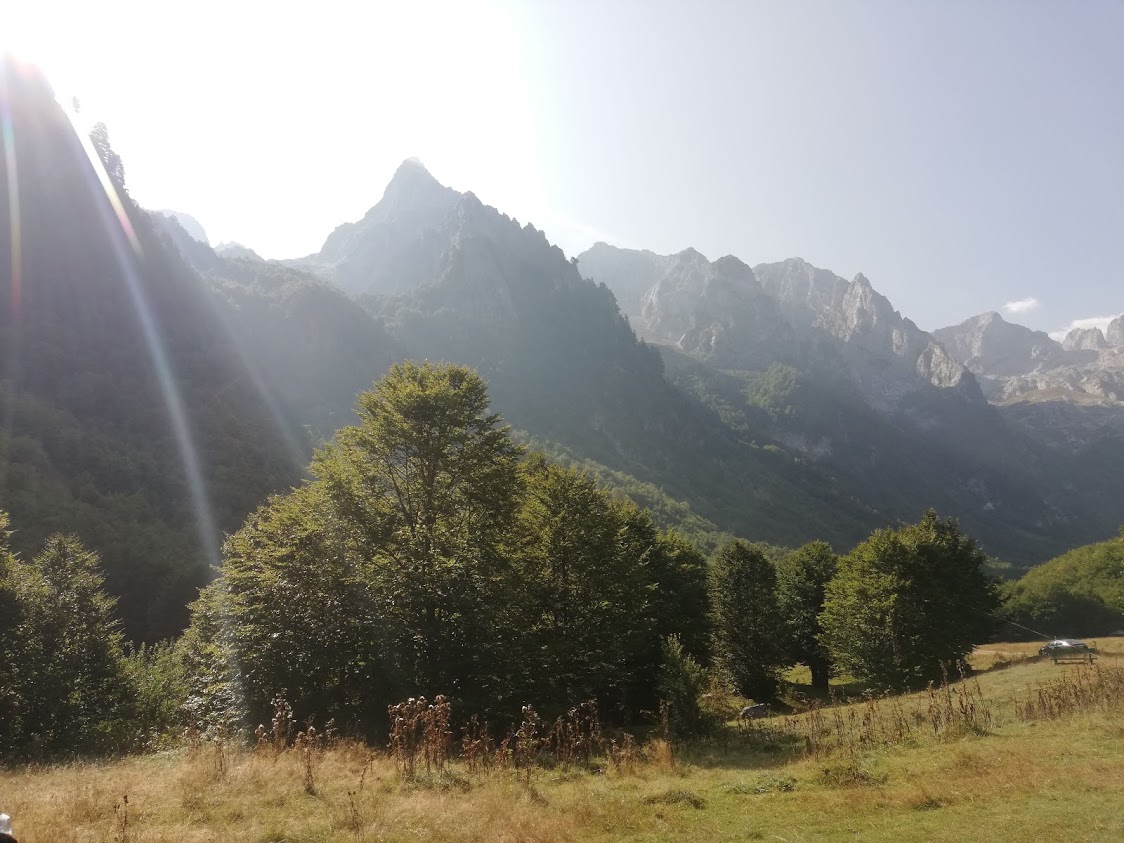 Grebaja Valley, Karanfili, Photo by Antonela Stjepčević
The day after the ascent to Očnjak, it was even more spectacular to look at it from the valley. You could spend a good few hours enjoying it with a coffee, tea, or indeed a homemade apple or pear brandy. The air was gentle, clean, the sun breaking through the peaks. However, when already visiting this part of Montenegro, it is a pity not to see some more attractions. The first on our list was Ali Pasha's Springs near Gusinje.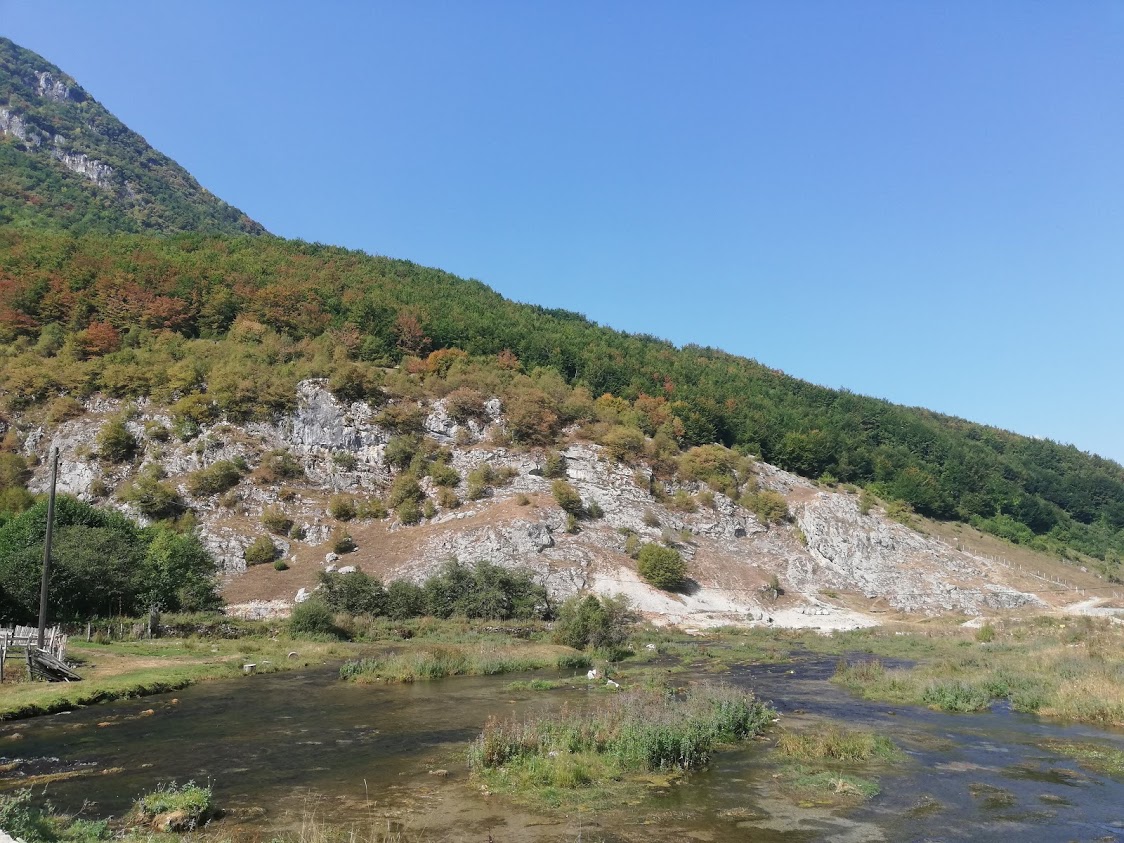 Ali Pasha's Springs, Photo by Antonela Stjepčević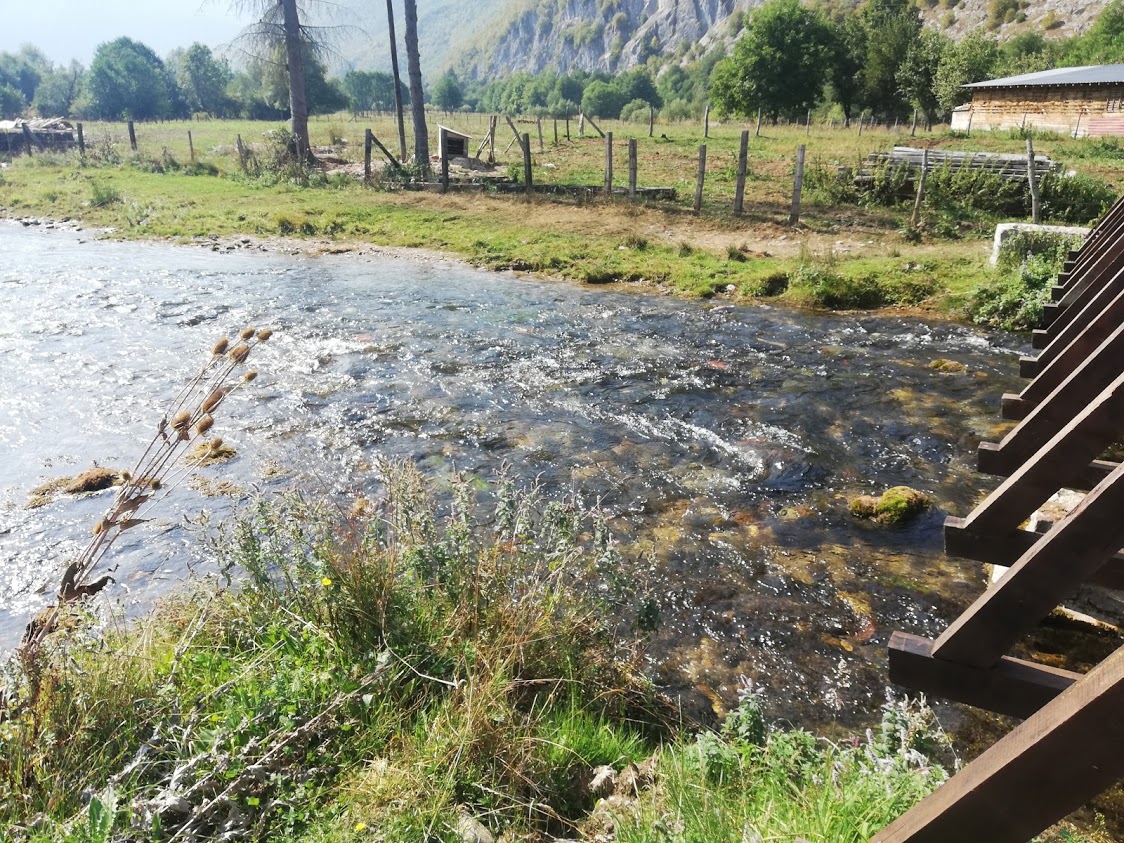 Ali Pasha's Springs, Photo by Antonela Stjepčević
Although the water is currently at its lowest level, we can see how this river is formed. Ali Pasha's Springs is located at a distance of 1.5 km south of Gusinje and erupts at the foot of Prokletije at 925m above sea level. It overflows widely at first, and then flows towards the fast and sparkling river Grlja, making the river Vruja.
One of the attractions at the foot of Prokletije is the Grlja waterfall, which we did not want to miss, although by looking at Ali Pasha's Springs we could already tell that there would be a lack of water. We did not find the waterfall, just a little water at its base. Yes this was enough to reflect the top of the rock. So Grlja remains in our memory as a beautiful woman who hid in the mountains.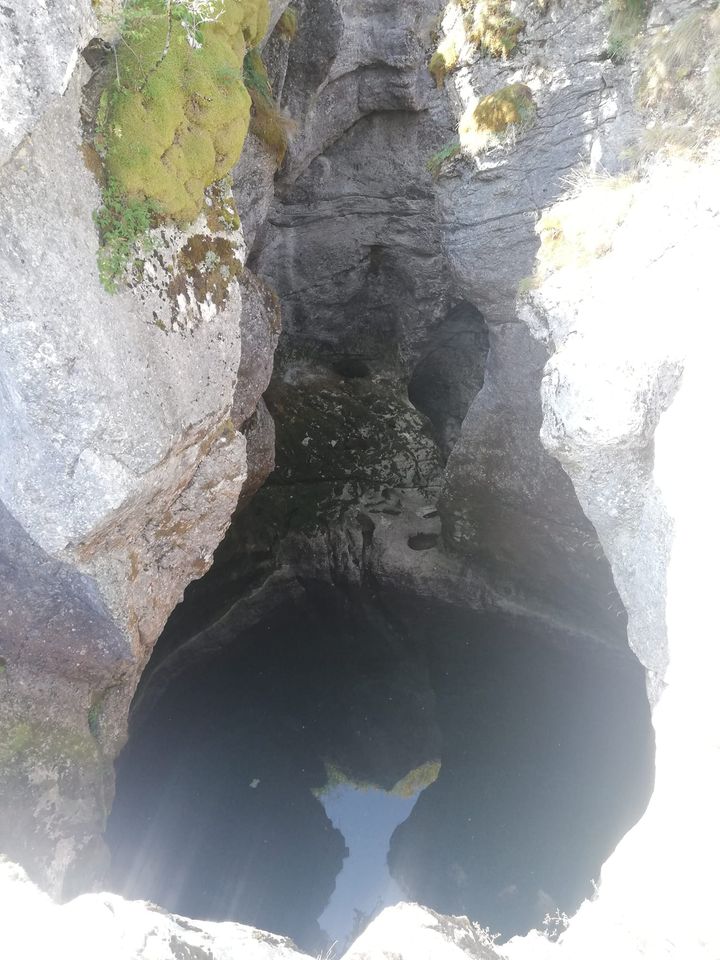 Grlja Waterfall, Photo by Antonela Stjepčević
Our captain Milan was tireless. If we stopped and thought we were tired enough, his boyish playfulness would embarrass us. But it was also an experience for all of us. We had not made a mistake yet when we listened to him. We knew we wouldn't this time either. But we didn't think he was about to show us one of the most beautiful places we had ever seen, and not only in Montenegro.
After visiting the natural attractions of Gusinje, our destination was the Municipality of Plav. First of all, to see the Plav Lake, and then discover a much smaller and more inaccessible - Hridsko Lake located at an altitude of 1900 meters among pine trees.
To reach Hridsko Lake, you need something sturdier than a sports or small city car. The drive through the forest and across the glades takes about an hour, and the lake itself can only be reached on foot. Let's hope it stays that way.
Hridsko Lake, Photo by Antonela Stjepčević
We left the cars at the end of the road and headed downhill, picking blueberries and raspberries along the way, which are so sweet and irresistible that they made our progress to the lake much slower. The trail leads across glades, then down the slope of vast rocks dressed in green-yellow lichens. Pine forest, raspberries, blueberries, step by step to a hoop of pine trees at a height obscuring the view. Only this climb left, and then one of the most beautiful lakes opens out before your eyes.
Words cannot do its beauty justice. See for yourself in the photos that follow.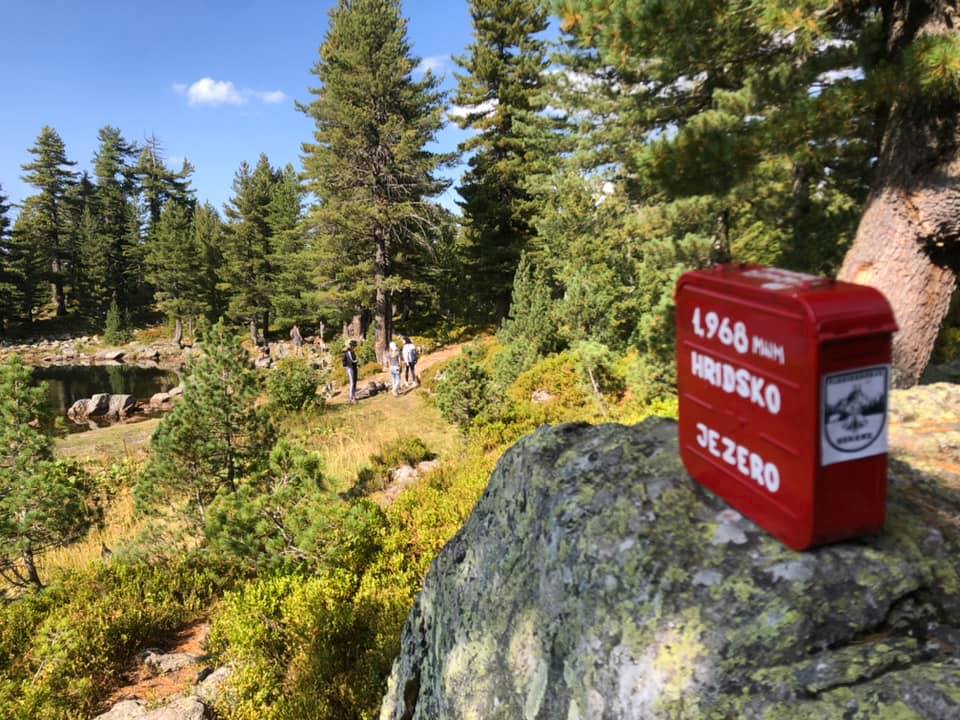 Hridsko Lake, 1968 meters above sea level, Photo by Milan Lučić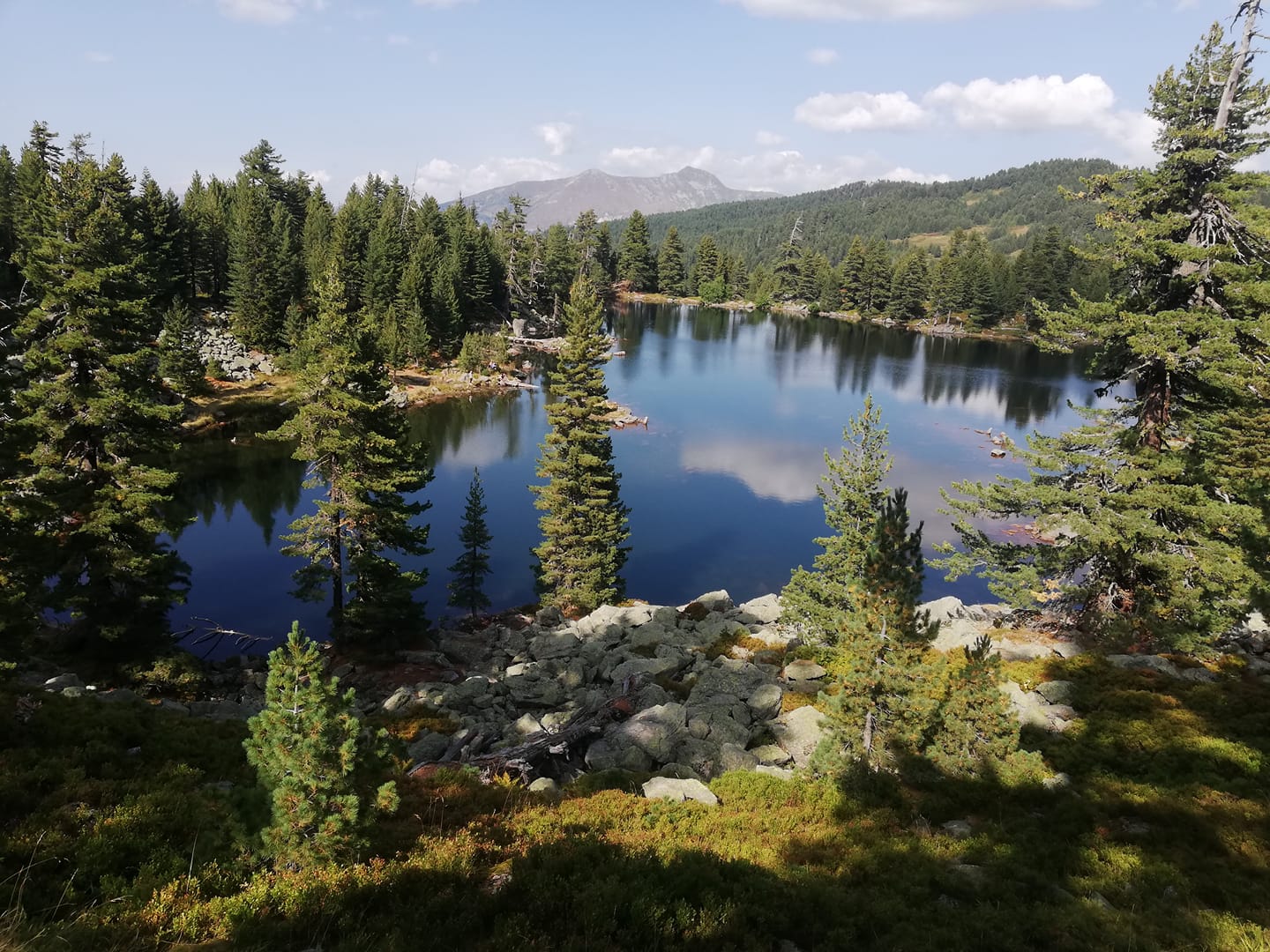 Photo by Antonela Stjepčević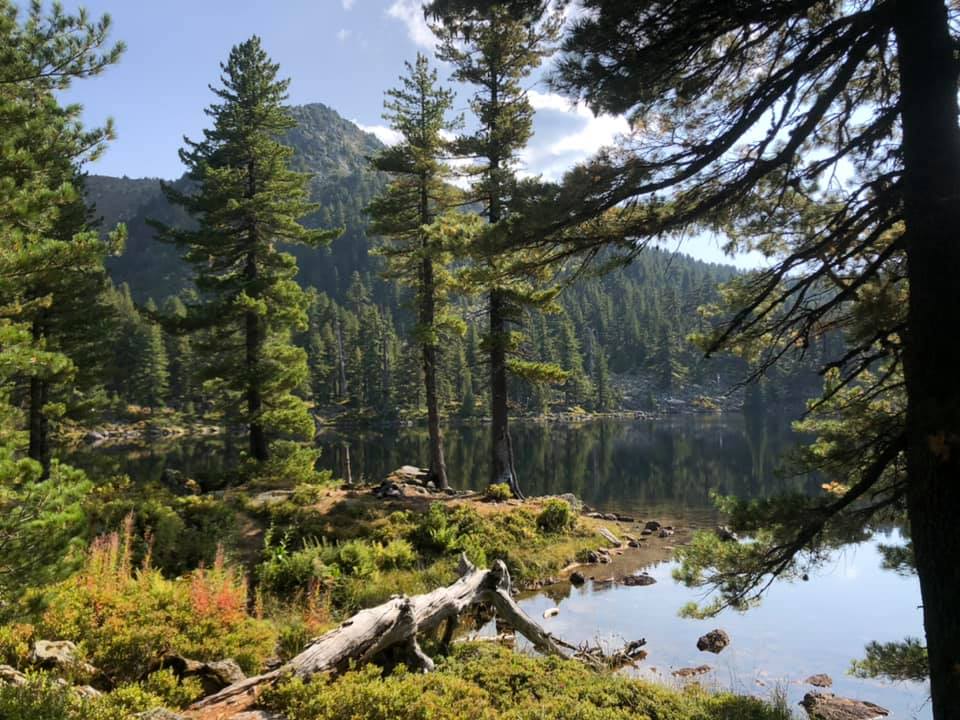 Photo by Milan Lučić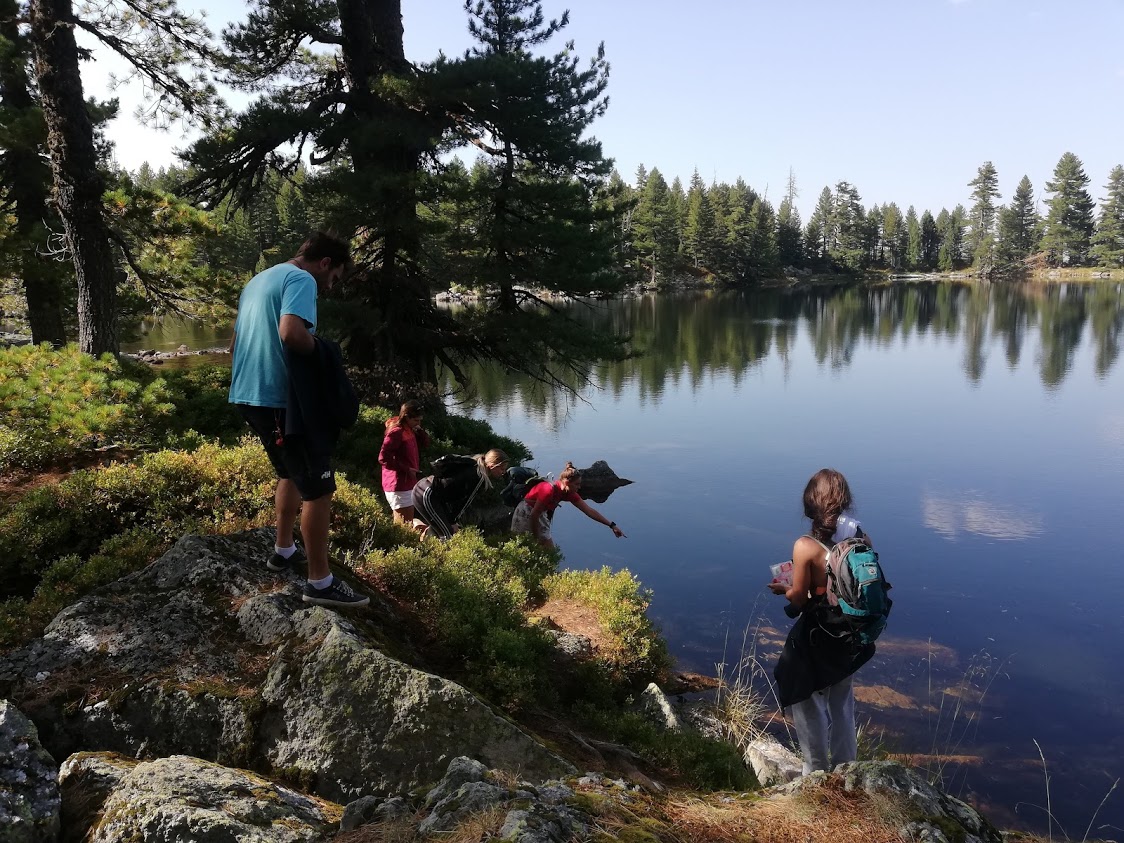 So beautiful you are, my Montenegro! And Prokletije - you are certainly not damned, but gorgeous in your beauty. In addition to breathtaking views, the landscape offers self-confidence training, training on how to respect nature, and of course endurance drills. And above all, an awareness of how important it is to always be aware of ourselves in space and time. Then, no height is unattainable. Not a single peak unconquerable.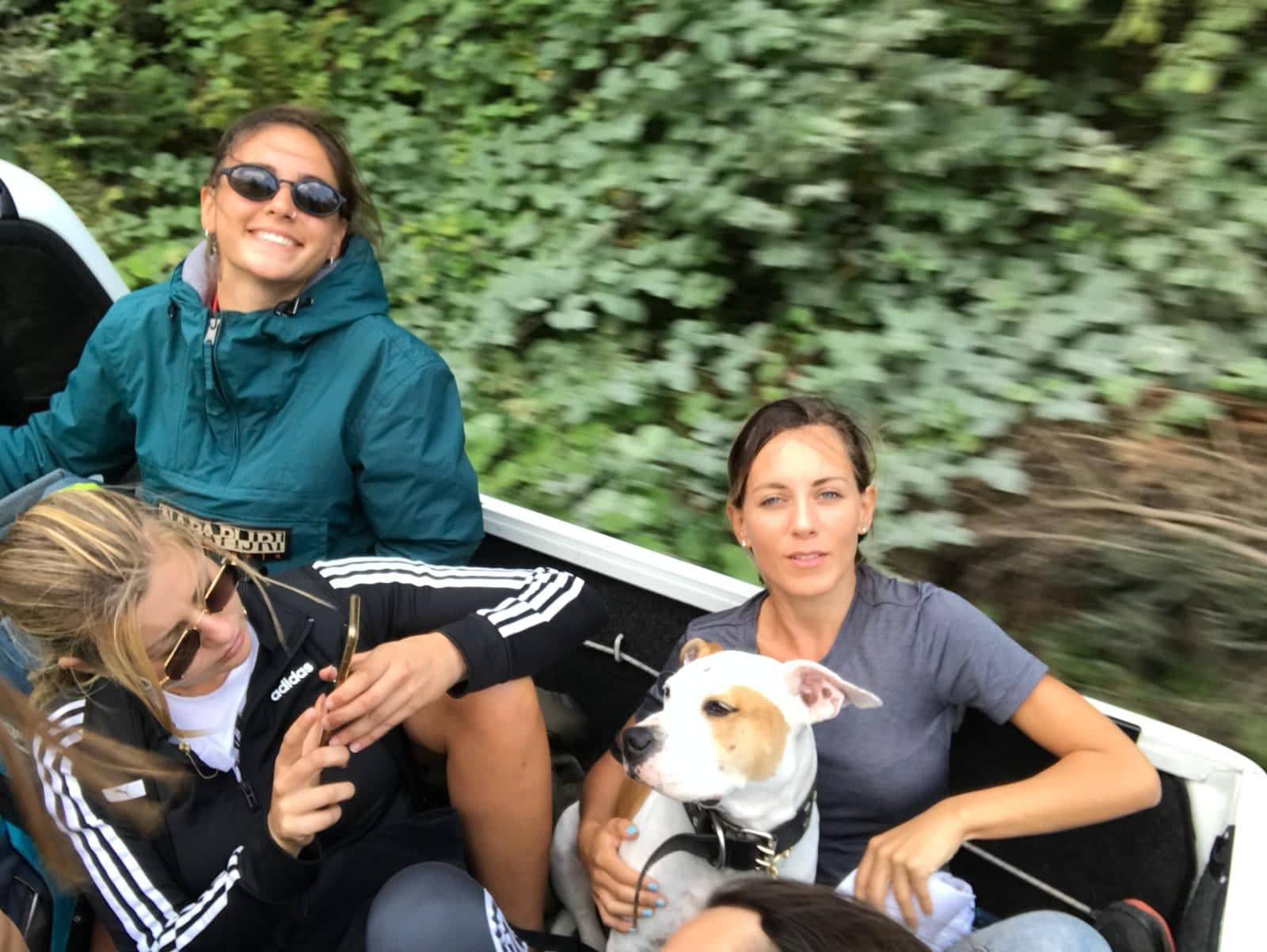 Photo by Sara Stevanović