11 June 2019 - Budva Beer Fest, a recently launched and very popular musical event in Montenegro, will take place from June 14 to 16 at the Lugovi Stadium (FK Mogren). The list of performers at the festival includes big regional stars of rock & roll, pop and mainstream music, reports News Agency RTV Budva. The organizers aim for this event to become one of the biggest events in the region, which will bring renowned music stars of the world to the audience in Montenegro.
"Held at the beginning of each summer season in Montenegro, this event has great potential to reveal the beauty of the Budva Riviera to the generations of new young guests from the region and the world, to achieve a good economic result, but also to offer quality entertainment content to the citizens of Montenegro and the region," says the official announcement by the organizers.
The strategic partners of the project are the Municipality of Budva and the Tourist Organization of Budva.
At the press conference held in the municipal building of Budva, on the occasion of organizing the popular music event, it was announced that by launching this project, Budva is trying to be competitive in the field of organizing economic events as well as entertainment tourism, which today makes a significant part of the regional tourist market. The Budva Beer Fest will gather people of all generations from the country and the region, quality performers of pop and rock music, some of them, world famous. Thus, this festival should mark the beginning of the peak part of the tourist season.
According to the organizers of the festival, 60,000 people are expected at the Stadium Lugovi, FC Mogren. The audience will have the opportunity to enjoy the music of the most popular performers of the region in three days, such as Plavi orkestar, Riblja čorba, Zabranjeno pušenje, Psihomodo pop, Who see, Brkovi, Tropico bend, YU grupa and Ortodox Celts.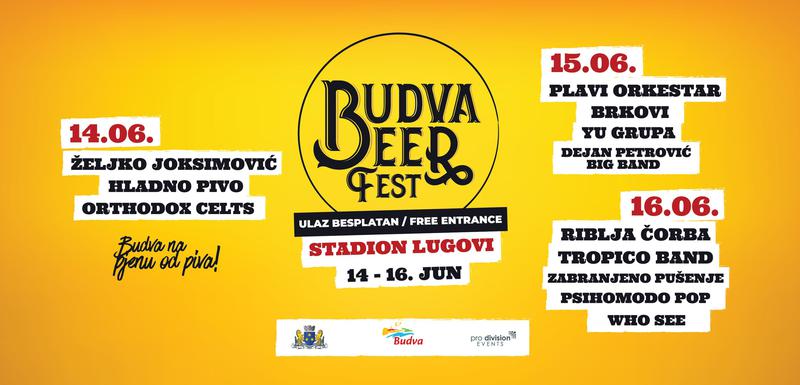 The complete program and timetable of Budva Beer Fest is shown below.
Budva Beer Fest 2019

14.06.2019

19:00h Tribute band
20:00h Budva City Orchestra
21:00h Željko Joksimović
23:00h Orthodox Celts
00:00h Hladno pivo

15.06.2019

20:00h Loup Garula Blues
21:00h Plavi Orkestar
23:00h Yu Grupa
00:00h Brkovi
01:00h Dejan Petrović and Big band

16.06.2019

19:00h Tribute band
20:00h Tropiko bend
21:00h Riblja čorba
23:00h Psihomodo pop
00:00h Zabranjeno pušenje
01:00h Who See
Read more about festivals in Montenegro on TMN's dedicated page.