21 December 2018 - Tourist Organization of the Municipality of Budva and the Association of Caterers of Budva are organising the event Christmas Piazzetta which should additionally complement the city's tourist offer during the upcoming Christmas and New Year holidays.
This event will take place from December 22 to January 15 at the Budva's City Park. The program of the Christmas Piazzetta will include a vibrant music and entertainment program, exhibitions of souvenirs and handicrafts, as well as the offer of drinks and delicacies exhibited by numerous caterers from Budva.
The program of the Piazzetta is designed to suit all ages and tastes, so the organisers have prepared activities dedicated to the youngest audience, evening events when cocktail masters will entertain and serve visitors, costume nights and more!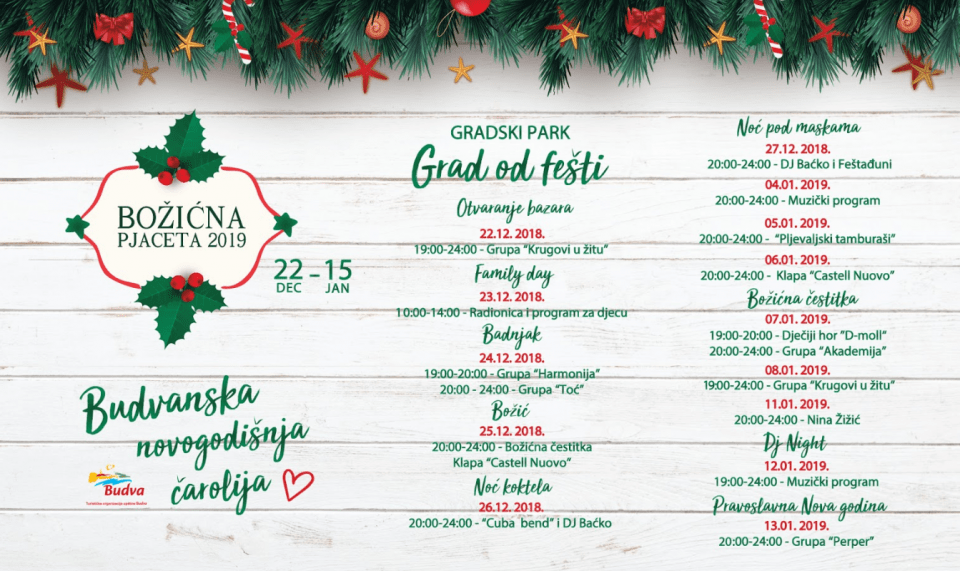 This Sunday (December 23) is reserved for the youngest - from 10 am to 2 pm there will be a music and entertainment program which will include children from Public Preschool Institution "Ljubica Jovanović-Maša", PPI "My World" and PPU" Winnie the Pooh", dance group "Iskra" and members of the Youth Club Budva. A creative workshop for children will also be organized, in which the little ones can make greeting cards, ornaments, and souvenirs. Their handicrafts will be sold, and this will raise funds for the purchase of wheelchairs for the needs of the "Second primary school" in Budva, attended by children with disabilities.
On December 24, from 19:00 to 20:00, the guests will be entertained by the sounds from the band Harmonija, followed by the band Toć from 20:00 to 24:00.
On December 25, the organisers have prepared a Christmas Celebration from 20:00 to 24:00, with the Castell Nuovo band.
Numerous locals have already shown great interest in the Night of Cocktails (December 26th) and Costume Night (December 27th).
The Christmas Piazzetta, which takes place from December 22 to January 15, offers a unique and rich musical program that can suit the tastes of all guests - from the fans of rock and pop sounds, those who prefer electronic music, to those who enjoy the wonderful sounds of tambourines.