21 July, 2018 - A seasonal Katamaran line connecting Budva (Montenegro) and Dubrovnik (Croatia) was introduced on July 9th. It is actually a Water Taxi Line from the Dukley Marina, Budva to Dubrovnik. A Water Taxi on this route is extremely useful since it represents a watercraft used to provide public transport. The line is maintained by Forline Shipping Ltd. Katamaran FOR.
With this type of transport, Forline Shipping has established a new segment of a great sightseeing and transportation business, which can only grow in the future. As Budva continues to grow as a tourist destination, its residents and countless visitors will need an even more robust and diverse transit network to get where they want, when they want. The Budva to Dubrovnik route is quite common with Montenegrin tourists and now all visitors can have the opportunity to enjoy this enjoyable sightseeing trip. The cities on the coast can and will definitely seduce all guests with their charm, diversity and the Mediterranean air.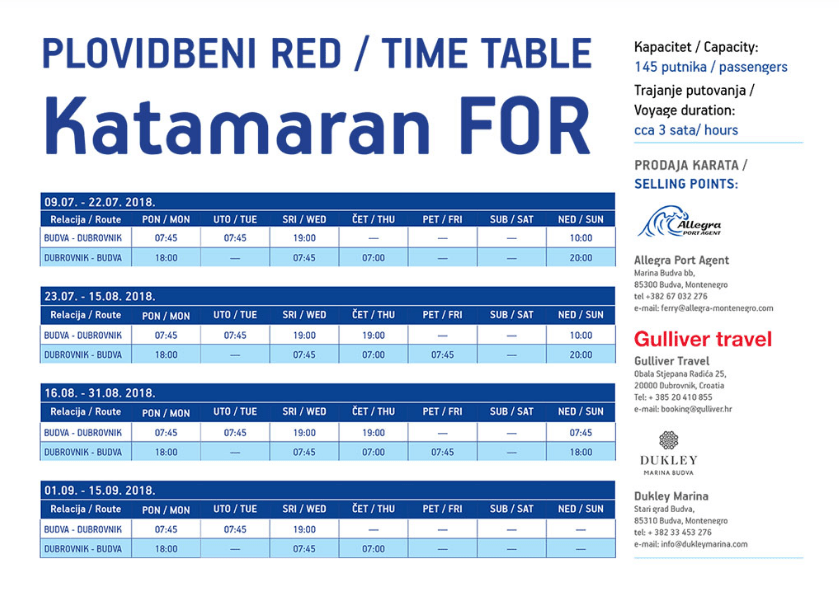 The water taxi can take a limited number of people at a time, which is why you should consider booking your tickets in advance. According to the organisers, the duration of the voyage in one direction is about three hours. There are three ticket selling points at this time, Allegra Port Agent (Marina Budva), Gulliver Travel (Obala Stjepana Radića 25) and Dukley Marina (Old Town Budva).
Your trip can be pleasant, without waiting at borders or in long waiting lines along the way!