April 15, 2019 - The Bay of Tivat was good for the final day of the 44Cup Porto Montenegro with three races held and the most worthy winner in Igor Lah's Team CEEREF. The Slovenian team led this first event of the 2019 44 Cup from the outset. Today, neither they nor Vladimir Prosikhin's team Nika won a race, but showed impeccable consistency, both enjoying a trio of podium place results, elevating team Nika from fourth to second overall.
Today's opening race went underway in light conditions, but eminently easy to race by the nimble RC44s. In this, Chris Bake's Aqua was winning and then team CEEREF ultimately finished ten boatlengths ahead.
"We missed doing another two of those," said Chris Bake. "It was a little shifty, but the boat was set up well. A big rotation of team members required work this week, but they seemed to be doing pretty well. The venue is magnificent - phenomenal infrastructure-wise."
On Thursday, Kirill Frolov on Bronenosec Sailing should have won the first race, holding a massive lead until their spinnaker exploded. The St Petersburg Yacht Club team made up for this in today's second race. After a giant split left and right up, they chose the favoured left and followed team CEEREF at the top mark. Then John Bassadone's Peninsula Petroleum took the right side of the run to claim the lead. Finally on the next upwind Bronenosec edged ahead, led at the top mark and on to the finish.
"If you are not in the hunt you can sail a freer race and everyone else isn't so worried about you," said tactician Cameron Dunn. "Overall we sailed our best day of the regatta. We felt like we made some nice improvements to our speed and generally got off the start line better."
It was the turn of Hugues Lepic's Aleph Racing to win the third and what turned out to be the final race, held on a new axis course, the wind having veered to the west. In what tactician Michele Ivaldi admitted was their first good start of the week, the French RC44 won the pin but then tacked over to cross the fleet. They benefitted on the right side of the course to lead at the top mark. From there the French RC44 was never challenged.
"It was great day but it was hard all the way through - that is what is so great about this class," said Lepic. "For us it was great to be able to finish on a high. The team now is stable and very high quality and we are very pleased about our manoeuvres. We hope to get some better positions over the course of this season."
Team CEEREF's victory at the 44Cup Porto Montenegro was by seven points from second placed Team Nika, in turn two ahead of Team Aqua, with Peninsula Petroleum relegated to fourth after a disappointing final race. Incredible, even though Lah's team won the seasons in both 2016 and 2017 and came close last year, the 44Cup Porto Montenegro is their first event win since the World Championship in Sotogrande three years ago.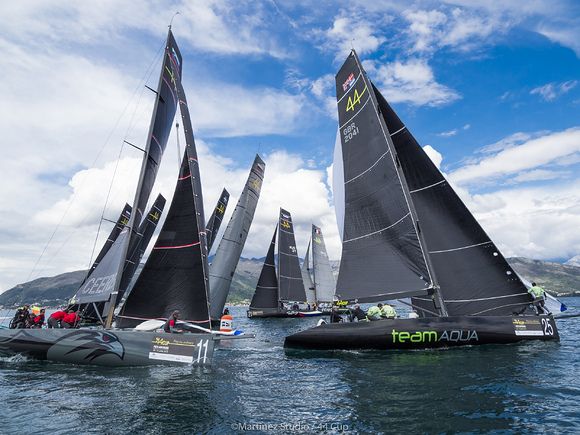 44Cup Porto Montenegro, Copyright: Studio Martinez
However Lah was most proud to have won with his son Tine on board. "I feel proud that he's sailed his first regatta and won it," he said. "We had great starts. Everything was in place like it should be, and the teamwork was okay, especially since we only had one day of practice. I was really surprised, because I had a feeling we weren't going to race at all and then we got in nine races – Montenegro has been brilliant."
Team CEEREF's British tactician Adrian Stead added: "We said today 'no matter how many races we have, just try and keep your nose clean and sail your own races'. But there were moments in all three races.
Igor's concentration - particularly in the tight stuff, when he needed to put a tight leebow on someone or to tack in front of someone, was very good at executing it. Plus we didn't have a bad start all week. I am really pleased with how the team is, given we have three new people.
Having Tine sailing with us is excellent. He is not very experienced, so it really made us think about our manoeuvres. By coaching him it makes you do your things in a slightly different way."
While the racing is over, tomorrow a Pro-Am race will be sailed on a long distance coastal course, the nine RC44 sailing more guests on board than usual.
From Montenegro, the RC44s head up the Adriatic to Rovinj, Croatia for their second event of the season, the Adris 44Cup over 29 May to 2 June.