09 August 2019 - General Secretariat of the Government - Public Sector for Information on the European Union and the Process of Accession to the European Union, has launched a public call for proposals for the development of the preliminary design and the execution of the selected proposal of murals on the theme: "Me for Europe, Europe for Me" - ME4EU, EU4ME.
At three locations in Montenegro - in Podgorica, Bijelo Polje and Bar, murals will be drawn as a "response" to a mural that celebrates the ties of the Western Balkans and EU "It is only with the heart that one can see well", presented in April in Brussels. Dedicated to the people of the European Union and the Western Balkans, the mural - art piece created by Rikardo Druškić, one of the most acclaimed young artists from Bosnia and Herzegovina, conveys messages of peace, tolerance, and reconciliation.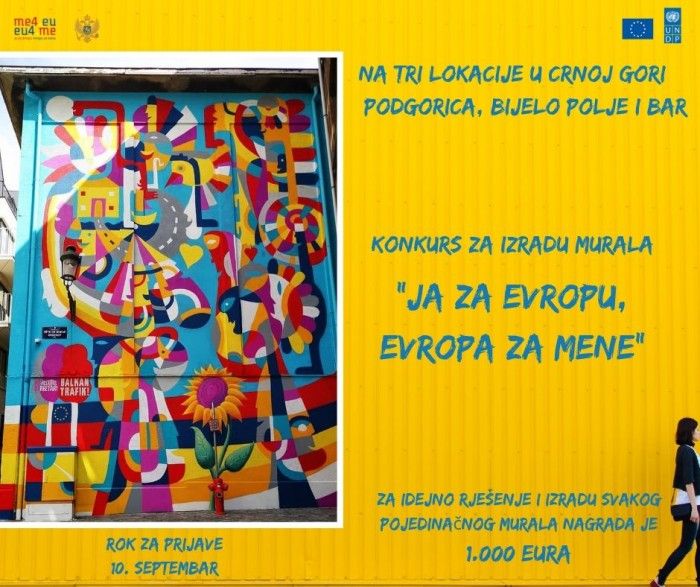 The jury will select the three best solutions, and their authors will have one month to draw the mural, in accordance with the proposed and chosen concept.
An amount of 1.000 EUR is earmarked for the preliminary design and the drawing process of each individual mural. The mural fabrication material will be provided from the EU4ME project.
The competition is conducted in accordance with the Strategy for Public Information on the Accession of Montenegro to the European Union 2019-2022, within the framework of the EU4ME project, funded by the European Union, and implemented by UNDP.
Considering that the European Union's youth policy is one of the most important ones it implements, and that research data shows that young people are the most enthusiastic when it comes to EU membership and that they will benefit the most from membership, the murals and the competition are aimed at bringing Montenegro's EU accession closer to young people and encouraging them to become more actively involved in the European integration process.
The primary goal of the communication strategy is to contribute to a better understanding of the process of European integration among citizens and to provide support to Montenegro's EU accession process.
Find more information on the contest at the website eu.me, or read more about Montenegro's EU accession process at TMN's dedicated page.