28 November 2018 - Montenegro sees European integration as an opportunity to secure the safety and quality of life of its citizens through an active contribution to a major project of peace and prosperity on the entire European continent, Deputy Prime Minister Zoran Pažin said at a meeting with President of the National Council of Austria Wolfgang Sobotka in Podgorica on November 28.
The Deputy Prime Minister pointed out that an adequate evaluation of the reform results of Montenegro is an opportunity for both the European Union and the member states to affirm, on the example of Montenegro, the concrete effects of European policy in the Western Balkans.
In that regard, he thanked Sobotka on the continued political support of the top Austrian officials for Montenegro's EU bid, hopeful that during the Austrian presidency of the EU Council, negotiations in Chapter 27 on environmental protection will be opened.
He also said he is hopeful that the evident progress that Montenegro will achieve in the field of the rule of law will soon result in the obtaining of concrete conditions, the so-called benchmarks, to close the negotiations in chapters 23 and 24, as well as a more dynamic process of closing negotiations in other chapters.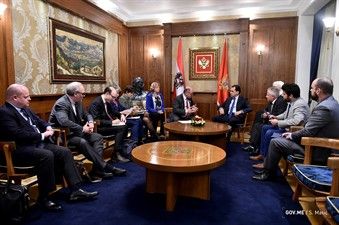 President Sobotka congratulated Montenegro on its success in the process of European Integration, adding that Austria is interested in the entire region of the Western Balkans to start moving in the same way.
He said he is optimistic about negotiations in Chapter 27 to be opened during the Austrian presidency of the EU Council.
Emphasising the importance of economic cooperation with Montenegro, the Austrian official said that the value of Austrian investments per capita in Montenegro is higher than in other countries of the region.