07 November 2018 - Montenegro's accession to the European Union and the implementation of comprehensive reforms on this path are in the interest of the Montenegrin citizens and the economy, Chief Negotiator for Montenegrin Accession to the European Union Aleksandar Drljević and Ambassador of Sweden to Montenegro Jan Lundin concluded at the meeting held on November 7.
The two officials stated that in the current accession process, Montenegro has already reached the standards of European Union member states in some areas and that there are reasons for satisfaction with the achieved results.
The Chief Negotiator Drljević pointed out that the Government is committed to implementing comprehensive reforms, not because of membership in the European Union, but primarily because of improving the living standards of its citizens. In addition, he added that membership in NATO and the European Union contributes to security and stability and strengthens the voice of Montenegro in the world.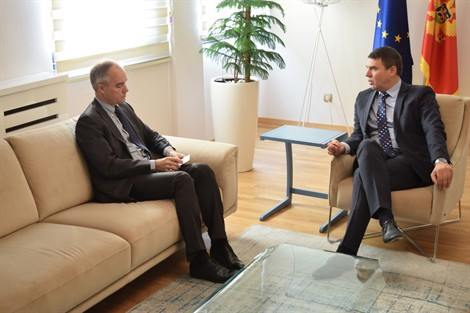 Bearing in mind the new approach to the negotiations, Chief Negotiator Drljević stated that the Government is fully committed to meeting the obligations under Chapters 23 and 24 that form the core of the negotiation process. He added that he is hopeful that the remaining two negotiating chapters will soon be opened, adding that there are several chapters in which all obligations are fulfilled and are ready for temporary closure.
Ambassador Lundin congratulated him on the achieved results by pointing out that Montenegro is the most advanced Western Balkan country in the European Union accession process, and that it enjoys the full support of Sweden for membership of the Union.
He said that the process of negotiations is now much more demanding than it was in the previous enlargements of the Union and that great efforts and demanding reforms are needed, especially in the areas of the rule of law and environmental protection.