23 October 2018 - Defence Minister Predrag Bošković met with Kosovo's Minister of Defence Rustem Berisha, Prime Minister Ramush Haradinaj, and President Hashim Thaci.
Defence ministers Bošković and Berisha emphasised that this visit is the cornerstone of the future improvement of the defence cooperation between Montenegro and Kosovo, but also another significant indicator of readiness to contribute to the continuous development of good neighbourly relations, as well as the preservation of stability and peace in the entire region.
Minister Bošković said that the Euro-Atlantic perspective of the Western Balkans is the key to the stability of the whole of South-East Europe, which is why Montenegro actively promotes NATO's Open-Door policy.
Minister Berisha thanked his Montenegrin counterpart for his country's open support for the Euro-Atlantic future of the Western Balkan region, pointing to the great importance of readiness to share experiences from the Euro-Atlantic integration process with the countries aspiring for EU membership.
The two ministers said they are hopeful there will be opportunities for significant participation of members of the Montenegrin minority from Kosovo in Kosovo's Security Forces.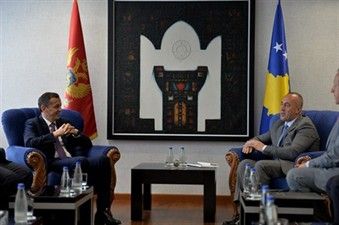 Minister Bošković met with Prime Minister and President of Kosovo, Ramush Haradinaj and Hashim Thaci, respectively. The highest level meetings discussed current bilateral, regional and international issues, with particular emphasis on the readiness of the two countries to cooperate in the process of Euro-Atlantic and European integration.
Both meetings emphasised that Montenegro and Kosovo had no outstanding issues, in particular referring to the importance of the recent resolution of the issue of demarcation both for the development and fostering of good neighbourly relations and the prosperity of the citizens of both countries.