08 October 2018 - Prime Minister Duško Marković hosted Speaker of the Bulgarian Parliament Tsveta Karayancheva, who is on an official visit to Montenegro.
Both sides concluded that the two friendly countries have developed high-quality bilateral relations, as confirmed by the fact that over the last two years, there have been nine mutual visits at the highest level. They also said that efforts should be made in order to strengthen economic cooperation, especially in the areas of tourism, agriculture and energy.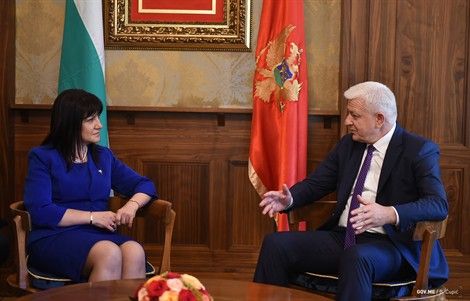 Speaking about European integration, Prime Minister Marković thanked Bulgaria for continued support for Montenegro and the entire region. He added that the EU-Western Balkans Summit, which took place in Sofia during the Bulgarian presidency, is a historic event.
"The European Union now has the opportunity to demonstrate, on the example of Montenegro, that the enlargement policy is alive," said Prime Minister Duško Marković.
The Speaker of the Bulgarian Parliament emphasised the continuation of support for Montenegro's EU bid, in particular underlining that Bulgaria advocates for the regatta principle and individual evaluation of results.