12 September 2018 - Minister of Science of Montenegro Sanja Damjanović presented the project of the International Institute for Sustainable Technology in Southeast Europe, which envisions the implementation of Hadron's cancer therapy with research in biomedicine at the International Conference for Research Infrastructures 2018 in Vienna, at the invitation of Federal Minister of Education, Science, and Research of Austria.
The ICRI 2018 Conference is organised within the Austrian Presidency of the European Union, and attended by Commissioner for Science and Innovation of the European Commission Carlos Moedas and Director-General for Research and Innovation, Jean-Eric Paquet.
At the introductory panel entitled "Sustainable Research Infrastructures on the global arena: Policy developments, lessons learned and strategies," during which Minister Damjanović presented the SEEIIST project, the participants discussed the sustainability, as well as the necessity of research infrastructures on the global scene. The discussion included scientific strategies and policies in relation to the infrastructures, which contribute to the overall socio-economic well-being of countries.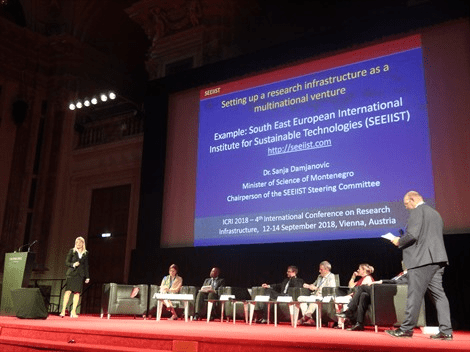 In her presentation, Minister Damjanović pointed out that the SEE region needs a major scientific research infrastructure that would trigger scientific excellence, prevent the outflow of talents, and stimulate innovation, mobility, internationalisation and transfer of knowledge, as well as other complementary technologies. All of these necessities are methods of improving socio-economic conditions and enabling an attractive environment for young people, in which they want to work and create within their own country. This project, added Minister Damjanović, although fifth in Europe, will be unique in the world because it predicts that 50% of the project timeline will be spent on research, which will attract researchers from Western Europe.
The establishment of the SEEIIST project also contributes to the alleviation of tensions and better cooperation between the countries of the region, as demonstrated in the case of the SESAME project in Jordan, recognised as the true example of "Science for Peace". In addition, the project would enable this region to regain the scientific excellence that existed in the past and accelerate the technological development of countries, Minister Damjanović concluded.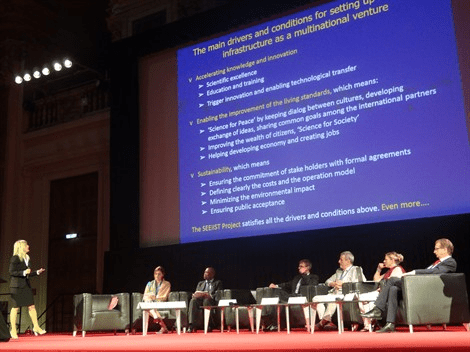 In addition to the Minister Damjanović, the panel was attended by Jan Hrusak, Executive Director of the European Strategy Forum on Research Infrastructures, Phil Mjwara, Director General of the South African Department of Science and Technology, Head of Sector Education and Research at the Permanent Representation of the Republic of Bulgaria to the EU, Sean Dougherty, ALMA Director General, Tony Donné, EIROforum Chair, Ilaria Nardello, Executive Director of The European Marine Biological Resource Centre (EMBRC-ERIC) and Luca Pezzati, Scientific Coordinator of The European Research Infrastructure for Heritage Science. The session's moderator was Jean David Malo, Director of Directorate B "Open Innovation and Open Science".