02 August, 2018 - Lieutenant General Rubén García Servert, Commander Combined Air Operations Centre in Torrejon (NATO CAOC Torrejon), is paying an official visit to Montenegro and by this occasion, he also visited the Ministry of Defence during which he met with Minister of Defence Predrag Bošković and Chief of the General Staff and Armed Forces of Montenegro, Brigadier General Dragutin Dakić.
Minister Bošković emphasised that Montenegro, as the youngest NATO member, is committed to achieving key tasks of the Alliance in order to effectively respond to contemporary security challenges and threats. During the meeting, the Minister presented the most important activities achieved during the first year of membership, stressing that Montenegro will continue to work intensively on integrating the national system into the collective defence system of the Alliance.
Bošković stressed the importance of membership in the Alliance and pointed out that precisely the mission of the Air Policing, which started on June 5, 2018, is the best confirmation of the commitment of the Alliance to common security and the concept of collective defence. In this context, the Minister thanked Commander Servert for the support provided by the Joint Air Operations Center to Montenegro during the process of establishing the Air Policing Mission, as the most important step in the process of integration into NATO's integrated air defence and anti-aircraft defence system – NATINAMDS. He also said that this non-combat mission is the best example of benefits Montenegro has achieved by joining NATO, as well as the commitment of allies to common values.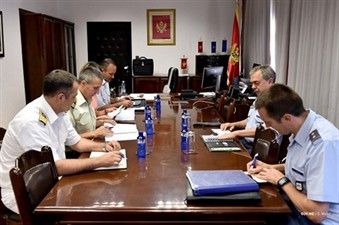 During the meeting of General Servert with General Dakić, the joint activities planned for the future period were discussed. Also, models of intensifying cooperation in the area of air operations between the Army of Montenegro and the United Center in Torrejon were discussed. In this context, General Dakić noted that a representative of the Army of Montenegro will be sent to the United NATO Air Operations Center in Torrejon where he will perform duties in the NATO airspace protection system.
General Servert pointed out that the Alliance recognised in Montenegro a credible partner that provides a concrete contribution to NATO activities. He emphasised that sending representatives to NATO's Joint NATO Air Operations Center in Torrejon further confirms the seriousness and commitment of Montenegro in fulfilling obligations arising from membership in the most important political and military alliance. Servert expressed satisfaction with the establishment of the Air Policing Mission for Montenegro, which secured the entire airspace, and represents an essential component when it comes to the security guaranteed by the Alliance to allies.