July 24, 2020 - The Institute of Public Health registered 92 new cases by analyzing 487 samples on Thursday, while in the last 24 hours, it analyzed another 677 samples, of which 96 were positive for the new coronavirus. The number of patients with COVID-19 in Montenegro is currently 1979.
One COVID-19 patient died yesterday, and three more deaths were reported today. The total number of confirmed deaths since the beginning of the second wave of the epidemic, on June 14, is 33. Another 146 patients have recovered from COVID-19 infection in the last two days, so that the total number of retrieved since June 14 is 327.
The number of active COVID-19 cases, recovered and deceased by municipalities: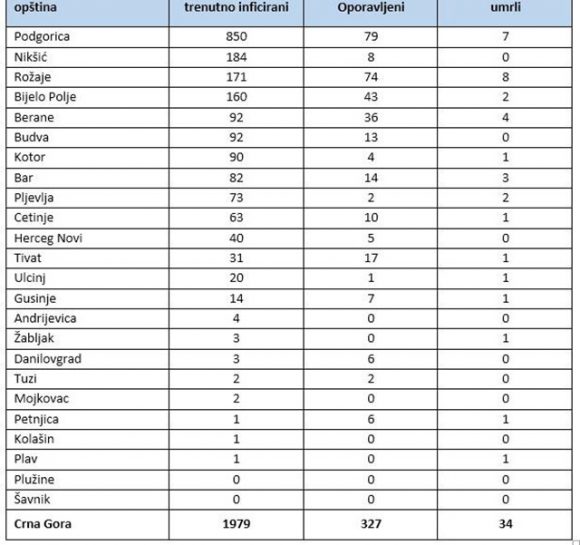 Source: Institute of Public Health
In hospitals 185 COVID-19 patients
A total of 185 coronavirus-positive patients were referred for hospital treatment in Montenegro, announced Nemanja Radojević from the Clinical Center of Montenegro.
"Twenty-four patients are being treated at the Clinical Center, 35 in Bar, 57 in Berane, 31 in Niksic, 25 in Brezovik, 3 in Kodra, one in the triage hospital in Pljevlja and nine in the hospital in Rozaje," said Radojević.
"Thirteen patients are in serious condition, of which five in the Clinical Center of Montenegro, one in the General Hospital in Bar, six in the General Hospital in Berane, and one in Niksic," said Radojević.
He added that the occupancy of the health capacities provided for COVID-19 patients is currently at the level of one third.
Radojević said 78 health workers tested positive for COVID-19, including 17 doctors, 52 medical workers, and nine non-medical workers. There are 75 health workers in self-isolation.
Radojevic also said that it was noticed that patients of all ages were dying, although more often, the elderly.
"We have seen that middle-aged people are also at risk and that those without severe chronic conditions are dying. The epidemic is attacking all age groups, and we are all at risk. Attention must be focused on the older population. Still, we also have information that there is currently a younger one." a patient from the hospital in Berane is in serious condition. We ask that all measures be respected, "Radojević said.
Hrapović: The health care system is ready for the above scenarios as well
The situation in Montenegro, when it comes to the new coronavirus, is undoubtedly prohibitive, but not dramatic and alarming because the health system is ready for much worse scenarios, if that happens, said Health Minister Kenan Hrapović.
"We hope that this will not happen, but we are ready for such challenges," Hrapovic said in the morning program of the Television of Montenegro (TVCG).
There are COVID-19 cases when recovery takes about 40 days
The deputy director of the Institute of Public Health, Begic, said that fulfilling the criteria for recovery was a long-term process and that "this virus once again shook us in the sense that there are almost no rules."
"We had cases in which recovery lasted about 40 days, which is interesting, but the views of health agencies are that we are a little strict regarding criteria. Recovered are those who have three days without fever, symptoms, and at least ten days have passed since receiving Two negative PCR tests in a row are no longer insisted on so much. The position of the World Health Organization is clear, and that is that people who are even 30 or 40 days PCR positive are not dangerous to the environment, because although PCR shows that they are positive, it is part of the viral material. Not the virus itself, "Begic explained.
Counter COVID-19 measures for Podgorica extended for another seven days
The National Coordination Body for Infectious Diseases (NCDs) has extended measures against the spread of coronavirus in Podgorica for another seven days.
"NKT instructed the competent inspection services to start conducting strict controls of compliance with the prescribed measures, primarily in the services at the state and local level. Institutions must be an example in everything, including compliance with the measures," reads the official Twitter account of the Government of Montenegro.
NCB: A mask is not mandatory for cyclists
NCB announced that individual bicycle driving is not a risk. Formally, a bicycle is not a vehicle for transporting passengers. The individual or driving of members of the same household does not require wearing a mask. Cyclists in a group must wear masks, NCB announced on Twiter.