29 July, 2018 - The Honorary Committee of the 75th European Students' Union Assembly in Montenegro held its first session, where it was concluded that representatives of the most important student organisation in Europe, which gathers more than 20 million students, represents a significant opportunity for the promotion of Montenegro and Budva, and that it is necessary to include all resources in order to present all our potentials.
The session analysed activities for the preparation of the Assembly, which should be held at the end of November in Budva. It was concluded that the preparations have been carried out in a timely and quality manner and that the implementation of concrete activities should continue in the upcoming period in order that Student Parliament of Montenegro confirms its credibility and present Montenegro as a serious host.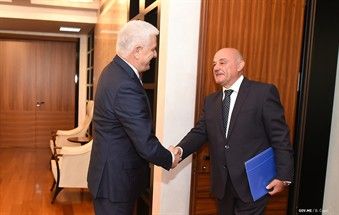 President of the Honorary Committee, Prime Minister Duško Marković, expressed satisfaction with previous cooperation with the University of Montenegro and pointed out that the Government is fully committed to policies aimed at improving the youth's perspective, which is in line with the conclusions of the London Summit.
"Therefore, every initiative you sent to the Government must be answered," Prime Minister Marković said.
The members of the Honorary Committee also attended at the meeting: President of the Student Parliament of the University of Montenegro Sara Arianna Serhatlić, President of the Managing Board of the University of Montenegro Duško Bjelica, Minister of Sustainable Development and Tourism Pavle Radulović, President of the Municipality of Budva Dragan Krapović, Director of Career Center of the University of Montenegro Ivica Todorović and Executive Director of Sports and Culture Centre of the University of Montenegro Miloš Pavićević, as well former members of the Student Parliament of the University of Montenegro.