Nadja, how did this all begin?
My twin brother and I were 9 when our parents suggested we take music classes as many of our schoolmates did. So, we enrolled for courses in piano and guitar at the local music school just for fun, and after several classes, I felt that guitar suited me best. At that moment I just had a feeling for it and could easily spend hours playing.
Do you remember your first success? The moment you realized you could achieve something in this field?
Here, in the small town of Kotor, we didn't have a lot of information about musicians' perspectives; I never thought playing the guitar could become my profession someday. After two years of music school, I was advised by my teacher to participate in a guitar competition in Belgrade. At that moment I was unaware of what I needed to do for it, so I enrolled in a workshop to prepared, and there I received the warmest compliments from Belgrade academy professors which I will never forget - "a star is born," they said. They drew my parent's attention to my talent and emphasized that it was time I start seriously working on playing technics and recommended additional classes and teachers. Since then I've visited Belgrade regularly, taking part in workshops and competitions. In October 2013, I won the first prize at the international competition "Julian Arcas" in Spain, the guitar's country of origin, and then I realized that this is my calling.
You've received more than 30 awards by now which is a fantastic result. Can you name the most important prize you've won that is most special to you?
All of them, of course, had meant a lot to me, especially when I was just a beginner at competing. However, the youth competition by the Guitar Foundation of America was the most impressive for me. It's the greatest world competition and even getting to the final round is already an amazing achievement - like participating in the Olympic Games. After the second prize in Oklahoma in 2015, I was entirely sure that's my destiny.
Was it hard to get there?
Not easy at all. First, you have to apply with your biography and video performance, and only 25 applicants are called for the competition which takes place every year in a different American city. Then there are two rounds - each allows you a 15-minute performance which should include two works of contrasting styles played by memory. Only 4 participants are let in the final round. The final takes place in a huge concert hall and is broadcasted live online. It seemed to me that it was a dream. You know, when it's about classic guitar, you usually get all the compliments and opinions about your performance in intimate conversations afterward. But here with the online show, I was receiving messages of support from all over the world, from Costa Rica to Japan. People were emotionally cheering for me and I was really feeling like a little star.
Were you nervous before the performance?
Oh yes, very much, I'm still nervous when competing, even after winning first prizes. When it's really important, I just can't stay calm, but when I start playing, I forget all my worries.
Are you self-critical?
Oh, yes, I am, more than I should be, probably. Even my teachers get bored with me when I'm going mad because of one micro-mistake. And it's not just about the guitar, but generally, at school or in my private life.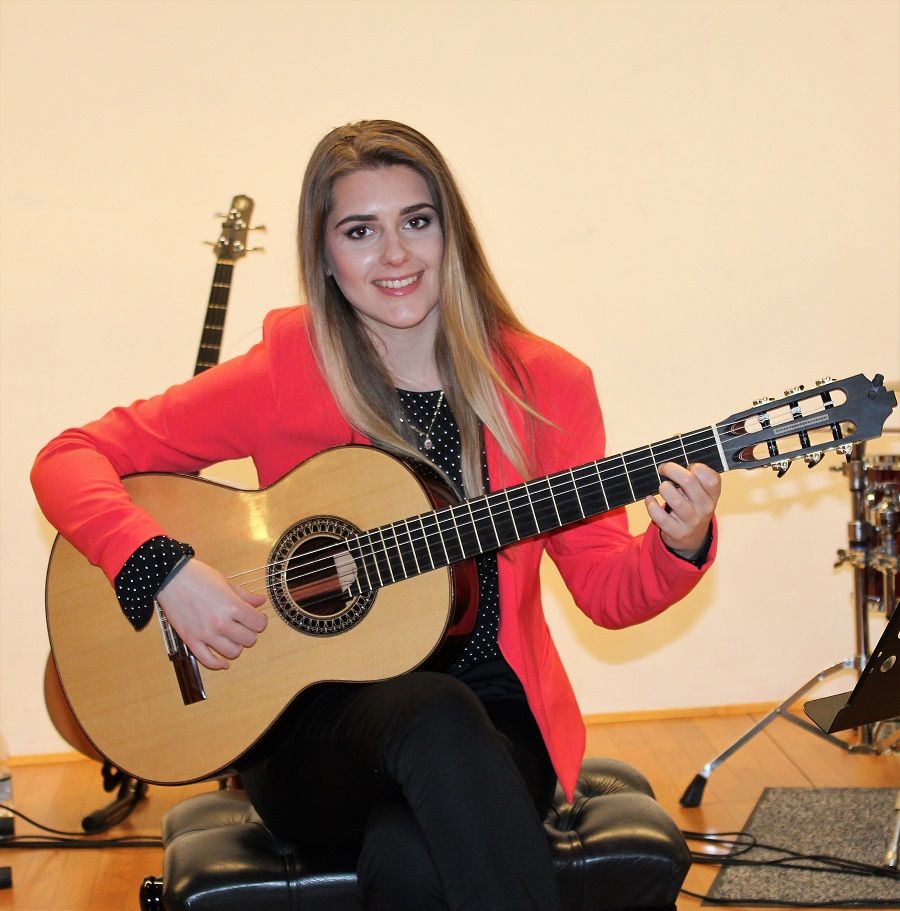 How did you manage school and music classes? Was it hard to find time for everything?
It was not easy, especially at the beginning, and I had to learn how to manage both school and piano, and guitar. Being very ambitious, I was eager to get good marks at school and try sports and play the guitar seriously at the same time. Together with my brother, I was playing different sports and finally chose gymnastics which I really liked, but I had to leave it at the age of 12 and concentrate more on music. It was a pity. I should learn to be me more relaxed because trying to be the best in everything causes me a lot more stress. Finally, I've started ranging priorities and planning ahead.
How much time do you devote to guitar playing?
5-6 hours a day, no skipping, no holidays.
What happens when you get bored?
Well, not bored, but tired I'd say. Repeating one tact 20 times just to learn it is not much fun, but time just passes by because I know why I'm doing this. If I'm going to play this thing at a forthcoming concert, I'll do whatever it takes and will play every day having that goal in my mind.
Your schedule must be very intense, right? What about your private life?
Yes, there are times when I participate in competitions every month, and now I'm going to Germany every month for a seven-day course where I will also make professional video recordings. But when I'm back to Montenegro, I never miss an event, any friend's birthday and manage to hang out and relax.
How do you see yourself in, let's say, 20 years?
I hope to make the career of a concert player and have a contract with some world-known house, and travel and promote classic guitar around the world. We have to admit, classical music is stagnating, and fewer people are interested in it, and I would like to bring its beauty back to the place it belongs.
Which styles are your favorites?
I am a big fan of romanticism in classical music because this style allows you to express yourself without being clamped in tough frames. And as for modern guitar music I love pieces by Joaquin Rodrigo and Dusan Bogdanovic, but they may seem too complicated for an unprepared listener. And I sincerely believe that we are destined to listen to music, and I would first offer something familiar or at least understandable for a general audience, and then go for more sophisticated works, to let people enjoy classics in the 21st-century.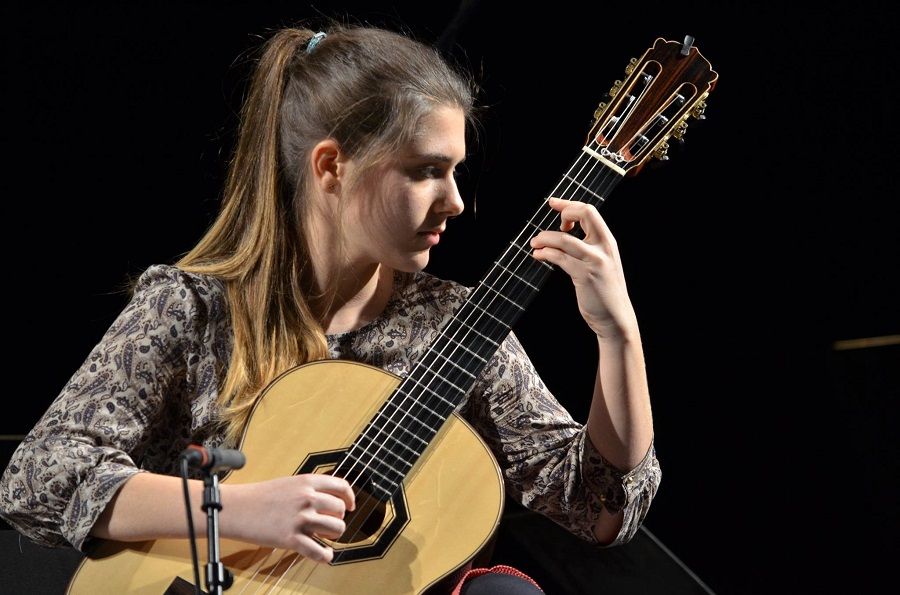 As a Montenegrin what's your favorite place here?
No surprise – Kotor. I was born by the sea and love it with all my heart. Kotor's Old Town is a real fairytale, and you feel it's magic once you enter the main gate - almost as if you are suddenly in another century. And the view of the bay from the fortress walls excites me every time!
I love the small town where I grew up because you know everyone here and can always ask for help and you're never lonely like you often feel in a big city. There you can be left alone in the street and here that can never happen. People are very close and more relaxed here. I can come to my neighbor's house without calling in advance, and they can stay at my place as long as they want. Of course, there is the other side of the story, like when you're in a hurry and still have to be polite and say "how are you?" to everyone you meet on your way, or the typical interference in other people's lives, but such things just get forgotten. I would never change Kotor for any other place in the world.
Even for the career?
Well, in this case, I would definitely spend at least two months of the summer here.
Is there something you'd change in your native country or town?
Well, in my professional field, I'd love for people to be more curious and follow current trends in classical music, to see how it works in the world, how much support the talented kids have in other countries. The arts should be promoted more I think. You can't expect a child to become interested in playing classical music if attention isn't drawn to it. In Montenegro, I can see the growing foundations for young talents which is excellent. Five years ago I didn't have any local support besides my family who was always with me at the hardest moments of failure or desperation. My brother, who never understood how somebody could train guitar for hours, didn't miss any of my concerts (though I'm still not sure how much he really enjoys classical music), but he's always here to support me, and this means a lot to me.
Describe yourself in a few words?
I'm quite ambitious, as I said, sometimes too much or where it is unnecessary. I can be stubborn, but in combination with responsibility, it works good and brings positive results. And I'm a great pet lover. When I was a child, I was always bringing home little kittens from the street, and at one point, we had eight cats in our small apartment. But I always dreamt about having a dog, and one day my father made my wish come true – now we have an Italian breed lagotto romagnolo, and he's like a small, cute sheep. And trust me, if some people were like him (our dog), the world would be much, much better.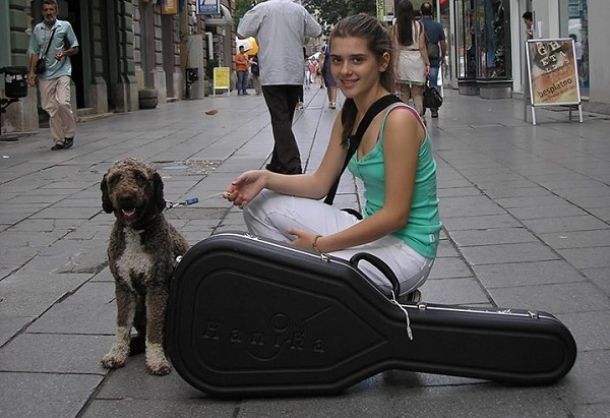 More about Nadja here: http://nadjajankovic.com/