Thinking about what would be an interesting and amusing article to read I came up with the idea of the upcoming family holiday – Easter and how it is celebrated in Montenegro.
In Montenegro the Orthodox Easter is a public holiday (this year it is 8th April), i.e. non-working days are officially the Friday preceding Easter (Good Friday) and the Monday after. In case you are Catholic by religion you get to use paid days off for the Catholic Easter (this year it is the 1st of April) and then you are also free for the Orthodox holiday since it is a public holiday. Of course, the aforementioned is applied differently depending on the specific company's policy, therefore supermarkets are usually open full time even on Easter, shopping malls work on Good Friday and Monday as usual and the like.
Montenegrin customs for Easter are not so different from the rest of the world (I guess). It is a family holiday and time to be together with your loved ones.
Good Friday is a day for fasting. Many people fast for a month before Easter (in both Catholic and Orthodox religions), then they go to church on Sunday and receive Communion which is an act that completes the fasting period. Montenegrin housewives usually dye the Easter eggs on Friday (or Saturday). The most popular technique is a very old one which consists of boiling the eggs in a pot with water and red onion leaves. Before putting the eggs in the pot, we pick up a clover or any small leaf with an unusual shape which can be found all around – in gardens, parks etc. Then we put the leaf on the egg firmly and wrap it in a stocking, tying its end with a thread so that the leaf does not move while boiling. Once covered, the egg is put in the pot with water and red onion leaves and boiled, as usual. Soaked under the leaves it will get a soft reddish color with a "stamped" yellowish leaf shape on it and it will look amazing. It is preferable to put no more than 10 eggs at once in a pot to avoid them cracking.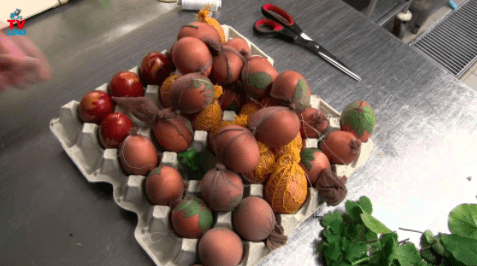 These eggs are considered to be the most beautiful Easter eggs and also the healthiest because they are not dyed with chemical colors.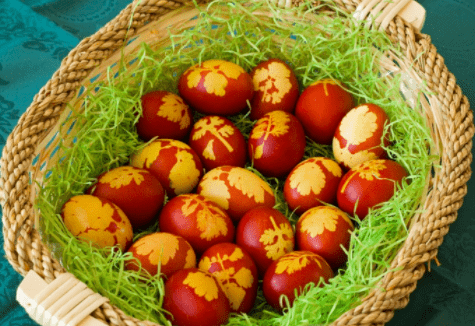 Besides this technique, there are also others such as painting on the eggs using wax, decoupage with napkins, powder colors etc.
All the eggs are polished with a little bit of oil poured on a napkin or tissue and then are ready to be displayed in baskets or the like to the guests on Sunday.
On Easter, family relatives, friends, and neighbors visit each other by saying "Srecan Uskrs" (Happy Easter) or "Hristos Voskrese" (in the Orthodox religion) where the reply is "Vaistinu Voskrese". Guests who come to your house get to choose one egg and take it home, and when you go to wish Happy Easter to a family relative, neighbor or friend in their house they give you one of theirs.
Another popular custom is the so-called "tucanje jajima", i.e. smashing the eggs against each other. This means you take an Easter egg and fight with a family member or a friend to find out whose egg is "harder". One is holding the egg in his/her hand while the other smashes it with his own egg. The egg which doesn't get smashed is the winner and continues to participate in "battles" with the others.
There is a little trick to buying a wooden dyed egg (usually used for decoration) and pretending it is a normal egg while competing in this game. This is how you will definitely be a winner but it is not as much fun and your family and friends may get upset.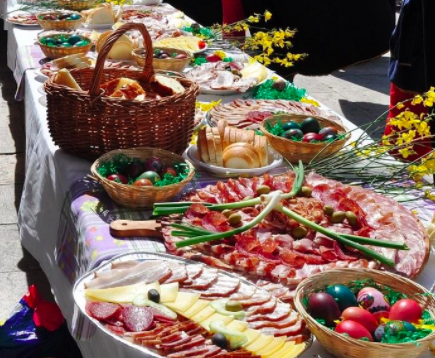 Wishing you all a happy Easter from Montenegro!