July 24, 2020 - Although there will inevitably be less and less work for all of us in the next period, and although there are no indications from the tourist season - beautiful stories are unfolding. Namely, the young Boka artistic and engineering team has become one of the select few globally who are engaged in an exciting business - the creative painting of sails. Michael Neundlinger gave them a chance to try it out, entrusting them with the 18-meter-high sail of the cruiser "Selena."
Thanks to the recommendation of Marjan Dimitrijevic, a Slovenian sailor who has been running the company Avel Yachting in Tivat for many years, Michael contacted the Montenegrin academic painter Jana Farkas asking whether she could paint the logo of his company Nirvana Yachting on the large sail. The logo shows an angel with overlapping semicircles.
It initially seemed like an impossible job to Jana. But her research spirit and habit — otherwise uncharacteristic of fine artists — of working as a team still encouraged her to dive into the project. The stakes are high because in projects like these, there is not much room for error.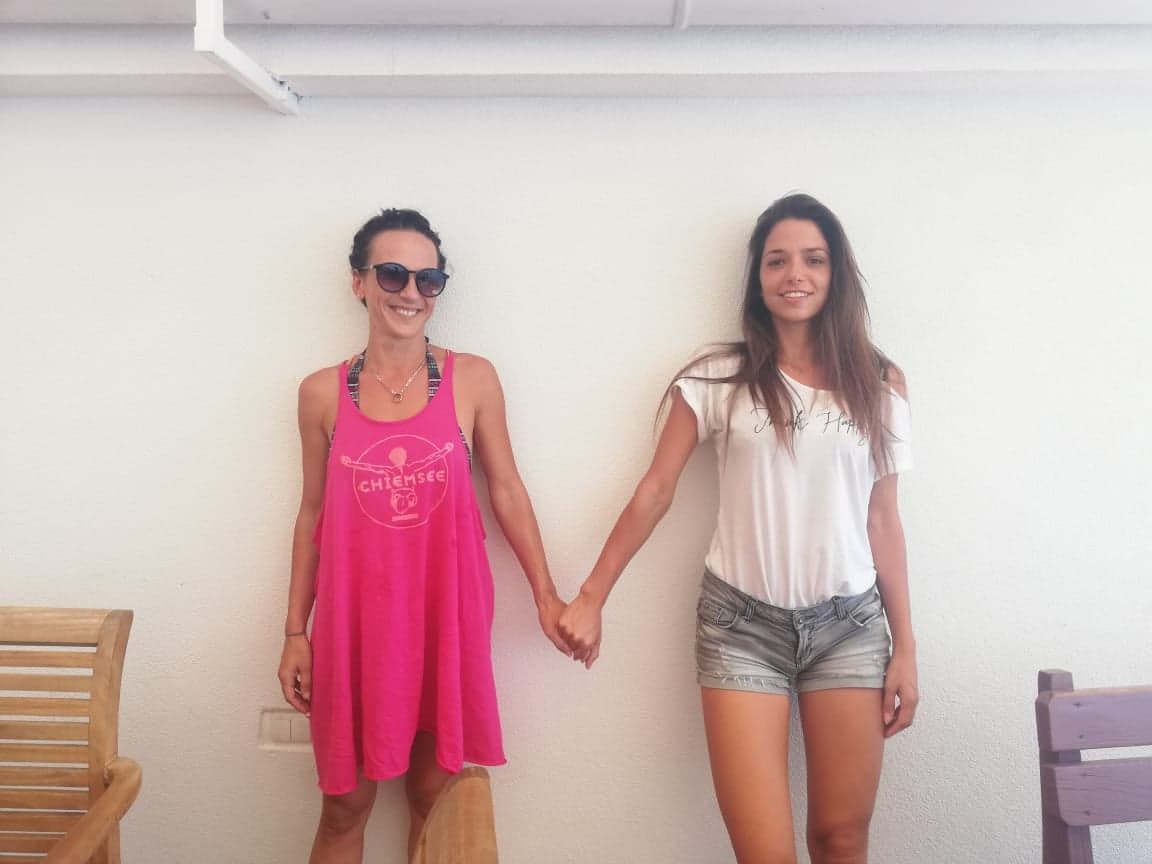 Jana Farkaš and Aleksandra Stajović, Photo by Antonela Stjepčević
Jana needed help because disassembling the logo on such a large scale would technically be a very demanding job to carry out yourself on an 18x4 sail. Aleksandra Stajović, an architect from Budva, enters the story, who had no painting experience before working on this project.
"I had never tried something similar in my life, nor did I have any idea whether I could do something with a brush, especially not on such a large scale. But it happened. And I'm proud to have been a part of this story, "says Aleksandra, who successfully solved one of the most challenging tasks in the process.
"At the very beginning, Jana involved me in the story to help them put the logo on the large surface of the sail, which I did in AutoCad and PhotoShop. After that, I came to the Delfin's hangar to help draw the logo and see how it would come out. Then Jana suggested I stay part of the team until the end. I was really pleased about that because I love challenges. And off we went. After about ten days we reached the finish line. It was not a problem for me to envisage what we would do, I always imagine what I, as an architect, transfer to paper, that is, to a project. But when we started drawing, I realized that the process was much more demanding. We realized that improvisations were necessary for us - we managed with the help of a stick and a rope to precisely position the semicircles that form the logo. The very patterns that follow those semicircles we had made over our moulds. It is inconvenient - you have a material as a base - in this case, a sail - which is very expensive and does not allow for mistakes. Hence, we had to measure and check everything three times before we picked up the brushes," says Aleksandra, who, like Jana, even more than the final product itself, is proud of the work process.
Jana explains that all their internet searches were in vain - very few people in the world do this job, and information on how to do it is not available.
"This is very little done in the world. People decorate sails with stickers, sewing, screen printing, and use other methods. But almost no one does it by hand, especially not with a brush. We have carried out this task more than professionally. I am delighted. I must emphasize that the instructions for the process we went through do not exist on Google; it does not exist on the Internet. Aleksandra, with her architectural foresight, my drawing and painting abilities, and the people who helped us with the precise brush work - we completed the project successfully to the satisfaction of ourselves and the investor," says Jana.
"This is a Boka story, the story of all of us. We are very proud to have discovered that we can, that something that you can get almost nowhere else in the world, you can now get with us. I am especially looking forward to the opportunity to hire my colleagues and friends. The investor is very satisfied with the work done and promised to promote us."
"Jana and her crew entirely understood, captured, and conveyed the spirits of my concept and intention through their artistic work. The Nirvana Yachting motto is the art of competitive sailing. The angel wings that we need to catch the winds - Da Vinci's Flying Concept that we transferred to the sail to help us capture the power of nature," said Michael Neundlinger, whose SY Selena has been berthed in Porto Montenegro for the past few years.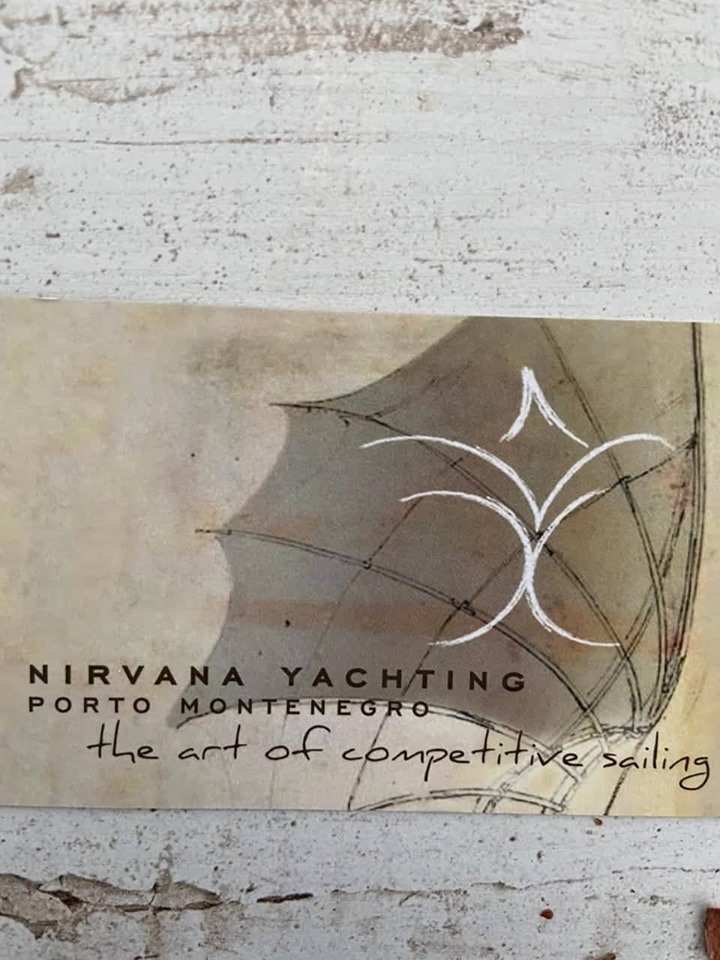 Nirvana Yachting, Photo by Michael Neundlinger
Michael believes that the endeavor carried out by Bokelians will be of great interest to magazines dealing with yachting and sailing. For a start, he promises to help place this beautiful story in the next issue of Porto Montenegro magazine.
"We hope that this is just the beginning of a beautiful and creative story. As soon as we have a new sail, we invite you to join us, to come and see what it is and how we do it. And in the end, if you recognize yourself in all of that, you become part of our team. For a few hours or a few days, it doesn't matter. This is our common story, and we want to position and further develop it, "said Jana Farkaš, adding once again:" I am proud of the fact that this is a project of Boka and Bokelj. I am pleased that Boka has succeeded in something that is rarely done in the world. "
Apart from Jana and Aleksandra, Bojan Čelanović and Petar Čečur also took part in painting the angel on Michael's sail. Also, many YC Delfin friends who, during the previous two weeks, were interested in discovering the new and unusual among sailboats, added a few strokes.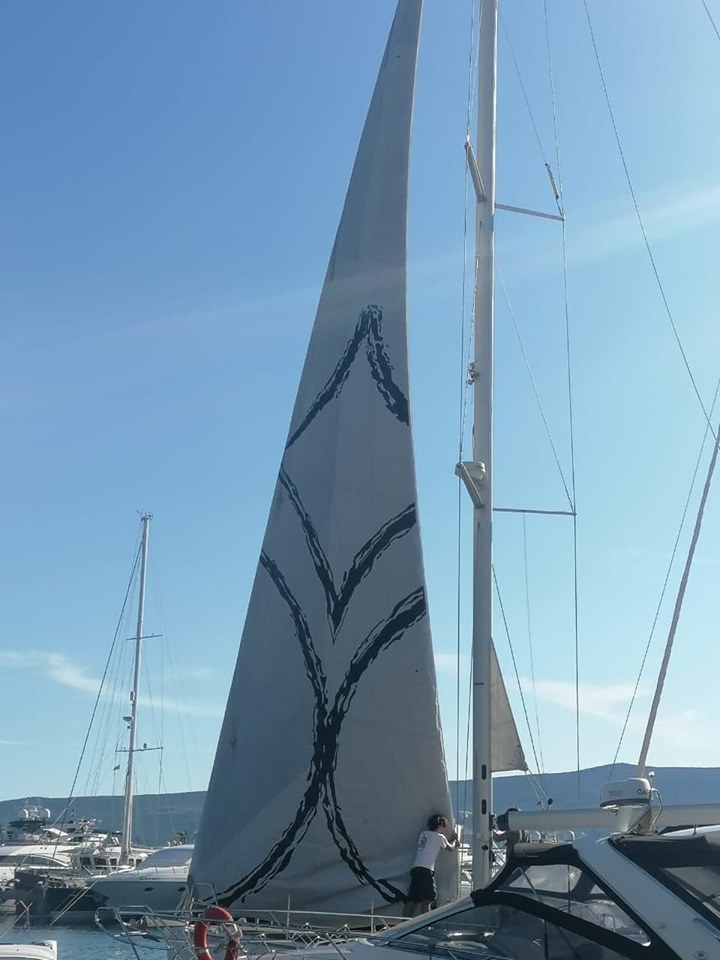 SY Selena with the angel on its sail, Photo by Jana Farkaš