In the future, children and young people will play a more active role in creating cultural policy strategies for the youngest audiences, and the Ministry of Culture will always support any cultural activity related to children and their creative activities. The Minister of Culture Aleksandar Bogdanovic promised this in an interview with UNICEF volunteers - young reporters of the media campaign "Let's Choose What We Watch", which was taken over by the Ministry of Culture in celebration of the 30th birthday of the Convention on Children's Rights.
"The current five-year Cultural Development Program expires next year, and we are about to begin creating a new five-year strategic document. I take this opportunity to invite you to join us and actively participate in the programming of our obligations in the field of cultural needs of children and young people, because it is important for us to hear your voice," said Bogdanovic.
A survey of a media literacy campaign found that two-thirds of children in Montenegro had not been to the theater during the past year; 75% of the children have not been in a museum; 85% have not visited an art exhibition; almost two-thirds have not attended a music concert.
Young reporter Nadja Lalovic pointed out that this data points to the significant educational and cultural poverty of children and, therefore, the spiritual poverty of a country. The Minister also agreed with this assessment and asked the young people for help in order to identify the reasons why children and young people have such an attitude towards consuming cultural and artistic content in our country.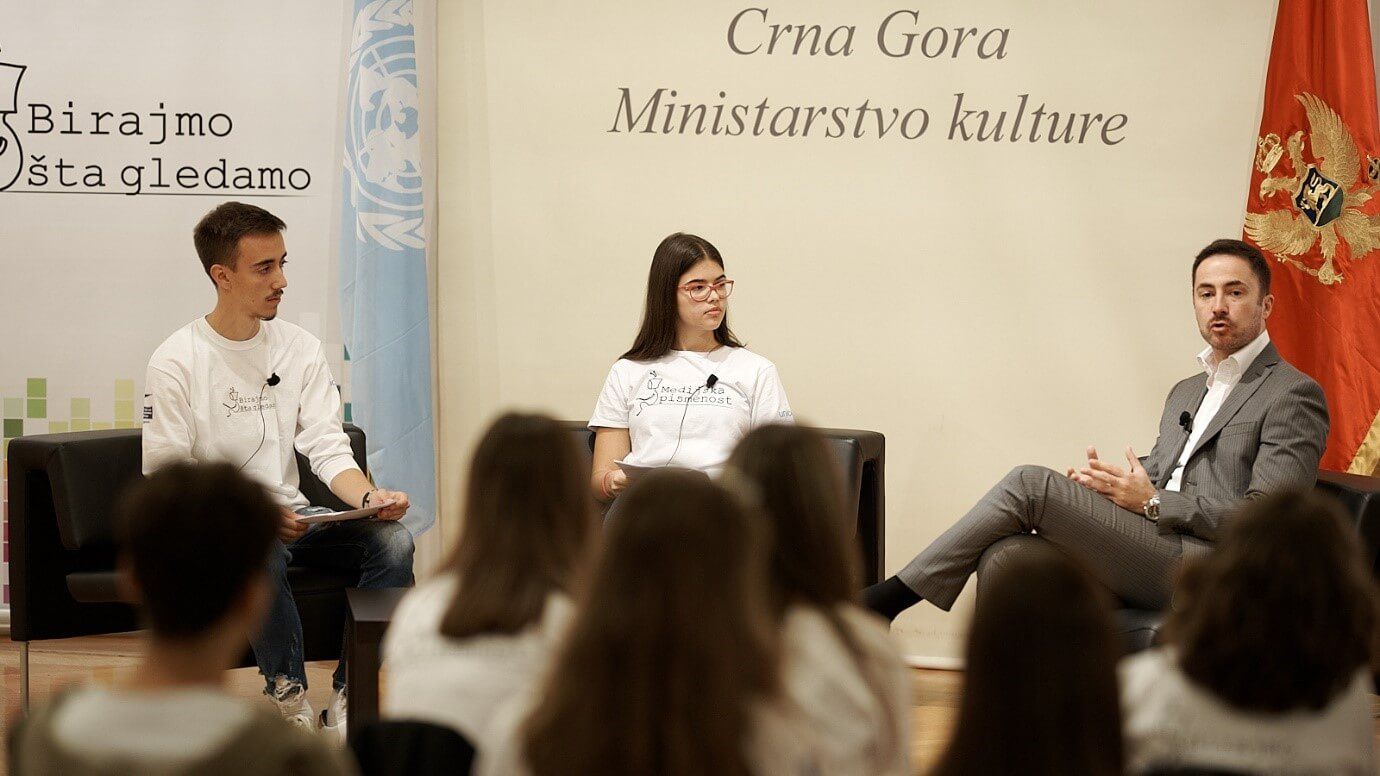 Today at the Ministry (Photo: Duško Miljanić)
"In this way, we could jointly find a good solution and the right answer to this attitude of young people towards cultural activities. I also believe that we must approach this challenge systematically, more precisely, to involve the wider social community and multiple different sectors," said Bogdanovic.
Young reporter Jovana Popovic reminded the minister that there are many children in our country who would like to go to music concerts, theatrical performances, see the ballet or opera, but simply do not have this opportunity, because such programs are not offered or rarely offered in their cities, especially in the north of the country.
Answering this question, Bogdanovic promised that the programs of all cultural institutions within the competence of the Ministry would be accessible and visible in all Montenegrin cities, and not only on the home scene.
"Thus, the Montenegrin National Theater and the Royal Theater "Zetski dom" will play their performances alongside Podgorica and Cetinje, and on the stages in other cities of southern and northern Montenegro. The same rule applies to concerts of the Music Center and exhibitions of the Center for Contemporary Art," said Bogdanovic.
Young reporters also recalled the fact that almost every cultural activity needs to be paid and given our standard, many parents cannot afford to enroll their children in art schools or centers to develop their talents, but also to become culturally literate. "That is why we believe the state must enable and support as many free cultural activities for children and young people across Montenegro as possible," said the young reporter Miljan Vlahovic.
The Minister, however, believes that the acquisition of cultural habits does not require a large amount of money, and that most cultural programs are available to children and adults free of charge.
"Visits to concerts of art music, art exhibitions, book promotions are free of charge, while for organized visits to theaters, film screenings or museums, the fee is symbolic," Bogdanovic said, adding that the Ministry would always support any activity in the culture related to children and their creative work.
Young reporter Dunja Sekulovic, a student at High Ballet School "Vasa Pavic", said that young ballerinas did not have an adequate training room, and that the stage is not suitable for performing professional ballets. Minister Bogdanovic has announced that he will talk to Education Minister Damir Sehovic about resolving this issue.
The young reporters thanked Minister Bogdanovic for giving them his space in the Ministry of Culture for one day and reminded that children and young people develop creativity through art and learn to express emotions and attitudes initially and convincingly.
"That is why today when we took over the Ministry of Culture of Montenegro, we are saying - Culture for every child!" concluded the young reporter Dunja Sekulovic.
At the end of the interview, inspired by research data showing that every fifth child between the ages of 9-17 years had not read any books outside the school textbooks in recent years, he presented to young reporters the book "Montenegrin Dynasties". He said: "Let's read more, let's choose what we read!".
The media campaign "Let's Choose What We Watch" was launched by the Electronic Media Agency of Montenegro and UNICEF in February last year. One year after its launch, every other citizen of Montenegro has heard of this campaign, which aims to encourage the development of media literacy of children and parents, as well as to strengthen the capacity of the media to produce quality media content with children and young people and to report in an ethically correct manner all issues of child rights in Montenegro. The campaign recently received a Global Media Literacy Award from the Global Media Literacy Association run by UNESCO in collaboration with the United Nations Alliance of Civilizations and the international network of universities.
Text by Vijesti online, on October 14th, 2019, read more at Vijesti