About nine million euros have been allocated for educational infrastructure in Bijelo Polje.
The Minister of Education Damir Sehovic announced this at the opening of the sports gym at the elementary school "Marko Miljanov", for which about 230,000 euros were invested.
"The Ministry of Education has identified as one of its priorities the renewal of school sports infrastructure and the promotion of school sport, and investments in these projects are of multi-million value. More specifically, at least 15 school sports halls across Montenegro have been completed or planned to be completed or reconstructed," Sehovic said.
He stated that the project was implemented according to the co-financing model of the Ministry of Education, the Ministry of Sport and Youth and the Municipality of Bijelo Polje in the total amount of EUR 164,000.
"In addition, the Ministry of Education has invested another 60,000 euros for the installation of a heating system in the sport gym, facades and grounds around the hall that has been flooding for many years, as well as the cost of project design and supervision, he said.
Sehovic pointed out that a new school building of the elementary school "Dusan Korac", worth around 5.5m euros, is being built in Bijelo Polje.
He also announced the construction of a € 1.5 million kindergarten through a new project with the Council of Europe Development Bank.
Also, the construction of the Elementary School "Pavle Zizic" in Bijelo Polje, with an estimated value of one million euros, was entered into the Capital Budget and activities were underway to develop documentation," Sehovic said.
Sehovic announced that the Ministry of Education, in cooperation with the US Embassy, will also invest hundreds of thousands of euros in the extensive reconstruction of the Elementary School "Aleksa Beco Djilas", and work is expected to begin in the coming months.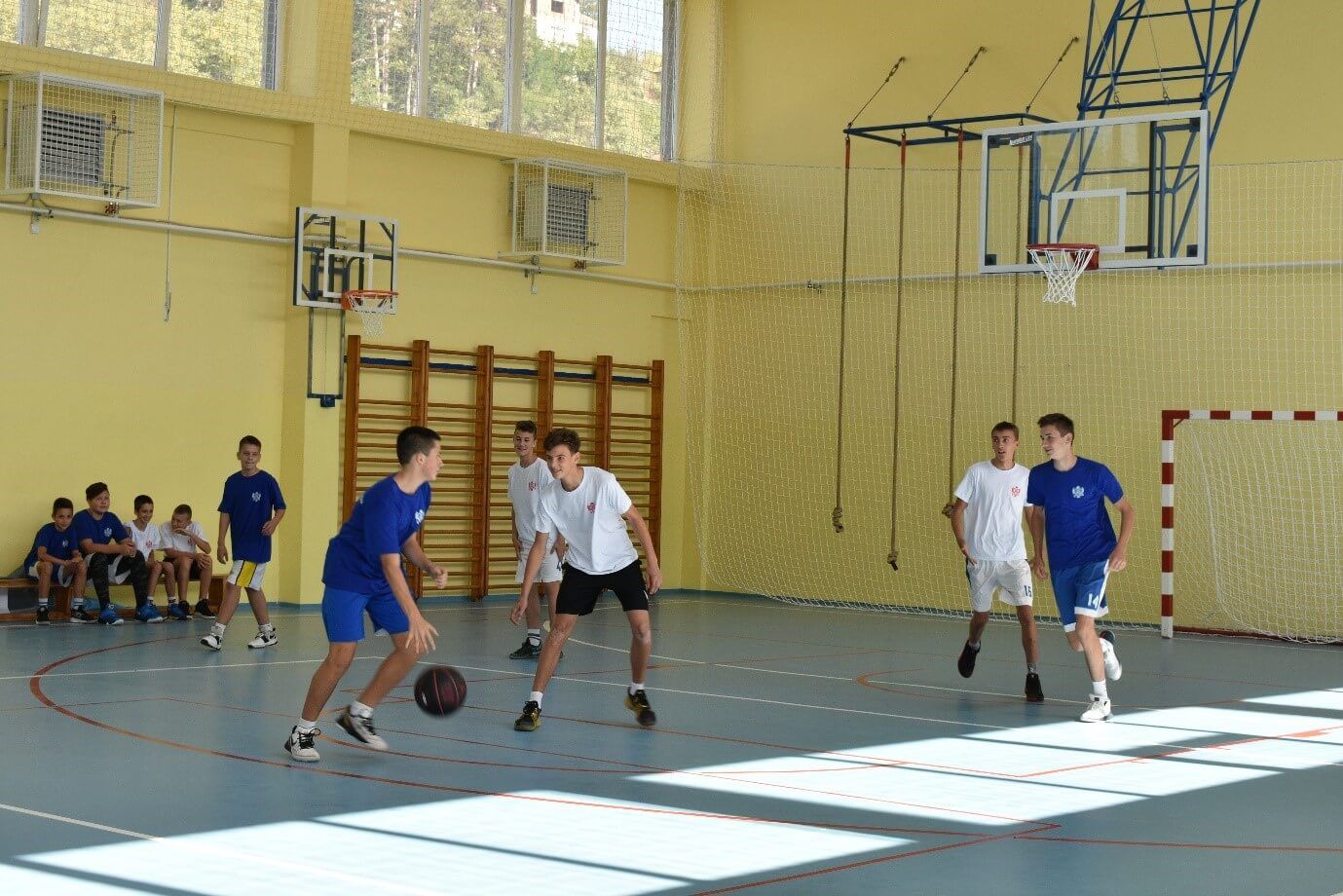 Sports gym in Bijelo Polje(Photo: Jadranka Ćetković)
Minister of Sports Nikola Janovic said that "in this way, the Government of Montenegro provides adequate conditions for training".
"I commend the Talent Fund for which the competition is underway, which is a good opportunity to reward the best young athletes.
Adaptation of the gymnasium hall of the elementary school "Marko Miljanov" entailed works on the roof and insulation of the building, installation of a modern floor for various sports, changing rooms arrangement, painting works, as well as equipping the facility with sports equipment.
The Mayor Petar Smolovic announced new projects in Bijelo Polje: "I would like to remind you that 104 projects are currently being implemented in Bijelo Polje, 16 of them are capital, and 88 are local, or slightly smaller, but very significant for the development of the municipality."
He emphasized the importance of the reconstruction of the sports gym: "I feel special emotions for this largest city school with over 800 students, and I expect many more projects like this in the coming period," said Smolovic.
Text by Jadranka Cetkovic, on September 30th, 2019, read more at Vijesti