The ten best beaches in Montenegro, recommended by Visit Montenegro, are Ploce, Trsteno, Kamenovo, Jaz, Velika plaza, Mogren, St. Stefan, Queen's Beach, Lucice and Blue Horizons.
The beach Ploce is well thought out and designed: four seawater pools, free parking, showers, cafes, restaurants, sunbeds, rescue services and ambulances, and massages, and the beach also organizes various parties.
Trsteno beach is said to be ideal for families with children offering sunbeds, restaurants, and parking.
They recall that Kamenovo has chameleon water, which changes color depending on the angle of the sun's rays from turquoise to azure. Here the sun stays for a long time and the sunsets are stunning. It offers restaurants and cafes, parties and attracts younger people.
Jaz beach has a number of restaurants and tourist facilities. It was declared as the best European beach in 2015 by Lonely planet.
At Velika plaza and Ada Bojana the beaches boast the most spectacular sunsets. These beaches attract writers, poets, actors, singers and bohemians. Ada Bojana is a nudist paradise, known for its moderate wind perfect for kite surfing, which is the number one sport here and clubs offer equipment and training.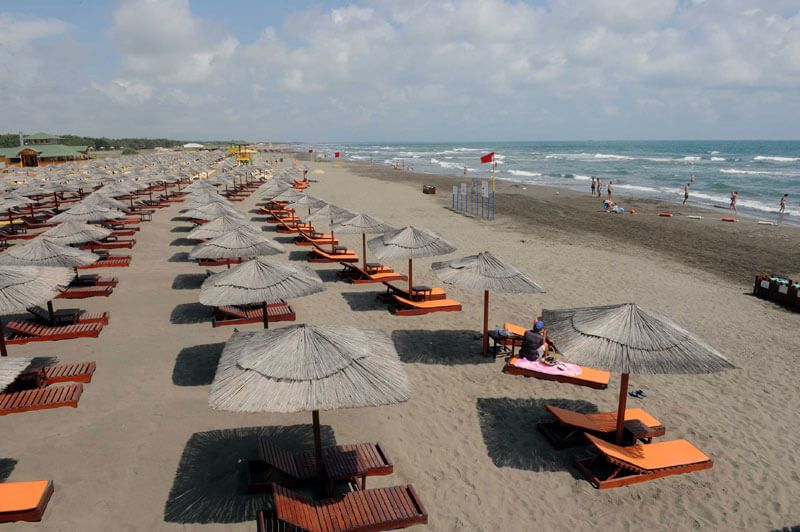 Ulcinj - Velika plaza
Mogren Beach consists of two beautiful beaches connected by a tunnel. This beach has a blue flag, which is a symbol of high environmental standards and quality and clean water, they state. The beach is easily accessible by foot from the Old Town of Budva. The walk offers views of the old town and the skyline.
Sveti Stefan beach is a trademark of Montenegro, and on the peninsula is the luxurious resort Aman Sveti Stefan. The left side of St. Stefan beach is free, while the right side is private and 50 euros are required to enter. The Queen's Beach is part of the St. Stefan's Amman Resort and is only available to hotel guests. If you want to use the beach you have to pay 70 euros per person. It is such a combination of rich vegetation, cultivated nature and clean water.
Lucice Beach offers refreshments in cafes, by boats you can visit the islands Katic and St. Nedjelja, there are no sunbeds on half of the beach, and a water slide and playground have been made for children.
The beach Blue Horions is suitable for families with children, and visitors have beach access, sunbeds and cabins, and a seafood restaurant. For lovers of active beach holidays, there are sports fields for volleyball, basketball and tennis, one can rent a boat or water ski, jet ski or go fishing.
Text by Boka News, on August 16th, 2019, read more at Boka News