The Gondola of Peace event, in memory of the victims of Hiroshima in 1945, will be launched on Tuesday, 6th August, starting at 6.30 pm in Risan, at the Smokvica Beach Bar.
The programme will include the documentary exhibition Peace Park, the launch of the Gondola of Peace and Love, and music performed by the duo Kapetani.
The event is organised by Mihailo Ognjenović from Risan and is sponsored by the Kotor Tourism Organisation.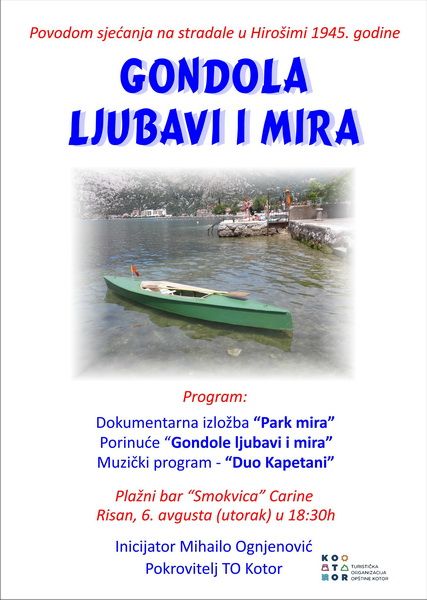 Gondola of Peace and Love 2019. Photo: KTO
Captain Mihailo Ognjenović was among the first Yugoslavs to visit the devastated city, along with the crew of the ship Trebinje, in 1965. He says that the images of the horrors of Hiroshima (bombed on 6th August, 1945), still play on his mind today.
"We set off from Rijeka, via Trieste, Venice and Port Said, Port Sudan...When we reached Japan, Hiroshima was the fourth port, and as the crew of a ship, we thought like any other port with a rich history, we should visit. There were 42 crew members and 12 passengers on board. On arrival into Hiroshima, we got into groups to visit Peace Park. We ran into problems when in Hiroshima we couldn't pay for our taxis in US Dollars, only Japanese Yen. Later, when we got to Peace Park we weren't exactly made welcome as they thought we were Americans, but when, with the help of an assistant, we managed to explain that we had come from Yugoslavia, we were welcomed with open arms…" recalls Ognjenović.
As he says, the scenes remained etched on his memory, and he immortalised his encounters with Hiroshima in one part of his book A Sea Diary, in which he gathered his impressions from his journeys at sea across the world.
Several years ago, on the anniversary of the bombing, Ognjenović paid tribute to the victims of the nuclear war by lighting candles at Our Lady of the Rocks, in Perast. This was by chance picked up by cruise ship passengers travelling through Boka, who then informed officials in Japan. Embassy representatives in Belgrade later contacted Ognjenović to express their gratitude.