16 July 2019 - The exhibition New Realities - Réalités Nouvelles from Paris will open on Saturday, July 20, 2019, at 8.30 pm at the Modern Gallery Jovo Ivanović in Budva.
The exhibition, organized by Public institution Museums and Galleries of Budva in cooperation with The Salon des Réalités Nouvelles from Paris, is one of the most important in this year's exhibition season of the Institution and represents important cultural cooperation between France and Montenegro. At the exhibition, whose curator is Senka Subotić, 50 artists who have dedicated their work exclusively to abstraction will present their work, reports RTCG.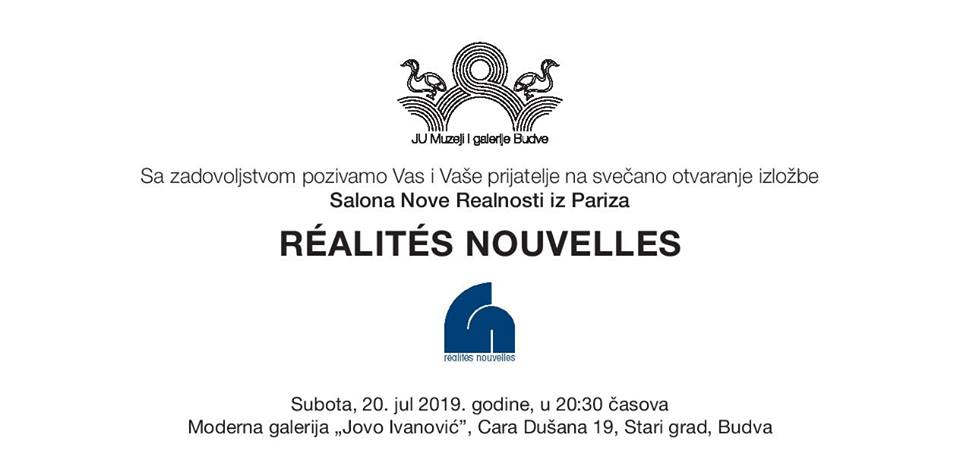 The Salon des Réalités Nouvelles started working after the Second World War. It has an international character and brings together the most eminent artists from all over the world. Founded in 1946, it represented the ideas of artists such as Kandinsky, Mondrian, Malevich and Lissitzky, extending the ideas of the groups that preceded and were active in the first half of the 20th century; most notably "Cercle et Carré" and "Création-Abstraction", in time grew into an association that today bears the name Réalités Nouvelles. The group gathers over four hundred artists, oriented to abstraction in the field of painting, sculpture, drawing, photography, installation, engraving, and digital media. Abstract artists who are not members can also take part in the exhibitions that are organized once a year, so Yugoslav artists Petar Omčikus, Momčilo Milovanović, Bata Mihailović, Dado Đurić, Ljubinka Jovanović, Kosa Bokšan, Milija Belić and others began to exhibit at the beginning of the 50s. Today, the Salon is open to all artists who deal with abstraction in any form of fine art, and represents a "stepping stone" for artists for further success and progress in the field of abstraction, as well as an inexhaustible source of ideas and possibilities. The association is made up of about forty artists elected by the president, and at the same time its members are in charge of the organization of showrooms and exhibitions, both annual in Paris and throughout the world. Since 2008, the Salon is presided Olivier Di Pizio.
The exhibition in Budva will include 50 exhibitors, among them Milija Belić, a Serbian-French artist who has a special role in organizing this exhibition and establishing significant cultural cooperation between Budva and Paris. Also, in addition to numerous foreign artists, Ivan Jurašin from Belgrade will present himself to the audience in Budva, as well as Darko Karadžić, an artist from Montenegro who is the winner of last year's Salon Award.
The exhibition will be open until August 20, 2019.
Read more about cultural events in Montenegro at TMN's dedicated page.