03 June 2019 - An exhibition entitled " Steps " (Italian: Passi) - installation by Italian artist Alfredo Pirri was opened at the Centre for Contemporary Art of Montenegro on June 03. The evening event, organized on the occasion of the Statehood Day of the Republic of Italy and 140 years of diplomatic relations between Montenegro and Italy, was opened by the Minister of Culture Aleksandar Bogdanović.
As reported by the Ministry of Culture of Montenegro, on this occasion Bogdanović said that this installation by Pirri is a contemporary artwork, "which without a doubt reflects a certain boldness that was left to us as a model by the artistic seekers and demolitionists of the conventions of the European south".
"The primary task of the art by Pirri is the determination of the relationships between space and activity, which builds a relationship rich in meaning and emotional energy. All this makes the work of Alfredo Pirri very appropriate in the days when we celebrate the jubilee of the cooperation of our two peoples, because it puts emphasis on those connections that are not visible in the area of ​​practical and political relations, but are hidden in deep layers of the spirit of space and historical experience," Bogdanović explained.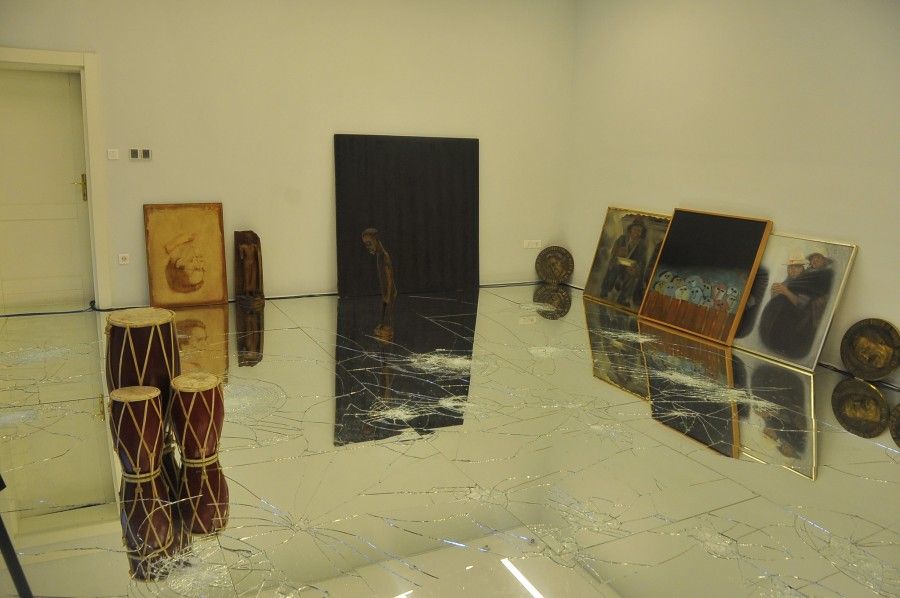 The Ambassador of the Republic of Italy to Montenegro H.E. Luca Zelioli said that Alfredo Pirri is a versatile artist with international renown. "In my opinion, tonight we are taking part in a "cultural event", not just viewing an exhibition. This event is conceived as a preparation for the celebration of the Statehood Day of the Republic of Italy, which will be held tomorrow in Cetinje. All this is part of a number of events organized by our Embassy on the occasion of the celebration of the 140th anniversary of the establishment of diplomatic relations between Italy and Montenegro. These relations were established at a time when both countries were kingdoms," Zelioli stressed.
The installation " Steps " represents a very successful concept that was realized in places of exceptional symbolic significance such as the Carthusian Monastery of Saint Lorenzo in Padua (2003), the Caesar Forum in Rome (2007), the National Gallery of Modern Art (2011) and Academy Gallery in Florence (2012) and Altemps Palace in Rome (2018).
Speaking about his installation "Steps", Pirri stated: "With this work I should like to give the spectator the impression that while moving in space he can modify his vision of it, carrying out a twofold simultaneous action of demolition and reconstruction of the image. His sensations will lead him to think that he himself is the subject of the work, and in experiencing the action of looking at himself upside down, and feeling that infinitesimal space like a skin that binds him to and separates him from his own image, he will come to be part of it in a "natural" manner, in the same way that he is part of the world".