High school students Milica Sosić and David Pantovic will study physics. David has been interested in physics and astronomy for a long time, and Milica has been thinking about it since March, following the International Class of Physics she attended.
The International Physics Class was held in March at the Faculty of Natural Sciences and Mathematics and was organized by the Ministry of Science of Montenegro, the European Organization for Nuclear Research (CERN) and the International Particle Physics Outreach Group (IPPOG).
Within this educational and research program, 200 scientific institutions actively participate in the work of approximately 1,300 secondary school students from 52 countries around the world.
The International Physics Class in Montenegro has been held since 2017, and the first part of the program includes a virtual visit to CERN, followed by lectures by young researchers who will provide insights into the topics and methodology of basic research on the substances, particles and forces that act among them, as well as complex experiments.
At the end of the program, students take part in a video conference in English and discuss results with other students and scientists around the world who also had the class organized on the same day.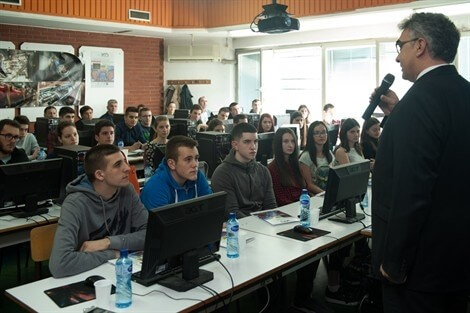 Milica admits she prefers Math.
"My love for math is greater than the love for physics. I did not always know physics as I have math. Mathematics is more interesting to me. But somehow electricity is also interesting to me, so I would like to enroll in the Faculty of Electrical Engineering. And engineering has always been of interest to me," says Milica.
She explains that she had no enviable knowledge of physics due to an insufficient basic education from elementary school.
"But I was struggling to substitute it in high school as much as it was possible. And these lessons are of interest to me and I am very pleased to have enrolled in Gymnasium because I had the opportunity to participate in many projects," she says.
David has always been interested in physics and astronomy. He plans to enter the faculty in Belgrade.
"There is no program for automatics in Podgorica. In Belgrade, there are several areas of automatics. Specifically, I am interested in the area of ​​signal and system. That is, to say, a blend of programming and physics. These are my favorite branches I currently deal with," says David.
His love towards physics is the merit of his professor from the Elementary School "Sutjeska" Biljana Stojkanovic.
"She recognized my potential, worked with me, took me to competitions and really made a lot of efforts for us all. Since then, it has practically become a part of life. I did not stop with physics since 7th grade," says David.
After the International Physics Class, Milica decided to devote herself to this science.
"I liked everything - the atmosphere, their knowledge, how well they teach. I was fascinated with students who are already on their master and doctorate degrees in Paris. And then they persuaded me to enroll in this faculty," she explains with a smile.
She emphasizes that she had the opportunity to speak with the lecturers, and they gave her some tips on how to focus on her choice and get the scholarships that they have also received.
She is also thrilled with the virtual tour of CERN, but also with her classmates from Italy, Africa.
"We compared the results of our exercise with them, our measurements."
Both Milica and David will apply for CERN Summer School.
Punctual as the Swiss
Both Milica and David are delighted with the precise organization of the class.
"It really was all organized and as punctual as ​​a Swiss clock. The union of the Ministry of Science and CERN, since they are from Switzerland. If they said something starts at 3 p.m., it started exactly at that time. I liked the fact that they invited our young students who went to summer schools there and who practically work there, to talk to us about the opportunities so we could go there and get a job or go to their summer school. The students of the Master and Ph.D. studies are there and they have shown that there are not only older experienced scientists, but practically most people working in CERN are young people who are currently finishing their studies," says David.
Text by Milos Rudovic, on May 13th, 2019, read more at Vijesti