06 August 2018 - The Tourist Organization of the Kotor Municipality invites you to attend the concert "Jazz on the Roman Mosaics 2018", at the Roman mosaics in Risan, which will be held on August 9, 2018 (Thursday) at 9 PM.
All guests who visit Montenegro are usually intrigued by the remains of the residence of an ancient Roman nobleman, so they come to the small historical town of Risan, located in the Bay of Kotor near the popular tourist town of Kotor. This museum in Risan, representing the remains of a Roman villa, built in the 2nd century AD, is also called "Roman mosaics". This famous landmark, now the oldest architectural monument in Montenegro, is about two thousand years old. The landscapes of the Roman mosaics will contribute to the atmosphere of the concert altogether.
The main performer of the concert will be Ðorde Obradovic, accompanied by Ivan Aleksijević, and this will be Obradović's first performance in his native town of Risan.
Miles Davis, Wayne Shorter, Charlie Parker, John Coltrane and Antonio Carlos Jobim, are some of the jazz masters whose lesser-known but certainly beautiful jazz standards will be performed by this duo.
The repertoire is made up of timeless instrumentals enriched by vocals.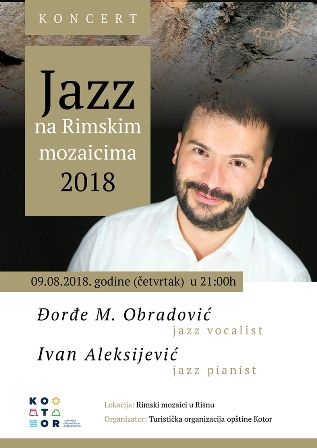 Đorđe Obradović was born in 1986. in Montenegro. He was fortunate to be taught by renowned music pedagogues in Montenegro and Serbia for a great number of years. He is a graduate of the L'Aula Conservatori de Jazz y Musica Moderna in Barcelona where he specialized in jazz singing. Upon graduation, he continued his study in composition and music production. He likes to see himself as a competent jazz vocalist and composer. In addition to running various music projects, he is a passionate teacher and even more passionate learner.
Ivan Aleksijević is one of the best jazz pianists in the environment, who besides Big Band RTS performs with top artists of our music scene. Better known in musical and jazz circles like Pančevac, Ivan represents one of the five most renowned jazz piano instrumentalists.
Welcome!