July 14, 2018 - July 14th officially marks the beginning of the traditional cultural and sports event "Spuško ljeto" (English: Summer in Spuž), organised by the public institution Culture Centre Danilovgrad under the auspices of the Municipality of Danilovgrad.
The solemn reception of the participants was held at 8 PM at the Mall, after which they took a stroll to the official location of the Festival, under the Bridge Spuž. The opening of the event took place at 9 PM with the start of the concert. The opening event's participants include folklore ensembles from Bulgaria, Serbia, Macedonia, folklore ensemble "Oro" from Danilovgrad, and vocal soloists Milan Otašević and Mila Nikić.
This is a manifestation which is traditionally celebrated every year and it preserves the rich cultural heritage of Montenegro through sports and cultural activities with the participation of a large number of athletes and citizens. The program of the Festival includes sports competitions, literary evenings, and even cooking competitions.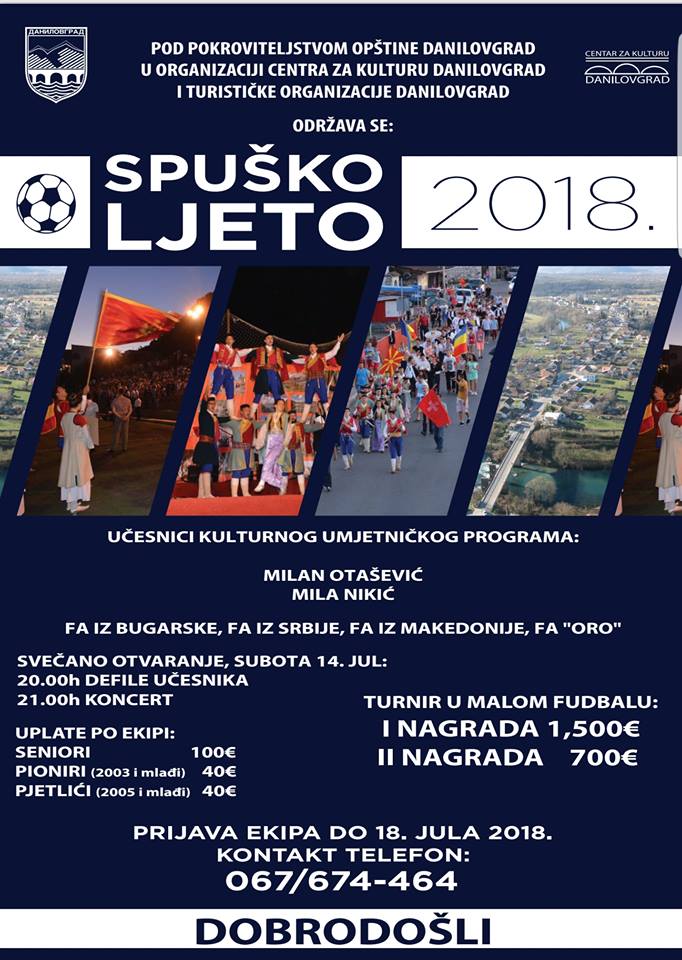 This manifestation is one of the oldest events in the Municipality of Danilovgrad, and every year it gathers more and more teams and competitors, as well as a significant number of visitors and spectators. The formal beginning of the "Summer in Spuž" event was marked by the speech by Maja Luketić, director of the Center for Social Work in Danilovgrad. Mrs. Luketić was thankful to the organisers for the cultural, sporting and entertainment events and for the privilege of spending a delightful summer in the city of Danilovgrad. She took the opportunity to invite all guests to enjoy this year's program of the event.
During the manifestation, participants and visitors can enjoy football, chess, cooking fish soup and competitions in other sports and recreational disciplines. Sports competitions are expected to start next week, and the applications of football teams for the football tournament should be submitted in the upcoming period.