July 12, 2018 - The 7th International Folklore Festival of Children and Youth "Skoči kolo da skočimo" is held from July 11 to 14, 2018, in Podgorica, Montenegro. This festival is part of the traditional "Podgorica Cultural Summer" event that will be held in several locations in the Capital.
According to the organisers of the Festival, the aim of the Festival is the preservation and improvement of the cultural identity and multi-ethnic accord of Montenegro as well as the contribution in making, developing and improving friendly relationships among countries through the promotion of intercultural partnerships of children and youth. The preservation of tradition and friendship development is what this Festival is known for, and its participants remember it with a special cultural and social spirit, and from spreading love, tolerance, and peace. The organisers are proud of their work coordinating a large number of folk dance ensembles who are nurturing traditional dance, music and songs, as well as encouragement of creativity of children and youth through the beauty of music and scenic expression of traditional music dance, songs and costumes.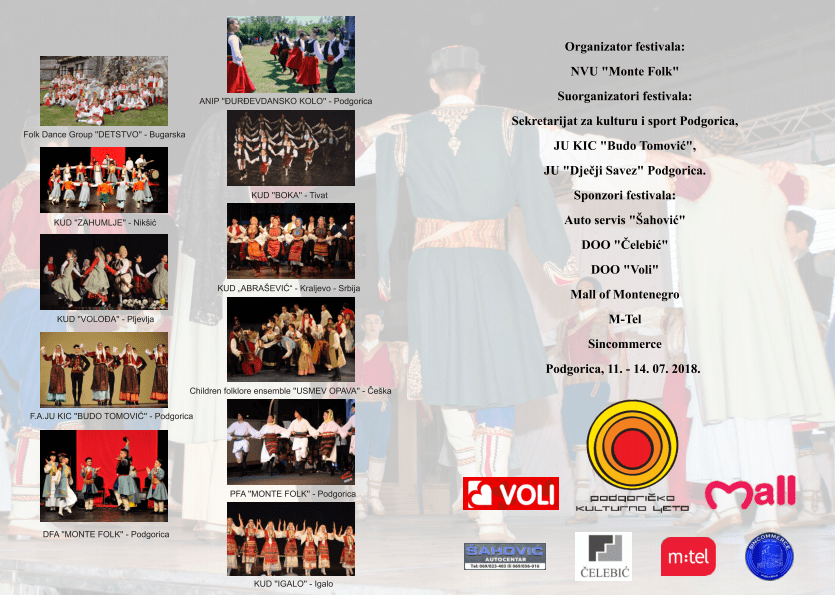 The grand opening night of the Festival was July 11th, when the International Folklore Festival woke up the Capital City of Montenegro at 9 PM at the Independence Square. Vigorous and energetic participants also showed their talent on July 12th, during which the stage shined with children's smile, song, costumes, and dance. About 300 participants performed within the Festival, of which 7 ensembles from Montenegro (Podgorica, Tivat, Pljevlja, Nikšic, Igalo) and 3 ensembles from abroad (Bulgaria, Czech Republic, Serbia).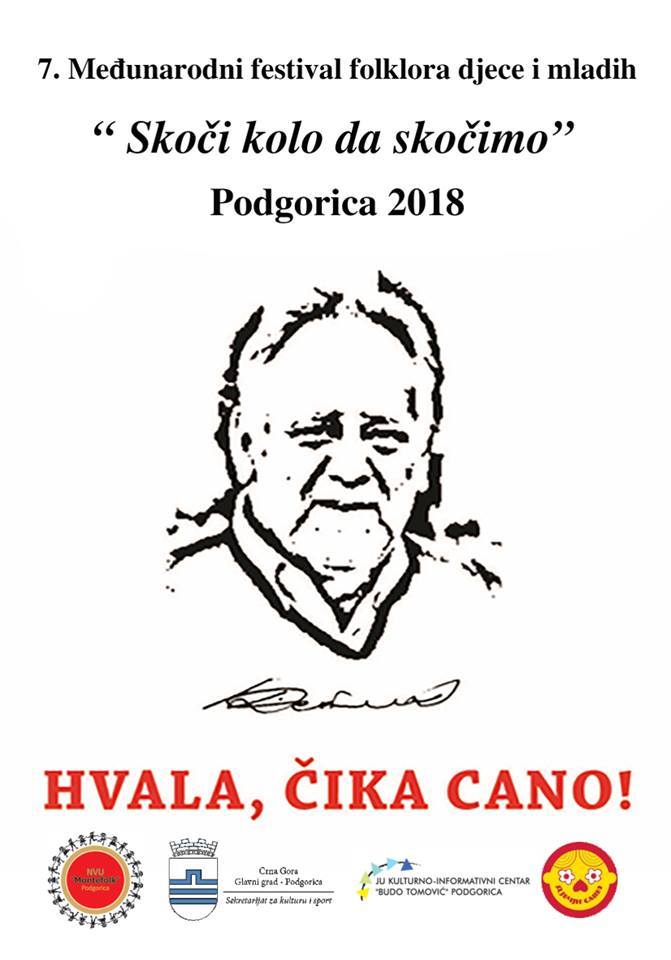 The organizers explained how trough this Festival they want to educate children and youth and give them an opportunity to show what they know, but also to make friendly relationships among them and to motivate them to get to know each other as well. The organiser of the Festival is NGO "Monte Folk", and the coorganizers are the Secretariat for Culture and Sport of the Capital City, CIC "Budo Tomovic" and "Children's Association" Podgorica.
The participants of the event were also invited for a the reception at the city administration of Podgorica, where they were greeted by the President of the Assembly of Podgorica, Dr, Đorđe Suhih, as well as the Chief Administrator of the Capital City, Ms Edina Bulić, who recognized the significance of this manifestation, as well as its contribution to the cultural and tourist sense of the Capital.