July 05, 2018 - Days of European Movies in Montenegro will take place in Podgorica, Cineplexx Cinema, on 5-13 July, 2018, with 16 participating movies with various genres and the latest European production.
The movie "The Beauty of Vice" (Montenegrin: "Ljepota poroka") screening at the Cineplexx Cinema in Podgorica on July 5th from 8 PM marks the beginning of the manifestation, within which the Montenegrin audience will be able to view 16 movies from various European productions in eleven different municipalities, provided by the Embassies of the Member States of the European Union. The "Days of European Movies" in Podgorica open with Živko Nikolić, a renewed Montenegrin film director, television director and screenwriter. The day before the opening of the event, July 4 at 11 AM, the EU Info Centre, in cooperation with the Montenegrin Cinematheque, organized a panel discussion on Montenegrin cinema with an emphasis on the work of Živko Nikolić. The panel featured actor Boro Stjepanović, as well as directors Branko Baletić and Andro Martinović.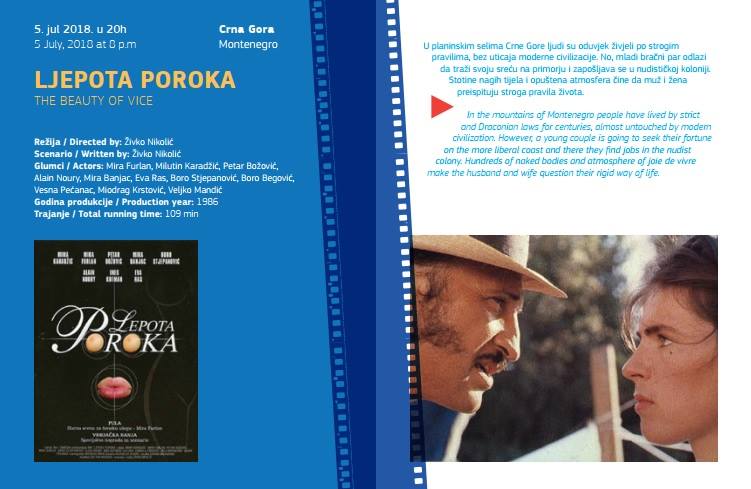 Živko Nikolić is the most famous Montenegrin film director with a strong influence on Yugoslav and European cinema. His films were also celebrated by critics and audiences and won several awards at European festivals. Director Nikolić was a truly dignified and very brave man, who was very tied to Montenegro, its people, customs, and tradition. He was a controversial and tragic figure, celebrated throughout his life, but also contested, mainly by a political establishment, who did not like Nikolić's artistic vision of Montenegrin society and tradition. Nikolić's movie "The Beauty of the Vice" in Israel became the most watched and considered to be the most erotic film of the former Yugoslavia since it is one of the most important films about the sexual liberation of women in Eastern European cinema.
All the movies of the manifestation will first be shown in Podgorica at the Cineplexx Cinema from 5-13 July in the evening (projections are planned for 6 PM and 8 PM), and after that the film wagon moves to ten other Montenegrin cities: Berane, Bijelo Polje, Budva, Kotor, Mojkovac, Nikšić, Petnjica, Petrovac, Pljevlja, Tivat and Ulcinj.
The European Union declared the year 2018 as the Year of Cultural Heritage. One of the objectives of this declaration is to encourage more people outside the countries of Europe to discover and engage with Europe's cultural heritage. This is why the European Union Office in Montenegro is particularly happy to bring a part of this European cultural heritage to Montenegro through these Days of European Movies.