October 5, 2020 - The COVID-19 pandemic has led globally to the rethinking of economic and development priorities, and therefore local communities have seen a need to return their focus to vital economic activities. The interest in buying and producing domestic, local products is growing, and there is a growing awareness that the agricultural situation best illustrates the strength and competitiveness of a country. Montenegro, feeding mostly on imports, cannot boast of success in this field. We talked about the current situation, activities, and prospects for agricultural producers in Tivat with the Secretary of the Secretariat for Tourism and Entrepreneurship, Petar Vujović.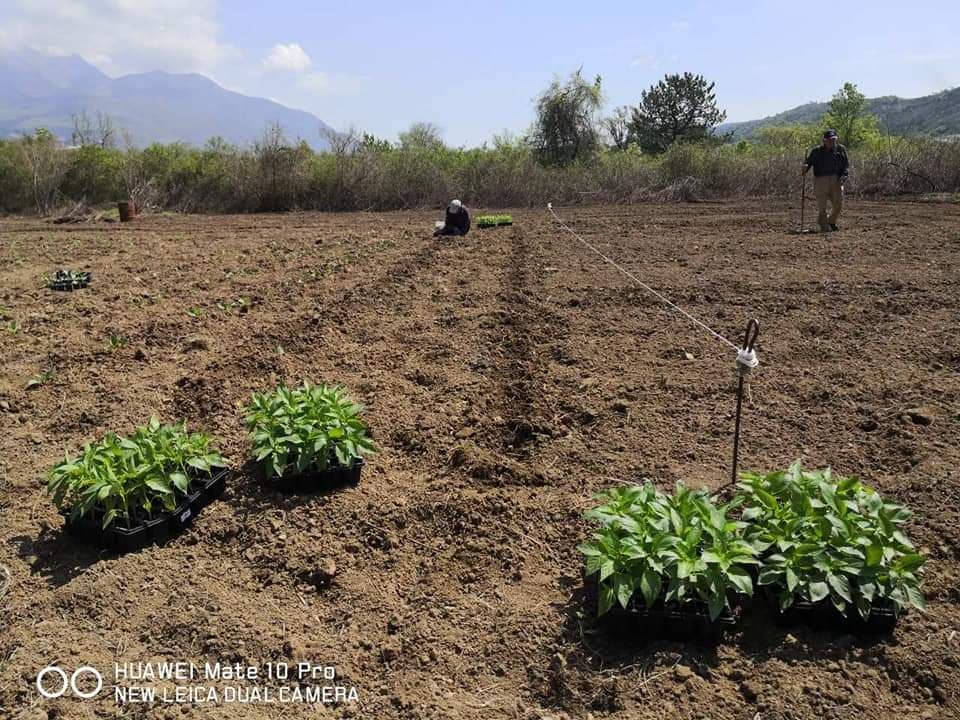 Illustration, Đuraševića Field, Photo by Vladimir Spanovic
What activities are carried out by the Municipality of Tivat in order to empower local producers? What types of support and incentives have been launched since the beginning of the epidemic?
Every year, the Secretariat for Tourism and Entrepreneurship provides support to local agricultural producers as part of its regular activities. For this purpose, this year, the budget envisages 23,000 EUR. We have come up with 14 types of incentives that fully meet the current needs of local farmers. These incentives result from the feedback that we receive from farmers when visiting their farms and we thus translate all their requests into specific forms of support. Therefore, this year, we have introduced a new measure within the framework of support to livestock - support for poultry. Also, it is now possible to purchase additional equipment for beekeeping. In rural tourism, we have introduced a support measure for the preparation of project documentation connected to the renovation of existing derelict houses, to provide tourist and catering services in rural areas of the municipality.
Given the new situation we have seen due to the coronavirus epidemic in Montenegro, we have introduced an updated procedure for using incentive measures, enabling advance payment for the purchase of individual funds, equipment, machinery, etc., which helps producers maintain and improve their farms. From the very beginning of the epidemic, through municipal communication channels (Viber communities, Facebook profiles, Instagram, and youtube channels), we have intensively promoted agricultural producers and invited the public to buy domestic food and other local products.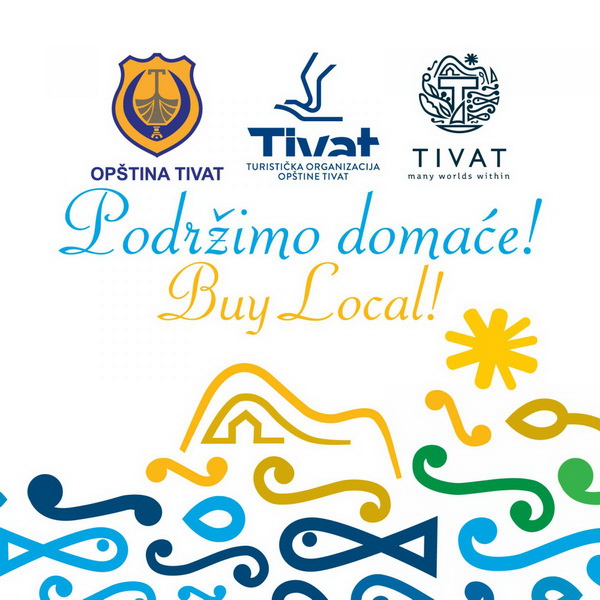 "Let's Support the Domestic" Campaign
The latest activity from the Secretariat for Tourism and Entrepreneurship "Let's Support the Domestic" enabled agricultural producers to place their products completely free of charge on specific municipal stands. It is a pilot project for the purchase of two wooden racks, which were branded by the company Brand New Tivat, with the Tourist Organization of Tivat undertaking a support role in the promotion of the project. The idea is that registered farmers, who express interest, can use the stands set up on Magnolia Square and Culture Square, completely free of charge every weekend (Friday and Saturday).
There is interest from farmers, but I must be honest and say that it is not significant for the time being. Weather and health conditions are not in our favor, while the production of certain agricultural products is indeed running out. In any case, we didn't want to wait for better times because we don't have time to wait. According to the feedback we received from the exhibitors during the first weekend, they are more than satisfied and very grateful. For now, the stands have been set up at two locations in the city center, and we hope that if there is interest, that these stands will be seen in other parts of the Municipality of Tivat in the future - Radovići, Gradiošnica, Donja Lastva.
Can we talk about the increase in food production in Tivat?
At this point, I do not have precise information on this but I have to mention that the number of registered agricultural producers has increased by almost 50% in the past two years, and the number of incentives has also grown. At the same time, the country's current health situation and the surrounding area have led people to turn more to agricultural production - I think the answer to your question is an affirmative.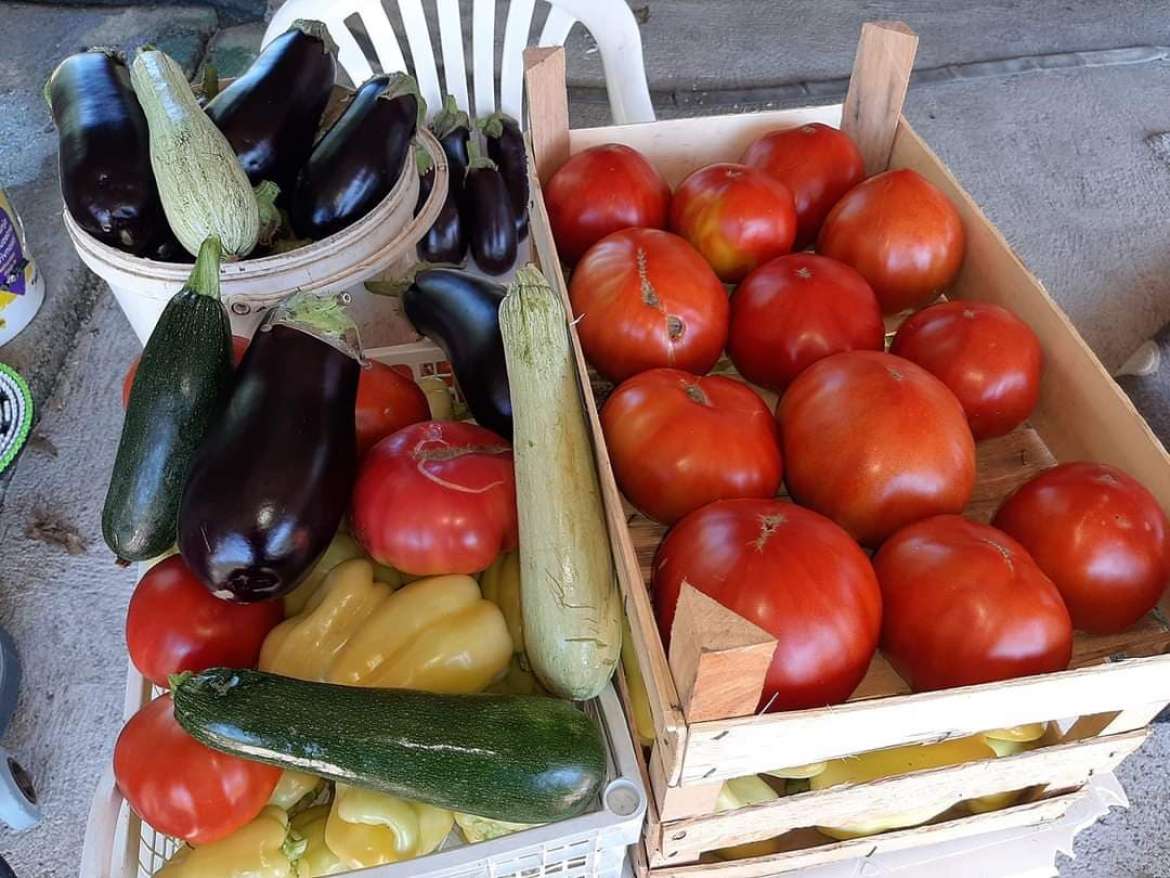 Family Španovic products, Photo by Vladimir Španović
Are there records of municipal-owned agricultural land? Are there opportunities to launch a social garden project in Tivat?
Indeed, thank you for the very interesting question. Social gardens imply that, in this case, the local authorities grant the citizens agricultural land for free use on which they can grow certain agricultural products primarily for their own needs, but also later for exchange with other agricultural producers. In that way, the local authority would show social responsibility, influence the reduction of unemployment, and directly encourage the development of agriculture and domestic food production. Unfortunately, despite our long-standing desire to bring the concept of social gardens to life in Tivat, it has not been done primarily because the municipality does not have precise records of land in its ownership intended for agricultural production. In my opinion, this is the immediate next step that the local government MUST take, and the Secretariat will support such a project.
In the context of positioning Tivat as a green destination, should we work on the promotion of permaculture? Are seminars being organized and are producers interested in them as a way of modernizing ecological production?
Absolutely. In addition to the concept of social gardens, permaculture is a basis on which the future of Tivat should be built. Working in harmony with nature and not against it, is simply a philosophy of permaculture as a branch of ecological design and all of us support this in the Secretariat for Tourism and Entrepreneurship. To the extent possible, we are constantly striving to promote Tivat as a sustainable tourist destination in all its aspects, including agriculture.
I want to remind you of the project "Heritage-driver of development" from 2015. We succeeded in establishing cooperation between institutions responsible for protecting natural and cultural heritage in Croatia and Montenegro through the implementation of joint programs, education, knowledge transfer, and activities on awareness-raising. Echoes of this project, in which the municipality of Tivat was the leading partner, are still present today through various events held in Gornja Lastva.
When we talk about workshops, the Secretariat also considers agricultural producers' preferences, so last year, we had an extremely well-attended seminar on the design and packaging of farm products. From conversations with farmers, we got the impression that product placement is one of their fundamental problems. Bearing in mind that the design and packaging of products significantly influences product placement and numerous other factors, this workshop was focused specifically on this topic. In the municipal Tourism Development Strategy for the period 2020-2024, one of the activities is the branding of agricultural products, so we will seriously address this topic in the coming period.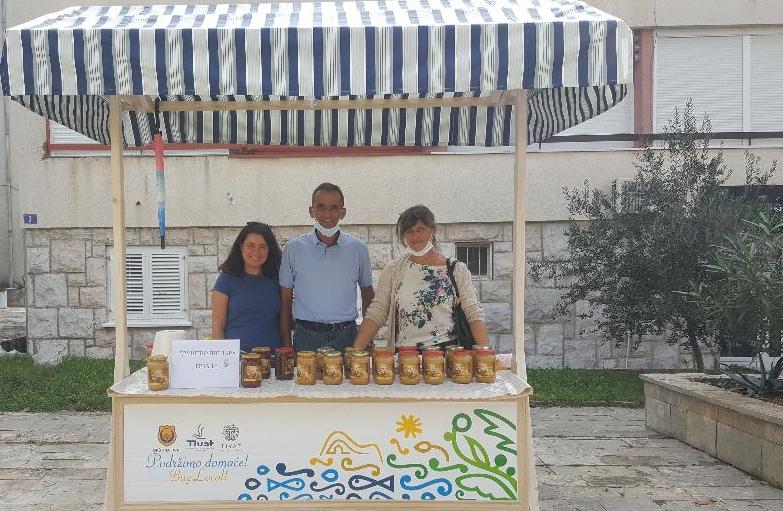 Food producers at the Culture Square, Source: Radio Tivat
Does the current support plan cover commercial fishers?
As part of the public call for providing support to agricultural producers, there is also a general call in fisheries and mariculture. Available opportunities are open until the end of October, and all detailed information can be found on the municipal website.