June 15, 2019 - Last night an amazing and unique show happened at the new Synchro stage in Porto Montenegro Luxury Village. The fourth edition of the Made in New York Jazz Festival brought new and legendary names to Montenegro this summer again. A beautiful jazz concert featuring two lovely vocals will be repeated tomorrow night at the Capital Plaza Center in Podgorica.
TMN had the privilege to talk about music with some of the artists during their rehearsal coffee break.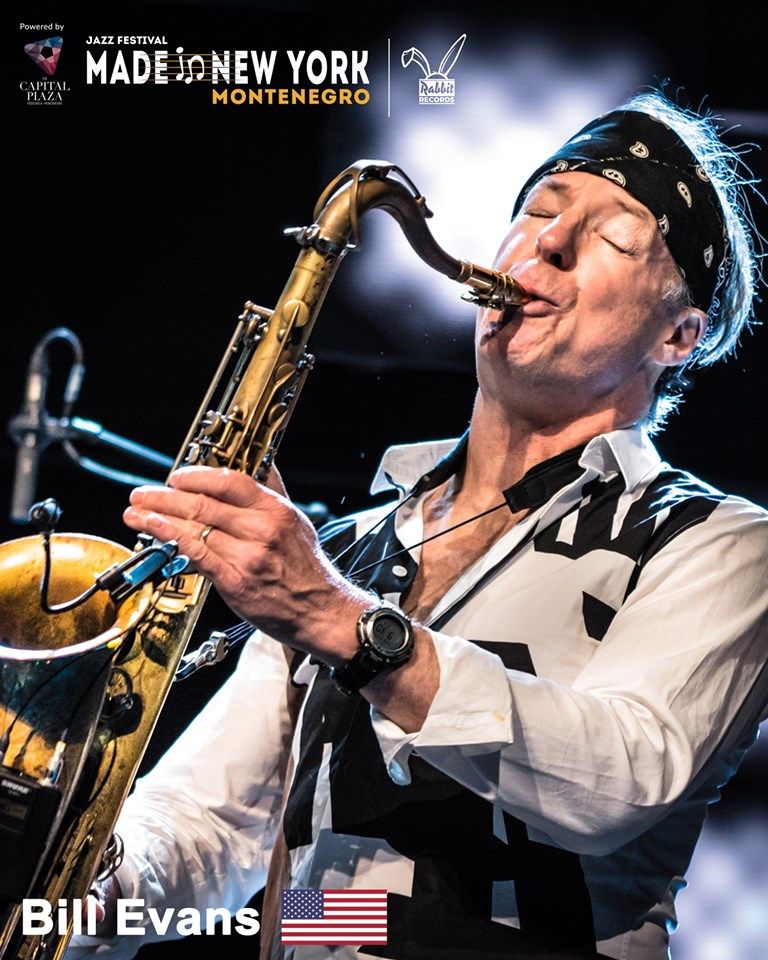 Bill Evans
An American saxophonist, a member of the Miles Davis group;
over 17 solo albums and 2 Grammy award nominations
TMN: You learned to play piano by ear, right?
BE: Yes, I did, when I was six years old my father taught me to play a few classical pieces by ear. He would come home and show me something after work.
TMN: But then you continued your musical education?
BE: Yeah, I studied piano at school as well, but learning piano by ear was so important…
TMN: That's interesting. Because there are a lot of musicians who started playing on their own and continued like that. So, you think it's important to get into the theory and standard education?
BE: You need to learn all that stuff, it's absolutely necessary, you need to learn theory, etc. Because it's the only way you'll be as good as you can be. There are a lot of people playing music who also play as good as you and so you can be holding yourself back when you really need all the advantages that you can.
TMN: You've had a very long musical road and you've played with so many big names likee Herbie Hancock, Michael Franks, Miles Davis etc). Was there a moment when you were no longer the same man?
BE: Well, everybody is different, and there was never one moment and one artist that shows you everything, there were many… Most of the time, when you have a chance to play with great artists you've already studied so much, they just want you to play. They just want you to do what you do best, and they don't want to teach you, they know you by the time you get to them. And it's not only one moment, you learn from each person. When I was at my 20s, I had an opportunity to play with many great guys. I would just watch and listen and learn from each of them.
TMN: Once you said that music is not a sport and Grammys don't mean much to you. But do you think these awards still have a certain value in terms of bringing a musician to a broader audience?
BE: It does, of course. That's the first thing people would say about you is that you're Grammy nominate or won. But when you analyze what really goes down in the organization of the Grammys, it's not that many people who are voting, so certain people would win 2,3,4 Grammys at 11 votes. And people think so many people voted for you and you're so popular, but it's not really what it is.
TMN: But it still has an impact on the career?
BE: Well, I know guys in jazz who had won 12 Grammys and it didn't make any change in part of getting concerts or the money they make, it doesn't really change a thing they do. What happens in jazz is only staying in it for years and proving yourself years after years so the people become accustomed of who you are, make sure there's a catalogue of CDs you made, make sure you play very well all the time, get along with people, understand how much people try to support you. It's a lifetime of doing the things that help you get along, not Grammy awards. I know people who do that in a rock world, have one Grammy of the year and their career. In the jazz world, it doesn't have the same impact as in rock.
TMN: The mission of the Montenegro Jazz Festival is to bring jazz around the country, make it live. It's still to be discovered here. What, in your opinion, would work best for this?
Just like they're doing it. In this situation when you continue to do it every year, it will bring you people who say it was awesome, they tell their friends, they come the second year, then they come the third year. It happens in different parts of the world like this. I was doing things like that in Siberia, in China, even in the United States where you normally don't have jazz. Each year it grows, maybe the first time it was 300 people and in 5 years it's already four different venues, one hundred participants, 8 thousand visitors… and then the sponsors start thinking that it's not just a one-year-festival, I'll support it because it's going come back. It's just a matter of continuing to stay alive. Just give people a chance, because they may say "I know nothing about jazz, but I've been to the concert and I really liked it". They can feel the energy, they are impressed by it even if they don't understand how we do this.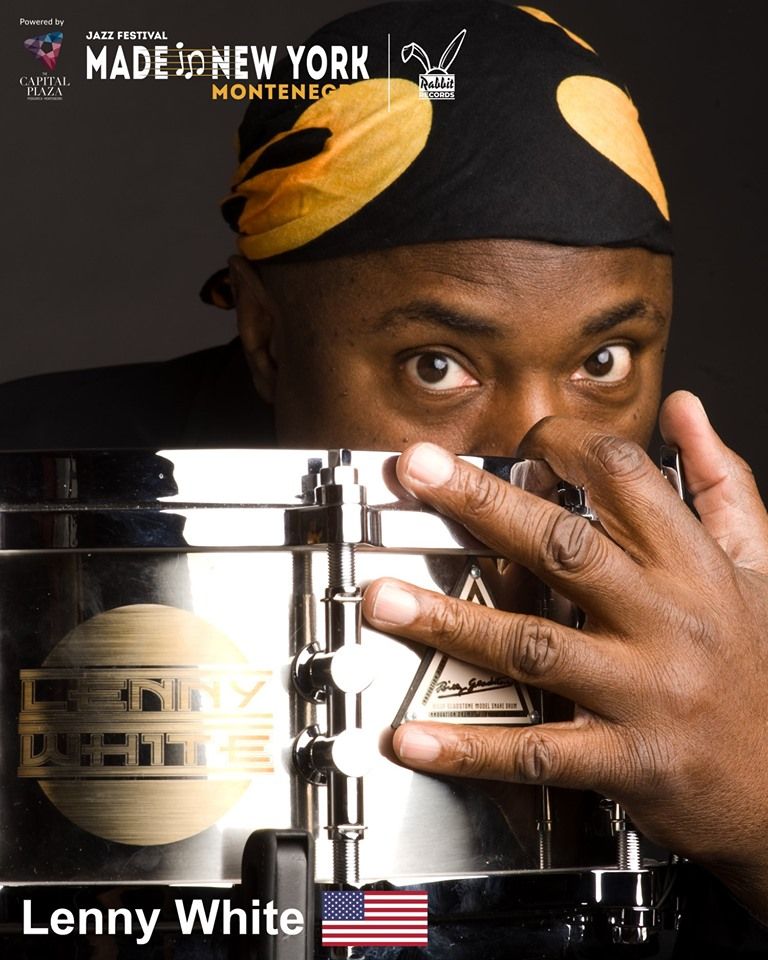 Lenny White
A three-time Grammy-winning American jazz drummer,
A member of Chick Corea's Return To Forever in the 1970's.
TMN: You've been into a variety of music, and even in opera. Is it more about your personality or do you believe this is the way for the professional development of any musician?
LW: Well, if you call yourself a musician, the definition of the musician is someone who plays music, meaning, you play all kinds of music. If you put a title in front of it – jazz musician, classical musician, then that is narrowing things what you do. I would put myself in any possible musical situation that I can, because then I'm playing music. So, I think it's valuable for anyone to play all kinds of music.
TMN: Stage or studio?
LW: That's a hard one. But I would probably say that the stage is where studio things start to materialize. You do something on the stage and think oh, that might be great to put that together and you go to the studio and record. So, it's always the stage.
TMN: Once you've said that music in the modern world is not made for music sake. Is there any chance it will change back in your opinion?
LW: No, I don't think it will change back. What happened is that music was created as an art, that was a way of communicating with other humans. That aspect of creating music that way was natural, intuitive. Now what is happening is commerce. Music has been something that is sellable, and so people made music to make money. Now it's getting difficult to sell music because of the oversaturation. I think that the appeal for music would have to change. Because what really has changed is the aesthetic: the way music is being made today is totally different from how it was 40-50 years ago. I think that what has to change if we want to get back.
TMN: Jazz in Montenegro is still to be discovered, and the popularity of this genre cannot be compared to the USA
LW: What is interesting is that Jazz is not a style of music; it's American black heritage. So, the spirit is what people love about it. That's why it can go all over the world and that's what everybody loves and wants to accept it. That's my heritage and I try to represent it in the best way everywhere I go.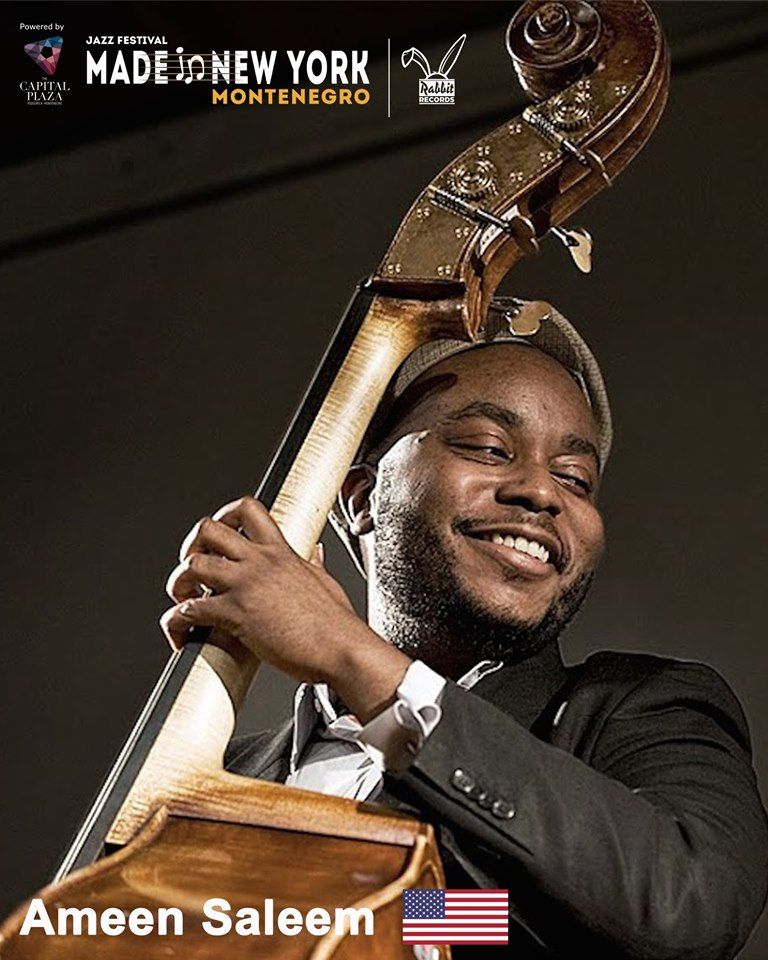 Ameen Saleem
American musician,
One of the most talented bass players in the international jazz scene
TMN: How did you choose your instrument?
AS: Oh, that's funny. Actually, the bass is not what I wanted to play. I grew up in Washington DC, and it was pretty violent in my childhood, so to keep me focused and out of trouble my mum wanted to put me into the music program. My sister was already studying a violin program and I went there with the intention to play French horn, but all of the classes were full and the only one I could join was bass.
TMN: Have you ever played before with any of thee other musicians that came here today?
AS: Yeah, I played with Charenee Wade, but no one else.
TMN: How do you feel about experimenting? What can we expect from the show tonight and on 16th in Podgorica?
AS: Oh, it's a great catch, so I'm sure we're going to have a great time. We had a great rehearsal,; everybody has great vibes. And it's jazz, in the end, you know, we're professional and we're flexible, so that helps. It's going to be pretty good, because Lenny White is definitely one of my favorite drummers, you know bass and drums it always helps for the whole band is great. I'll play both double bass and electric bass.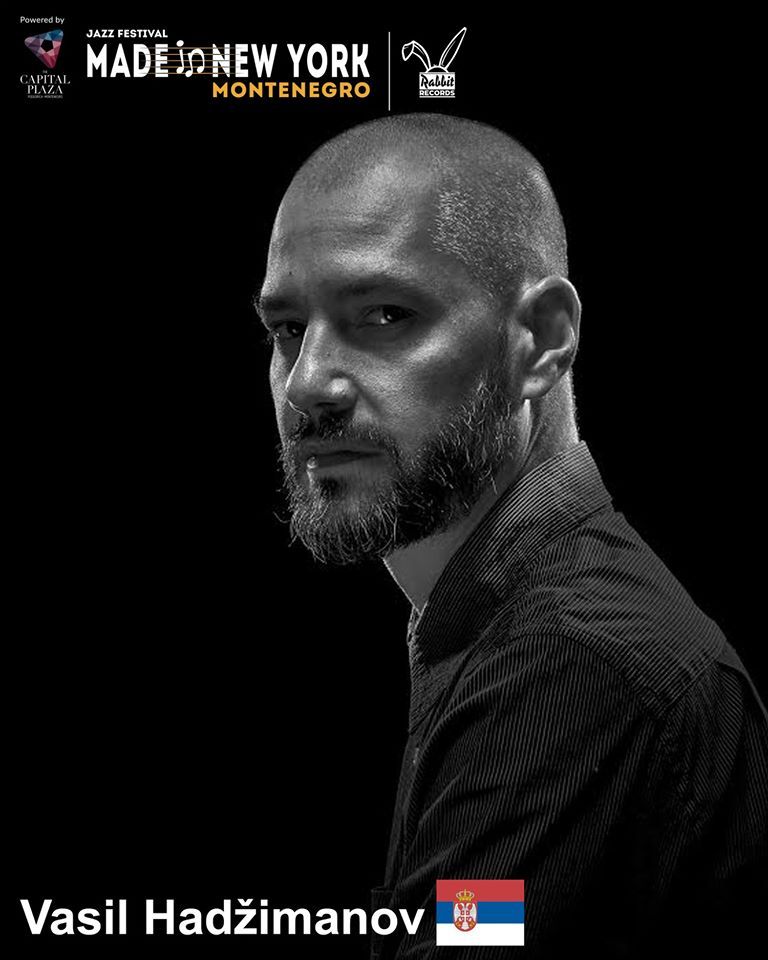 Vasil Hadžimanov
A remarkable Serbian jazz pianist and composer,
Founder of one of the most famous Balkan jazz bands
TMN: Montenegro is just discovering jazz. How open is the local public for this particular genre?
VH: It's not about if the public is open or not, it's about what's offered here and in the region in general. It's very limited, the choice of such concerts and even small performances. And it looks like there's no public, but it's not true. Whenever a show like this happens it's always full. You'll see tonight, and it will be same in Podgorica.
I was performing with my band in Podgorica for the first time about 20 years ago in the National Theater. I recall I had similar doubts if anyone will come. The hall was full, and since then we come every year at least once for a big concert and it's sold out well before. Which means there is the public and they know what you want. Of course, there are few, very few people working on jazz here, and I hope there should be more with time.
TMN: What are your current projects and plans?
VH: At the beginning of the year we've released a new album by MOONJUNE records NY recording house, it's our second album recorded by them and seventh for the band. I'm currently working with Bojan Zulfikarpašić from Paris, Marin Dedic from Croatia piano and two vocals, Dusan Jeftovic from Barcelona, guitarist.
TMN: Any plans for other concerts in Montenegro this year?
Well, we've had one already, now we're here at the Made in NY Fest, but we might come up with some more plans.