Your first contact with taxi drivers will probably happen in one of two Montenegrin airports. Tivat is a nightmare, where a couple of dozens of taxi drivers will aggressively offer their services. Podgorica Airport is much better, as drivers are polite and there aren't as many.
If you can bargain with them to drive you to your final destination for a fair price, take them - and if not, avoid them by saying your friend is picking you up, or say "thanks" and carry on.
The Montenegrin taxi industry is very well organized. There is no Uber, but there are several companies in each city that will charge you reasonably for their services. Some of the companies have bad cars, but their prices are lower, while others are a bit expensive but you have a full service with WiFi in the vehicles.
You should try to avoid taking taxis on the street unless there is a clear sign that they are part of some of the established taxi company. TX car plates were introduced a couple of years ago, but it is still not a clear sign that you'll get a fair service from them.
If there is a possibility to bargain the price you should always do it before you enter the cab.
If you experience an unpleasant situation, you should immediately call the police on 112, or the city police (komunalna policija) on the phone numbers you can find online.
You can also contact local media, such as: www.vijesti.me or www.cdm.me
For Budva www.rtvbudva.me
For Kotor www.radiokotor.me
For Herceg Novi www.radiojadran.me
They are always happy to help.
And you can always write to us, and be sure to write the plate numbers and taxi company, it always helps.
For Kotor and Tivat I would recommend you call or contact the Red Taxi Company, this is their website where you can find all their prices online:
http://www.redtaxikotor.com/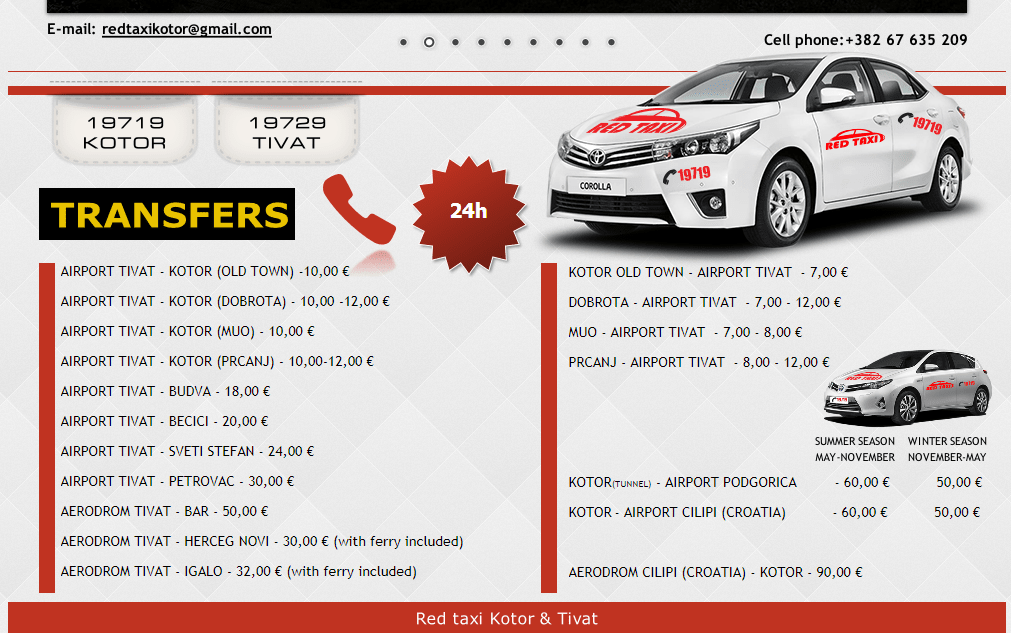 For Budva there are several companies:
Terrae Car with the fleet of hybrid Toyotas http://www.terraecar.com/taxi\
OK Palma Taxi Budva (facebook page)
VIP Taxi Budva http://www.viptaxi.me/o-nama/?lang=en
For Podgorica
Halo Taxi, yellow Hyundais (facebook page)
City Taxi http://citytaxi.com/
You can contact them and book a cab in advance.