January 6, 2019 - At the Christmas Eve tables in the homes of Boka Bay, whether the family is celebrating Christ's birth in the Gregorian or Julian calendar, two meals will never disappear- white codfish and black risotto.
On Christmas Eve, we do not eat meat, but the table is no less delicate than it is tomorrow, on Christmas. Each family prepares different fish dishes, but two traditional recipes are indispensable - white codfish and black risotto. Perhaps there are certain symbols, black and white are always together, but before that the reason is the centuries-old gastronomic tradition and the indisputable fantastic flavor of these dishes.
Christmas Eve Dish No 1: White Codfish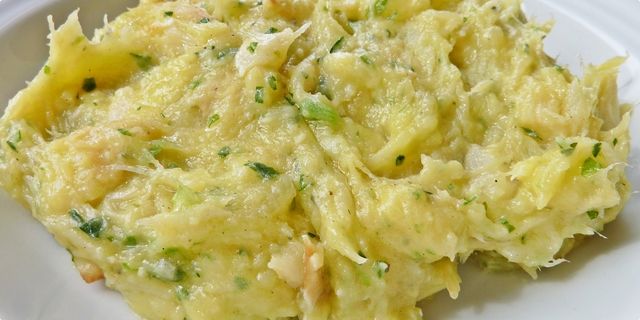 • One cod (60 dag - 80 dag)
• 1 to 2 laurel leaves
• 4-5 potatoes
• 6-8 cloves of garlic (half full, half finely chopped)
• Two dl of milk
• Parsley (finely chopped)
• 2 - 3 dl of olive oil
• Salt
• Pepper (in grain and ground)
Soak the dry cod in water for 2 - 3 days before preparation, and you should change the water several times, mildly bending the fish with your hands. When softened, boil the cod for 15 minutes in salt water, add a laurel and a couple of pepper beans. Remove the boiled cod, cool it and clean all the skin and bones. In the same water of codfish boiling, put the sliced potatoes. Cook the potatoes and when done add the cod. Boil a couple of cloves of garlic in milk and pour some of the milk into a saucepan. Add some finely chopped garlic and parsley. Sprinkle with olive oil, add some boiling water, and cook on the weakest heat by shaking the pot. Dissolve the dish again with olive oil and stir the pot. If desired, potatoes can be slightly propagated with a fork or whole meal with a rod mixer to get dense dairy butter. If you mix it well, you can also serve it as a pate, on breadcrumbs.
Christmas Eve Dish No 2- Black Risotto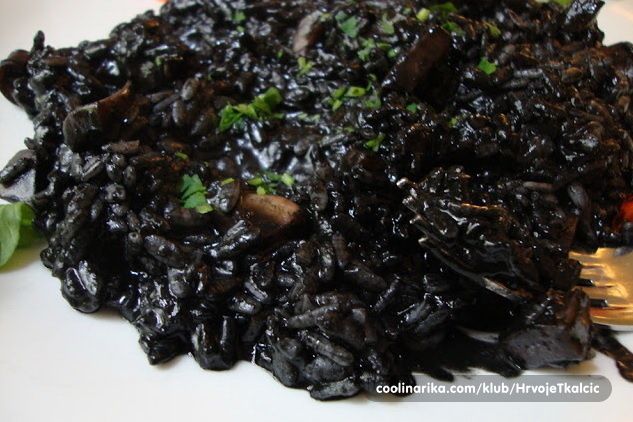 1 kg cuttlefish
30 dkg rice
Two big onions
4-5 cloves of garlic
Two tablespoons of freshly sliced parsley leaf
Three dl of olive oil
Three dl of white wine
One dl prosecco
2-3 list of laurels
A little rosemary
3-4 big tomatoes
One teaspoon of butter
In Boka Bay, it is customary for friends to gift the dear people on Christmas Eve with cuttlefish, a citron and a bottle of wine. Of course, we are most happy to get cuttlefish. The gifted cuttlefish is better for the traditional risotto than the one you buy at a fish market; the only more delicious is the one you catch yourself. In any case, when you have cuttlefish, you have to clean it, remove and preserve the black ink, and cut it into pieces. Add 1.5 dl of olive oil to the onions, garlic, and cuttlefish and cook for about ten minutes on average temperature. Add wine, pastry, chopped tomatoes, rosemary and laurels (which you will later remove). After ten more minutes add the rice you have previously boiled for few minutes to reduce the starch and black pepper. Make sure the rice stays "al dente"- not overcooked. In the end, it's time to apply the trick. If you add some butter to the remaining oil, the black risotto will get a creamy texture. When serving, you can top the rice with parsley and cherry tomatoes.
Enjoy your black and white Christmas Eve meal.