At the Palas hotel, on 14th of April first TEDxBudva event will be held, independently organised TED event whose topic is Plug in the future. Innovations and ideas that are changing the world will be presented through life stories of experts from various fields and limited number of tickets is on sale as of yesterday.
Plug in the future is the theme of the first event in Budva. We want to show the importance of science and technology through the speeches of people who change their world with their ideas and work.
Speeches will be divided into four sessions:
-Plug in the creativity
-Plug in the innovation
-Plug in the lifestyle
-Plug in the vision
Names of ten speakers have been published so far: Marek Kubik, cleantech entrepreneur and Forbes "30 under 30" honoree for 2017; Natasa Djukanovic, activist and pioneer in digital community of Montenegro; Elma Hot, whose startup beeand.me has been named as one of the best at the World summit in Vienna; Ruben Vergara, serial entrepreneur with successful ventures scattered around the world; Tjasa Deu, Slovenian Youtube content creator and growth hacker; Ana Nives Radovic, economist and pioneer of blockchain technology in Montenegro; Snezana Ivanovic, activist and PR of National fashion chamber and Hajan Selmani, one of the leading tech entrepreneurs in the Balkans; Martina Hauser, Italian environmentalist and climate change expert; Radoje Cerović, a psychologist, author, communication trainer, and a coach, a specialist in Social NeuroScience. CEO at Communication Strategies & Consulting, and co-founder of Talkini.com.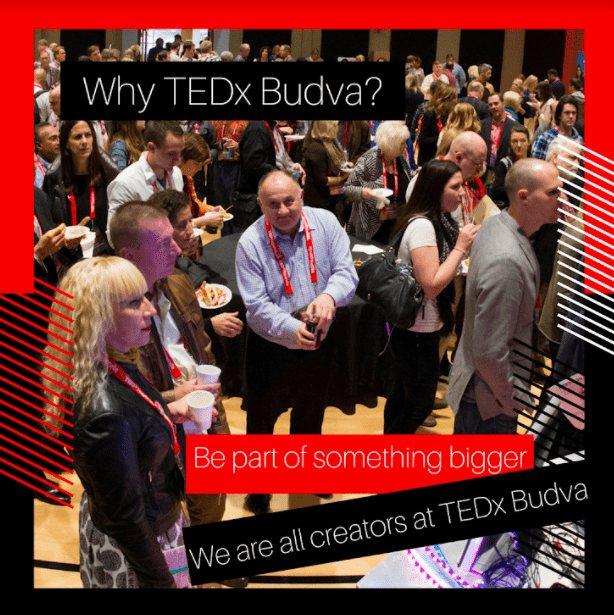 Soon the name of one remaining speaker will be announced and the Ideas worth spreading, official slogan of TED platform, will make their way into Budva.
TED (Technology Entertainment Design) was founded in 1984. and over the years it has become the world's most renowned yearly conference. Host of the conference in 2018 is Vancouver, Canada and the theme is "The Age of Amazement".
Due to the huge popularity, creators of TED platform decided to take a global leap and from 2009 they started giving licenses for organizing TEDx events (x stands for independently organized TED event that follows the rules and concept of TED). In 2017 there were over 5.000 TEDx events organized across the world and YouTube channel TEDx talks has been watched over 2.2 billion times as of today.
TEDxBudva is the first event we organize inspired by enthusiasm and stories of speakers relevant to our audience and community.
As it is our first year, and we intend to make it as a good reference for all other activities, as we plan to reach and connect with both local and international community. Our plan is to establish good foundation for all upcoming events,
Our team has experience in organizing events of this type and unique individual qualities contribute to the harmony within the team and the value of the TEDxBudva itself.

Young enthusiasts and organizers who stands behind this event are: Aleksandra Milaković, Nevena Korać, Miloš Joksimović, Boris Bajzek, Danijela Golović i Jovan Radnić.


Tickets are on sale now at the price of 22 euros per person and include access to the whole-day event, coffee breaks and lunch at hotel Palas.

For inquiries about tickets for TEDxBudva please send an email to This email address is being protected from spambots. You need JavaScript enabled to view it.