24 October 2019 - According to the new World Bank Report - Doing Business 2020, Montenegro took 50th place on the list of 190 countries ranked using the " ease of doing business " criteria. Compared to last year's Report, Montenegro increased its rating for 1.07 points (from 72.73 to 73.8) and maintained the same rank.
Doing Business 2020 is the 17th in a series of annual studies investigating the regulations that enhance business activity and those that constrain it. Doing Business presents quantitative indicators on business regulations and the protection of property rights that can be compared across 190 economies— from Afghanistan to Zimbabwe—and over time.
The report covers indicators affecting 12 areas of the life of a business: starting a business, dealing with construction permits, getting electricity, registering property, getting credit, protecting minority investors, paying taxes, trading across borders, enforcing contracts, resolving insolvency, employing workers, and contracting with the government. The indicators are used to analyse economic outcomes and identify what reforms of business regulation have worked, where, and why. Data in Doing Business 2020 are current as of May 1, 2019.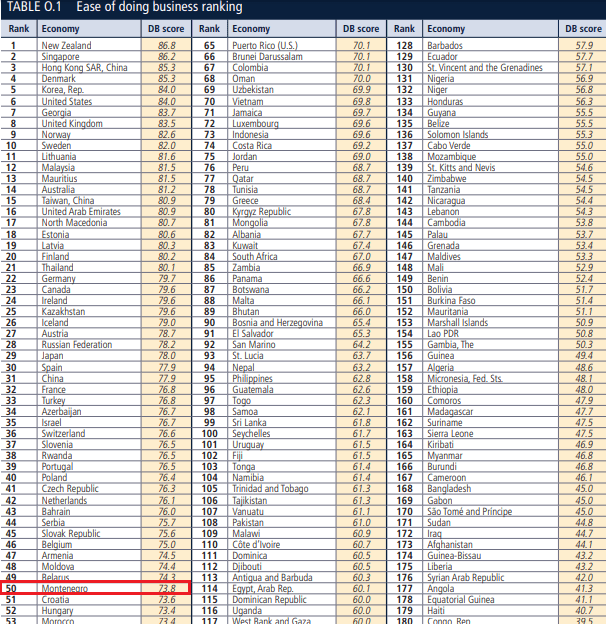 In terms of Montenegro's ranking, the most significant progress was made in the area of building permits, where Montenegro improved 35 places in the rankings in this area, now reaching the 40th place on the ease of getting a building permit list. In comparison to last year, according to the methodology used by the World Bank, Montenegro significantly reduced the cost and time required to obtain a building permit. Such progress is a confirmation that the World Bank recognizes continuous efforts that Montenegro makes in the area of getting building permits, and above all, the effort to establish a new legal framework in this area, which was achieved in 2017.
Montenegro's progress has also been evident in the area of cross – border trade. This indicator treats the procedures for import and export. Montenegro has improved six places in the ranking by reducing the time and costs required for import and the costs of export.
In the area of obtaining connections for electricity, Montenegro reduced the necessary time and costs, but the rank remained unchanged.
For other indicators, there was no change in the ratings compared to last year, and corrections in the rank are the result of the intensive reform processes implemented by other countries.
Read more about the business environment in Montenegro at TMN's dedicated page.