04 September 2019 - Montenegro has done a good job and I congratulate you on the results achieved on the fiscal side and in the financial sector, Executive Director of the Belgian – Dutch Constituency in the International Monetary Fund (IMF) Anthony De Lannoy stated at the meeting with Prime Minister Duško Marković.
"You've been successful and we hope you will continue to have success", Executive Director De Lannoy said.
Prime Minister Duško Marković thanked the IMF for the continued support and partnership, noting some of the Government's successes in the last two and a half years, namely high rates of economic growth, deficit and public debt reduction, income growth, financing current spending from source revenues, as well as an increase in the number of employees and a significant decrease in unemployment.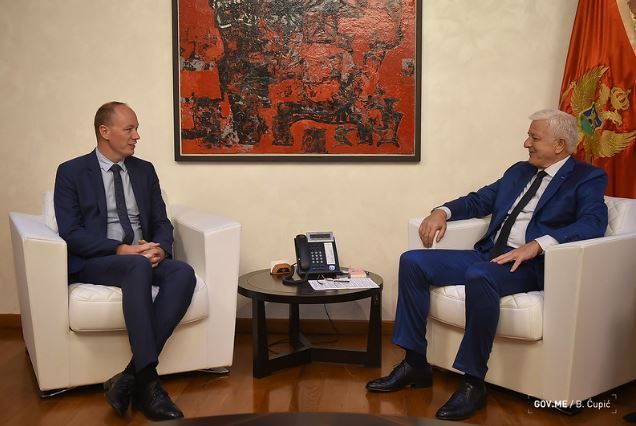 "We are aware that the long – term sustainability of the economy is based on healthy finances. In the next period, we will continue with the activities in order to achieve this goal," PM Marković stated.
According to the report by the Government of Montenegro, the Prime Minister pointed to the strong commitment and activities of the Government in combating the grey economy in all areas and the close cooperation of the competent authorities and the Prosecutor's Office in the prosecution of criminal offences in the area of economic crime.
The Government has achieved good results in the areas of tourism, energy, agriculture, and it is committed to the overall infrastructure strengthening, particularly in the North, as a key precondition for the development and better life for citizens, Prime Minister Marković stressed.
Speaking about the challenges the Government has been tackling, the Prime Minister emphasised that the focus will be placed on overall reforms in the areas of public administration, social and pension policy, and that a set of laws and activities that are under preparation should contribute to achieving better results in these areas.