22 June 2019 - The gross domestic product (GDP) of Montenegro in the first quarter of 2019 amounted to 876.5 million EUR and in absolute terms, the value added increased by more than 40 million EUR in relation to the same quarter of the previous year, it was announced by the Statistical Office of Montenegro (MONSTAT ).
Statistical Office of Montenegro - MONSTAT is the competent body for the production of official statistics. MONSTAT's role as the carrier of official statistics in the Montenegrin statistical system has been recognized by the domestic and international public.
The report by MONSTAT presents the results of the preliminary calculation of the quarterly gross domestic product, at current and constant prices, using the consumption method for the first quarter of 2019.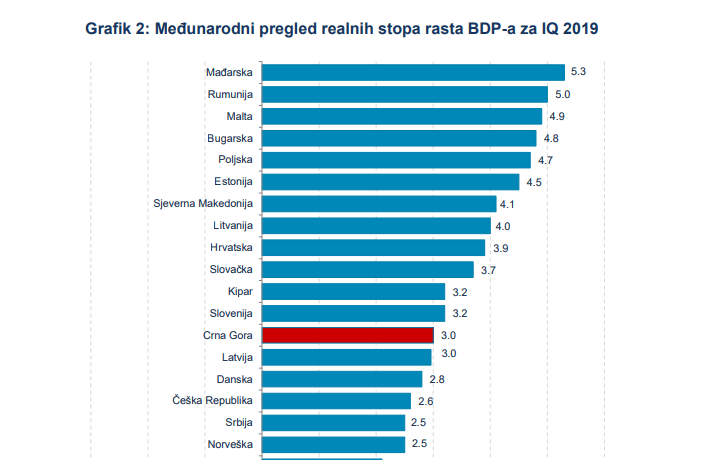 The data shows that real GDP growth in the first quarter was three per cent, while the nominal growth rate was 4,4 per cent.
According to EUROSTAT data, Montenegro is at 47 per cent of the EU's development.
"In the first quarter of this year, the most significant growth was recorded in tourism - 38 percent when it comes to tourist arrivals, and 22 per cent when it comes to tourist overnight stays. On this basis, tourism revenues increased by eight per cent in the first quarter, and according to the Central Bank data, they amounted to 47,3 million EUR. Significant growth was also recorded in the services sector, traffic and information and communication," said Gordana Radojević, director of MONSTAT, for RTCG.
The decline in production was recorded in the industrial production sector by 14%.
The representatives of MONSTAT agency said that the increase in GDP in the first quarter was partly a result of the increased inflow of investments, as well as a better collection of taxes, excise duties and customs duties. It was noted that in the first quarter, the unemployment rate was reduced.
Read more about the business environment in Montenegro at TMN's dedicated page.