July 06, 2018 -The Bijelo Polje Municipality has acknowledged the successful people who represent not only their hometown but the whole state in international events. The President of the Municipality of Bijelo Polje, Petar Smolović, had the honor of hosting two successful women from Bijelo Polje: the winner of the first prize at the VI International NIS Olympiad, held in Novi Sad, Irena Madžgalj and Miss Montenegro for 2018, Natalija Gluščević.
Irena Madžgalj, a multitalented high school student, managed to impress even the President of the Municipality with her numerous awards. In fact, just some of the awards she received are the first place at the International Competition "Heavenly Drummer" in recitation of Russian verses, first place and absolute winner of the International NIS Olympiad in 2016, second place at the International Competition "Duško Trifunović" in writing compositions, first place in the international competition "Language is the Way of Civilization and Culture", won in 2017, first place at the International Competition "I want to Artek", third place at the International Competition in Writing Composition in Russian "People and Times". Irena pointed out that the competition in Novi Sad was very strong, because over 2 thousand competitors were registered, and in the final part about 200 of the best contestants competed.
"I've been hoping for this reward, because I won the first place at the IV and V NIS Olympics. I worked hard for this competition and I will continue to work hard and improve my knowledge even more. I will represent Montenegro at the International Student Festival that will be held this year in Bulgaria." President Smolović pointed out that the local administration was honored to welcome the talented student, congratulated Irena on the award, presented gifts from the Municipality and promised the support of the Municipality in the upcoming period.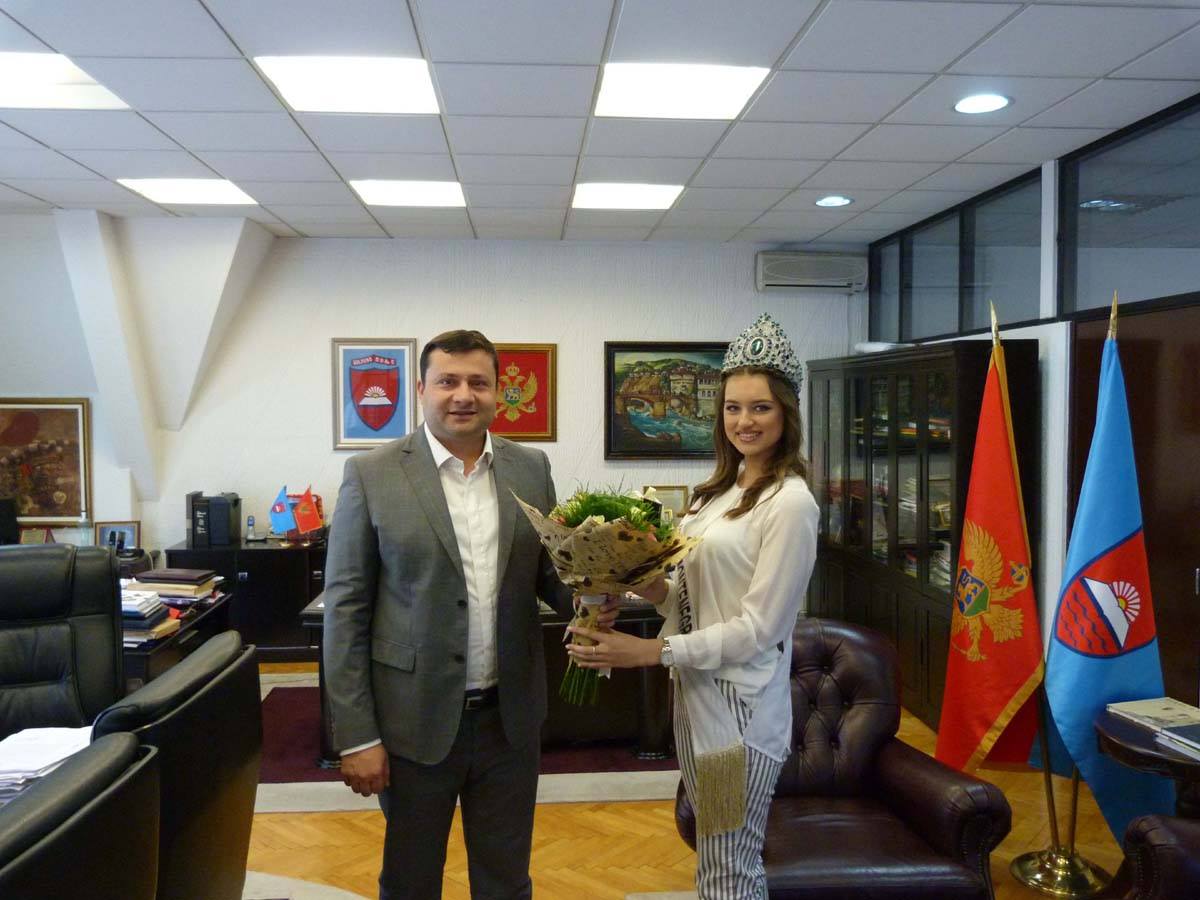 During Ms. Gluščević's visit to the local administration of Bijelo Polje, the President congratulated Natalija for her great success and expressed the expectations that this young woman from Bijelo Polje will continue to create successes in the upcoming period, while the local government will support young people and successful people in accordance with the possibilities. Natalia said that she was honored that she had just won this flattering title and was chosen as the most beautiful Montenegrin: "I will try to justify this recognition. Currently, I'm preparing for the next contest, World Miss. I am also engaged in humanitarian work. I am pleased that today I am in the reception with the President of the Municipality and I promise to represent Bijelo Polje and Montenegro in all competitions in a worthy manner". The selection for Miss Montenegro this year was held in Herceg Novi, and there were 250 girls competing. Natalija will represent Montenegro at the Miss World contest on December 8, 2018, in the Chinese city of Sanji.