As someone who loves both yoga and Boka Kotorska, I was very pleased to be able to catch up with Max from Yogaboka to chat about the studio in Stoliv, his approach to teaching, and why yoga is an ideal remedy for these trying times!
Tell us a bit about your background and what brought you to Boka. Was it to set up a studio?
When we bought our place here, in 2007, I wasn't thinking about teaching professionally here. When we found what is now the studio, with the flat roof, I thought it would be perfect for my own practice. I love the fact that we're still quite connected to the community here in Stoliv, yet we're also separate - the 150 steps to the studio certainly keep you fit, whether you're coming for practice, or just coming home! I had been practicing yoga for many years when we came here; I started practising martial arts in the 1980's, and then began practicing yoga myself in the late 1990's. I was living in Moscow then, with a high-powered job in publishing, and had friends who had moved to Moscow from all over the former Yugoslavia. Many of them are back in the Balkans now, and some live very nearby. We've been living here full-time since 2010, and set up the studio in 2015.
What do you like the most about Boka Kotorska?
About fifteen years ago I really fell in love with Boka, it is truly my love! I had travelled a lot, and lived in many places. I was originally thinking of moving somewhere else, maybe the Balearics, but I really fell in love with this place - it was truly a decision of the heart. It's such a wonderful place to get back to nature, find balance. The birdsong is a great addition to practice too.
What is the idea behind Yogaboka?
I came to yoga from studying Western philosophy, then Eastern philosophy, Indian philosophy and studied for extended periods with some real Indian masters of yoga tradition. Indian philosophy has a much more practical approach to philosophy here in the West. It's much more about trying things out for yourself, not taking things for granted. The practical aspect is very important, how practice relates to your everyday life. I have a traditional, holistic approach to teaching yoga, including emphasis on meditation - it's not about acrobatics, or anything competitive. The Hatha Yoga Pradipika (15th Century Sanskrit influential text on Hatha yoga) dedicates only one quarter of its content to the physical aspect of yoga, and I think in the West there is too much focus on the physical, the asanas. Working with inner energy and subtle connections in the body is also very important, and this is underestimated in Western practice. So the idea behind Yogaboka is to teach and promote authentic yoga. Of course we do work with the physical aspect, but we connect it to a more subtle, inner level, using traditional techniques to harmonise our energies with nature. This brings much greater and longer-lasting benefits. We try to bring an Adriatic feel to our practice too, and the beautiful surroundings certainly help with that!
Group Class at the YogaBoka studio
What is the usual scheme of work for the studio? Where and when do you teach, in normal times?
Last year we were very busy, with group classes at the studio, and at Porto Montenegro Yacht Club - I even had to turn people away sometimes as there wasn't enough space! Alongside the regular group classes we usually run retreats, workshops - and arrange accommodation and trips out for the guests as part of the package. Last year we were working mornings, evenings, had guest teachers, as well as running private sessions. It was so busy I didn't have time to swim! This year things are very different, of course.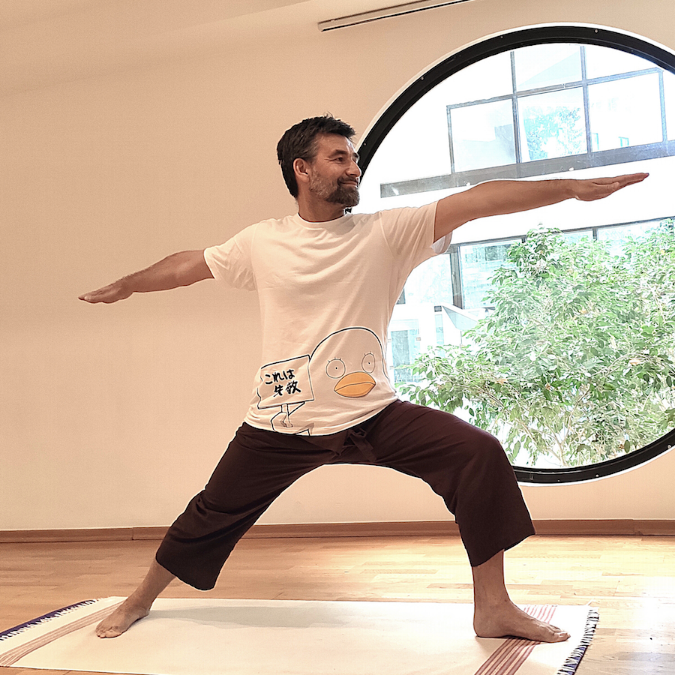 Max also teaches at Porto Montenegro Yacht Club
What is usual demographic for the classes? Do you have many locals joining, or is it mostly tourists?
We have mostly visitors coming to our classes, from the UK, Russia, Scandinavia, Serbia, but also some Montenegrins - our neighbours have joined the classes for example, and we had some very motivated guys from Montenegro last year. I have to say that it is mostly women joining the group classes, but in the private classes - maybe 40, 50% are men. We also did some special offers for locals to join the sessions. We have a local teacher, Sonja, who works with us too. So it is a mix, really, in terms of age, gender and where people are from.
How does yoga fit with the way of life and environment here in Boka Kotorska?
The natural environment here lends itself to yoga, the peace, being in harmony with nature. I teach, and have taught, in many different settings, but the studio here in Stoliv is my favourite. The backdrop is perfect.
How have you adapted the classes and workshops to the current pandemic? Have people been receptive to these changes?
As I said, last year we were very busy with our "in person" classes. This year things are very different. We've been running twice-weekly online yoga sessions, and meditation sessions on a Friday. The online setting has its challenges, technically, and in terms of how the sessions are led, but geographically we have a much greater spread now, and that's great for getting the word out about yoga. The pandemic has really pushed me to go online, which was something I had been thinking of doing for a while. It gives the opportunity to go deeper into practice, into the philosophy of yoga.
How do you think yoga can help people during the COVID crisis?
Here in Montenegro there is less awareness about yoga than in other places, for example big cities like London or New York, but I think that yoga can help people connect - and really, the current situation is the perfect opportunity for people to jump into practice! People's neuroses are much more heightened now, they need something to bring them some calm. I was very impressed when Queen Elizabeth herself mentioned the benefits of slowing down and using meditation in her recent coronavirus speech.
How do you see your classes and the studio in general evolving during the coming months?
We'll be running more online classes from the autumn, alongside the sessions at PMYC. We hope that we'll be able to share the benefits of yoga with people face to face again soon. We'll be getting our retreats and workshops up and running too, as soon as the time is right, and we're working on some new ideas there. We realise that the summer season isn't going to offer much, in terms of what we usually do, but people here are getting on with life. At first, the local people I know in the tourism industry were really nervous, but now they're accepting things more, enjoying the bay for themselves. We've got a bit more time for that too, alongside having time to think about how we develop the studio, and our retreats. That's the plan for the moment, and we're really looking forward to sharing more yoga very soon.
The new retreats page is now live at www.yogaboka.com/retreats
Many thanks to Max from Yogaboka, and we look forward to new adventures in yoga in the very near future!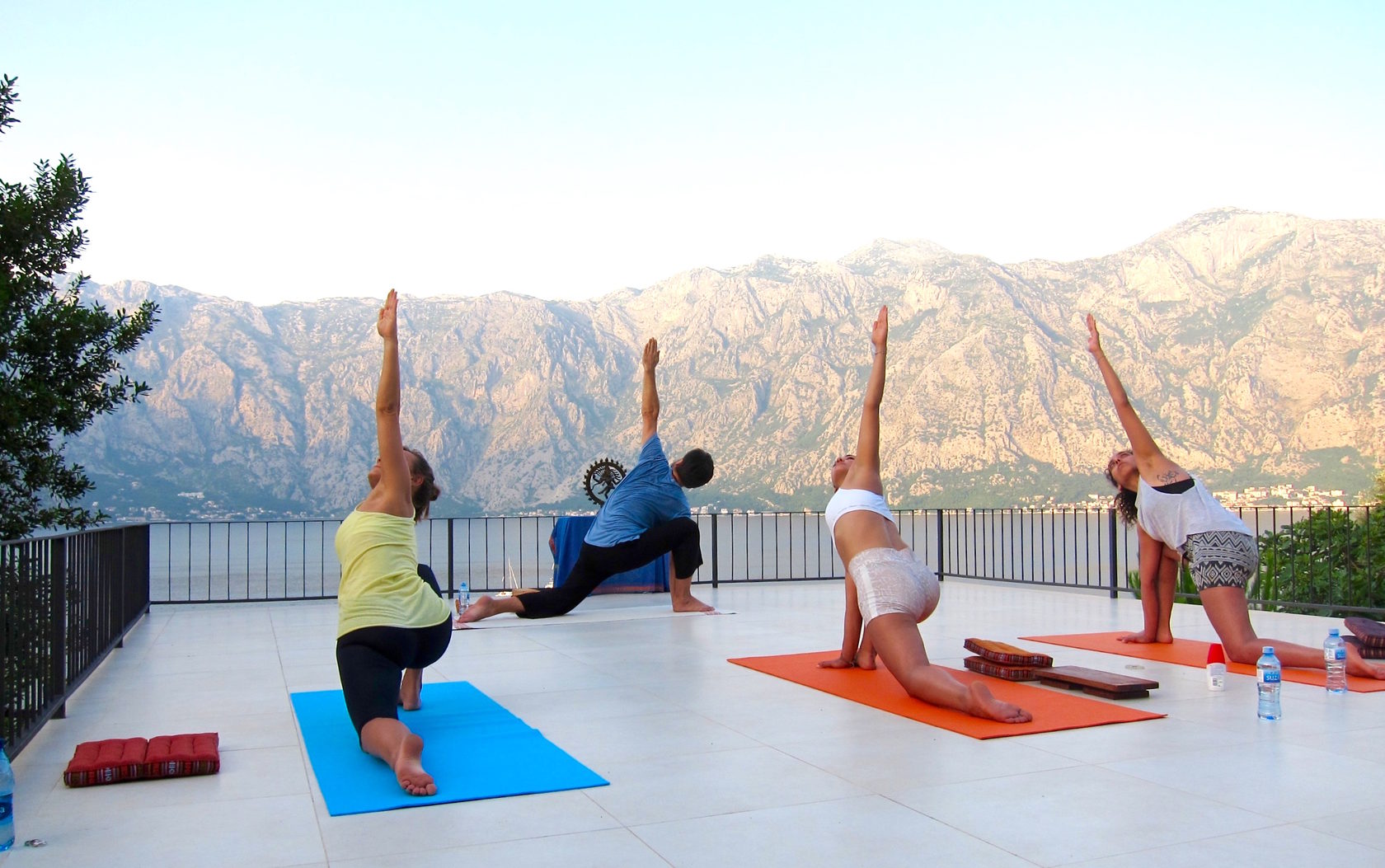 At the studio in Stoliv